some of you may have read about my first attempt at off-road biking in
santa rosa
, or remember my entry on
batanes essentials
. or you may recall the most recent
tragicomedy
that took place in
makiling
.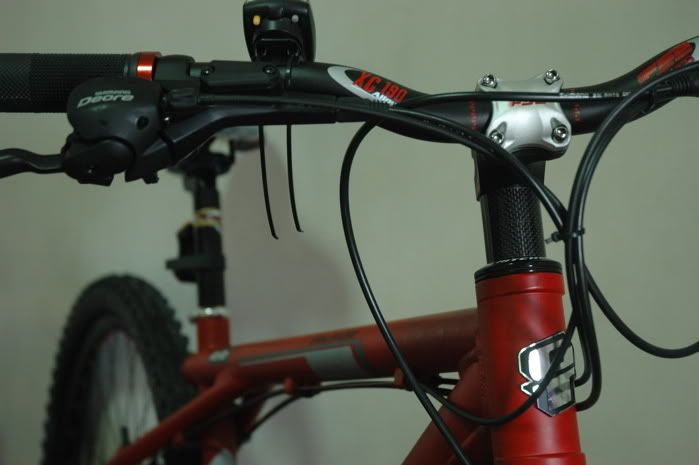 so after several postponements, i finally gave in to the temptation of assembling my own mountain bike. rendo was kind enough to accompany me to quiapo to choose parts. the bike enthusiast that he is, i think he was just as excited as i was when i chose the components that would later be my bike. although the initial estimate for a decent bike was at a little more than PhP20k, i busted my pockets and exceeded my budget by an arm and a half when i made minor upgrades here and there. now i don't know jack about mountain bikes, and i still cannot figure out how to do gears, and if jane weren't above board, i would probably have ended up being suckered. but with rendo's advice (and encouragement), i put together a nice red bike. i chose the parts carefully, deciding mostly on how the parts looked and felt, because i knew next to nothing about whether this kind was better than the other kind.
some of my friends are absolutely addicted to bikes, and some have spent much more than PhP100k on something that runs on 2 wheels, and i hope i do not end up like them. i want to be happy with this bike (and i am), and i have no intentions of replacing any of its parts unless they're damaged or unserviceable.
right now, the bike is parked inside my unit in makati. so far, the farthest it has traveled are the major streets between quiapo and makati. we'll put it to the test on the next weekend. i think i deserve this new acquisition. it's part of my plan, after all, and i've been very miserly last christmas, even to myself.