over the last two weekends, i found myself in bataan, pursuing my outdoor passions.
the saturday previous to the last one, i joined niel's rogue climb to tarak ridge, acting somewhat as trail master and lead pack. there were just four of us, but mariveles' more popular mountain destination teemed with weekend warriors. because unimaginably strong winds battered the campsite, we sought refuge in the small patch of flat ground within the pocket forest at the base of the impressive ridge. a group of campers had already pitched tents there, so had to make do with little space, and i hadn't managed to even extend one of my two doors. the tree just beside us creaked and moaned when the consistently strong wind became fierce.
the following day, we gingerly broke camp, taking our time, and moved without haste. a few moments after we decided to have a few photos at the fog-covered ridge, we saw a hulking shape making his way down from the summit. it was bajay. i had previously concluded during the previous night's socials that they had taken a different trail because i couldn't possibly imagine them getting lost even in the little-travelled trail on the other side of the ridge, but rapid forest growth and foul weather had forced the team to declare a bivouac on a patch of forest just after the japanese garden. horror stories of campers sandwiched by groundsheets were shared as each of them came down from the nearly invisible peak, all muddied and beaten by the mountain. although we hadn't planned on lunch, we waited for all of them to reach the ridge. i think it was comforting for most of them to see us there, laughing with them, even as they recalled the ordeals of the previous day.
this is how niel lost a bet. i now own his ford everest. i'm only letting him drive it for the meantime.
the "rogue" climbers.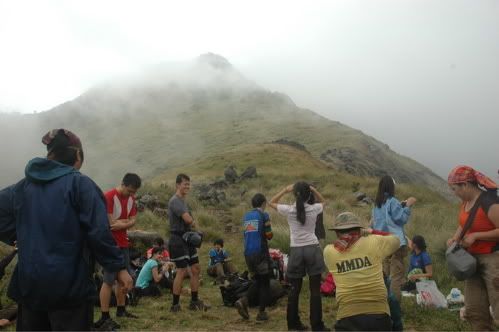 the other climbers having lunch on the ridge.
found these at papaya river. tarak is badly in need of a clean-up climb. i used to like the mountain because it was moderately difficult enough to drive away stupid weekend trippers. but the prospect of camping at papaya is turning it into another maculot and manabo.
the following weekend, i joined a small group of bikers on a short ride from mariveles to quinawan in bagac. we pedaled from the municipal hall and made our way through an abandoned national road that was so badly paved, it resembled a mountain slope. we very gradually climbed to a moderate height of about 80 meters, and then plunged into a series of downhill drives, with the mariveles mountain ranges framing our background. before long, the road disappeared and the trail funneled into a forest, and much later out into a field of tall grass fencing our path on either side. i sustained several lashes on my exposed legs. near the end of the trail, we found our destination: bgy. quinawan, a cove with a stretch of beach facing the south china sea. the barangay is accessible only through a 40-minute boat ride or a 3 hour trek. there are no vehicles here, nor concrete roads. but there is electricity. we stayed for the night, camping out on the beach while the sea crashed into the beach with the sound of thunder. i marinated several slices of pork and took part in the socials that for me, at least, ended early.
the following day, we loaded our bikes onto two outrigger bancas and went past the rugged coastline of bagac, which showed about 3 other coves of untouched beaches, calling out intrepid outdoorspersons such as myself, always seeking places far from the maddening crowd. with anawangin overrun by rowdy weekend trippers, i may just have found a new hideaway to visit and explore.
although quinawan is considered a beginner's trail, it provided me and my new bike with a slew of challenges. i decided not to bring my SLR, although i later regretted this as the views were outstanding. i did bring my iPhone with me though, and despite criticism about its camera capabilities, i managed still to capture wonderful shots.
at an open field, the bikers rest under the calming shade of a lonely tree.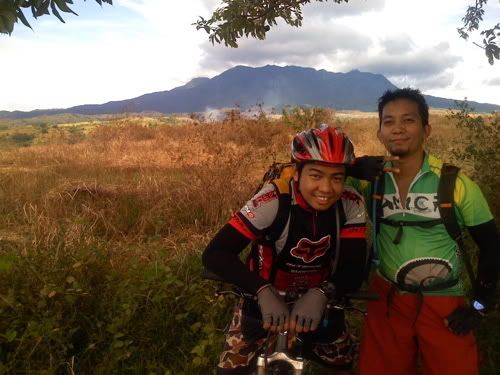 dyake and i. mariveles is in the background. despedida ride?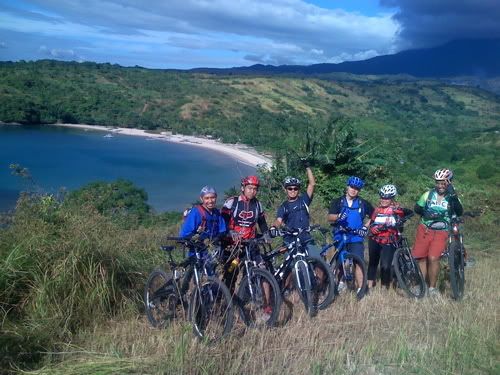 the cove of bgy. quinawan in the background. i had to dismount about half of the way from here. bgy. chairman mang rey says there are 200 families in quinawan. big surprise, if you ask me.
my bike isn't exactly light, but everyone seems to be doing this.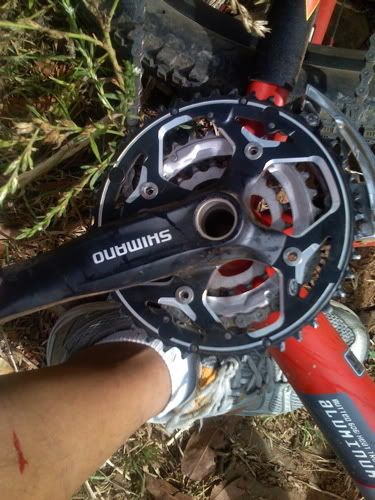 dyake's and mine, loaded behind rendo's CRV. in the second pic, i learn something new, but not surprising: the cranks are very sharp!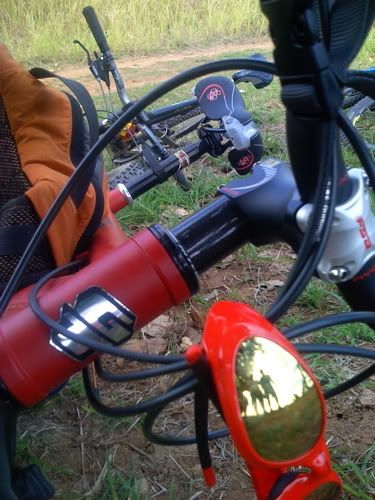 product shot of my red GT, red oakleys, and orange TNF gulper. the other one is a shot of the sun setting on quinawan.
this fisherman is lighting flotating parols, used to mark the ends of a net left in the sea to catch flying fish.
our bikes lined up outside mang rey's store.