i haven't said much about my not-so-recent change in status from "living with the parents" to "living alone". although i go home every week mainly to drop off my dirty laundry and pick up freshly-ironed clothes, i also make it a point to sleep where my parents live at least once a week. that was at the beginning. it eventually became a brief visit, and my sleepovers took place rather niggardly. and then, in the past 4 or 5 weekends, i didn't sleep over at our house at all. weekends have been consumed by a string of activities that i fail to fulfill my promise to my mom to come home on a sunday. she's starting to worry. i guess she just misses me.
it's a little funny, really, that i would now pine for weekends when i'm not doing anything, when this "active" lifestyle of a weekend warrior is something that i've been longing for since i left law school. now that it's here, i'm actually trying to recall instances when i did nothing but burn long saturdays and sundays sleeping and eating.
so where was i this last weekend? saturday, i got home after 4am, after leaving rendo's condo watching "i am legend" and 3/4 of "return of the king". i had little sleep before preparing for another trip to binondo with my 2k5 friends. this was dyake's request before he leaves for canada. there was nothing new with this particular trail. not being an expert on chinatown, i didn't want to experiment. instead, i reversed the trek, beginning at the binondo church. we had dong bei's dumplings, sincerity's chicken and oyster cake, ang tunay beef's lengua, and café mezzanine's drinks and desserts. we were still supposed to try out a noodle house but we were so stuffed by the time we had that heavenly fried chicken.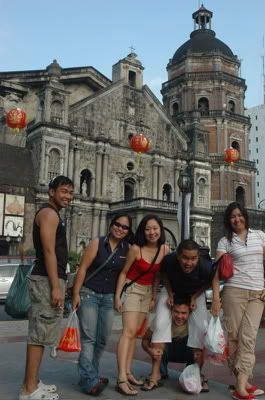 posing in front of the binondo church
a purple firetruck!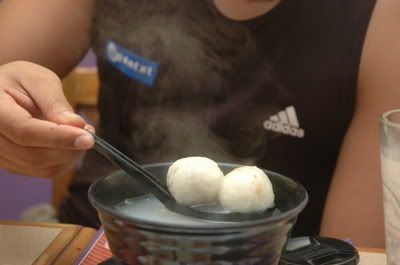 this steam dish isn't soup. it's dessert!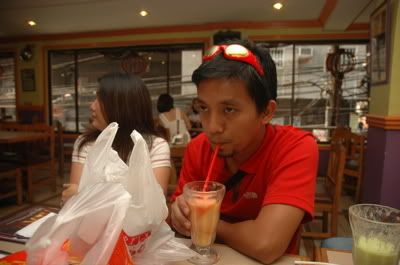 sipping on a fireman's delight at café mezzanine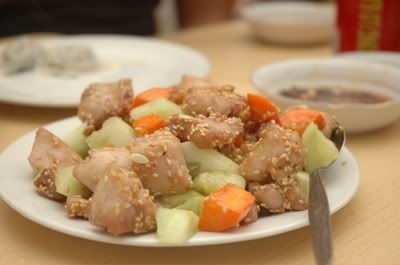 very good chicken dish at dong bei dumpling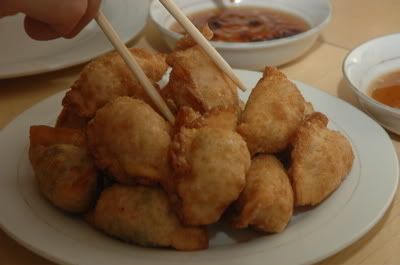 fried dumplings from dong bei
after the binondo walk, we quickly sped off for anilao (yet again) to check out andrew's boat and to celebrate ditto's birthday.
andrew had a dive boat made and jason agreed to design its hull. all of us pitched in our time and talents to paint the boat. while we were busy at work on the boat the previous weekend, i realized that it was the other way around. jason repaired the mistake by designing a two-headed sea monster instead. i spent a lot of time on the detail with the scales. the other side of the boat wasn't as polished though since we left it in anilao for them to finish, without a lot of supervision.
so while the divers were out in the water, jason and i decided to go snorkeling. for some insane reason, i had a lot of confidence and swam far away from the boat, even far away from jason. i saw a small white-eyed moray eel wedged inside the maze-like crevices of a coral formation. i also saw a lot of triggers and all these other colorful fish i see in my book on philippine coral reefs. much later on, we swam even farther away from the boat, and far into deeper water. every now and then i would swoop down and try to reach the sea bottom 10 feet below me, although i had trouble purging my snorkel as it was twice higher than most, and i'd end up swallowing lots of seawater. i confirm the fact that it is extremely salty.
after a short while, placating my fear that i'd crash into a colony of huge sea urchins, i saw some movement under the water. it turned out to be the dive group. they were about 25 feet below, and i swam towards them. i even tried to dive down as dyake shared with me his octopus, although i couldn't stay down too long. i really surprised myself that time. i would normally be very scared of jumping into deep water without a vest, but i was out there for more than 20 minutes! i must have been a little possessed.
after their dive, it was my turn. henry accompanied me, and when we went to a depth of about 15 feet, i had trouble staying under water! for a self-confessed sinker, this was certainly surprising! it must have been the way i was breathing. it was really scary to suddenly rise to the surface even though my BCD was already fully deflated. henry took off one of his weights and inserted it into my pocket and i immediately sank! we went into deeper water and i was in a dreamworld! amazing! all around me there were these colorful creatures of the sea: butterfly fish, surgeon fish, false clown anemone, triggers, nameless fish in black, brown, orange, yellow, blue. wow.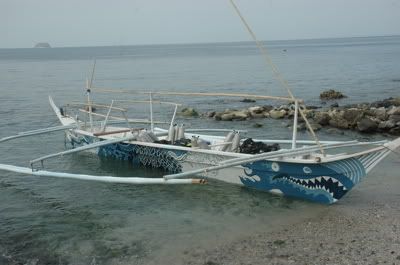 the good side of andrew's boat. i did a lot of work on the scales.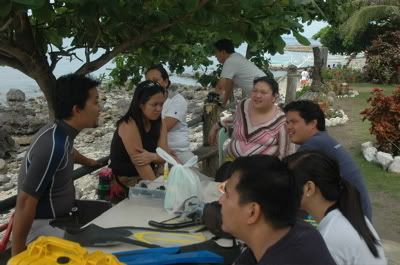 kumusta naman ang 165lbs? alman! ang tiyan mo!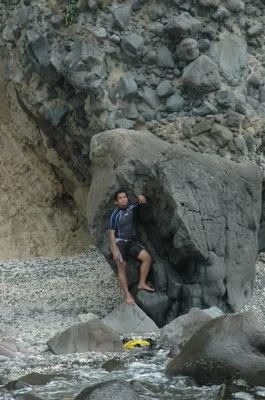 yeeees!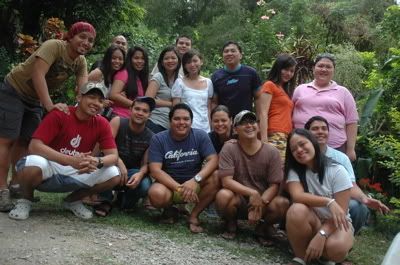 ditto's officemates, andrew's friends, and the wacky 2k5ers. i really think we rocked the boat, literally. after jason and i did our "whose line is it?" and "mare" skits, some of these girls started asking what i did for a living. imagine their shock when they found out! and again, i've been compared to jhong hilario!
janice doing a day-off pose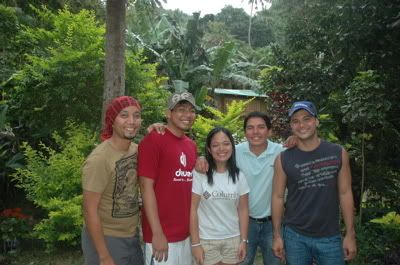 with my future dive instructor andrew
andrew's surf hut
so that was my week. since i will be away for two successive weekends beginning on the 23rd, i plan to stay home and eat some home-cooked meals courtesy of my very talented mother.