i first learned about saguijo while peering over the rooftop of the building where my friend johnbee used to live, before he moved to the columns. that was 4 years ago, and despite the invitations from friends who wanted to listen to a particular band's performance and friends who were part of bands that actually performed, i have never been there. i was never really drawn to places where you could hardly talk to anyone unless you went outside to smoke. and since i don't smoke, it all seems pointless to me.
so it was a rather auspicious valentine's day last week when i decided to drop by saguijo for the final performance for the album launch of taken by cars, whose lead singer is anna marco's sister sarah. i never realized that saguijo was well, really intimate. it got packed very quickly whenever any of the bands performed. it was a long evening of camwhoring, drinking, and waiting for taken by cars to finally take the stage. ditto's officemates were dressed to the nine's. well, not really, but then again, it seemed as if they'd really prepared for the occasion, whilst i was dorky in a shirt and funky-colored shoes.
and in addition, for me it was thinking whether i was supposed to react in a specific way to the other bands, since i couldn't make out much of the lyrics of their songs, as they were drowned out by the instruments. it's probably not a very apt description of what took place that night, but then again i don't think anyone should listen to me when it comes to musical recommendations, because i will listen to all kinds of music, and i will probably not be able to tell which songs aren't worth listening to. i do not have a good ear in that sense, although i have a pretty independent appreciation of things: i don't jump into the bandwagon, even the one that says emo isn't exactly music.
so anyway, going back to taken by cars, i got a copy of their album (promote and support local sound!) and had all the band members sign my copy. and because i just made that confession about being deaf to the difference between bad and good music, i wouldn't even dare to make a review (you might as well go
here
). i will make a recommendation though: go get the album!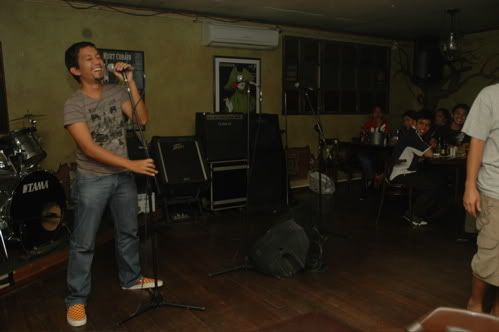 channeling rock star vibe. check out those guys on the right!
i was actually taking a photo of mary, but ditto and kat posed nonetheless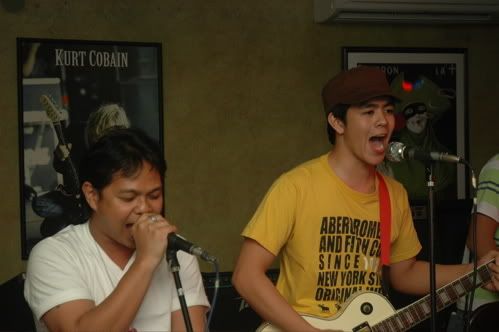 okay, so if you look like that and dress like that, no one is going to mistake you for a rockstar. buti na lang binawi ng gitarista. haha.
this is the only good shot i had of urbandub! i think a hundred people packed saguijo when it was their turn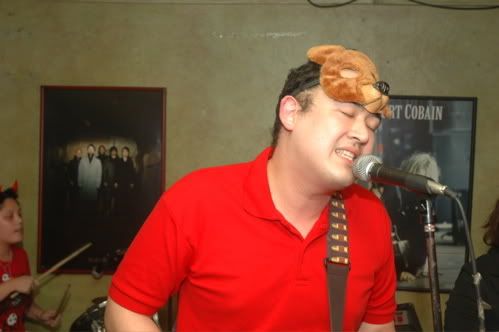 the dorky lead singer of the dorques. he sang a song entirely in french, although i didn't get much of it except when he said "tu as petite-ami". but then again, who cares what they actually say? lyrics aren't priority these days.
dyake's future barkada in toronto. ngayon pa lang, pinalitan na nya kami.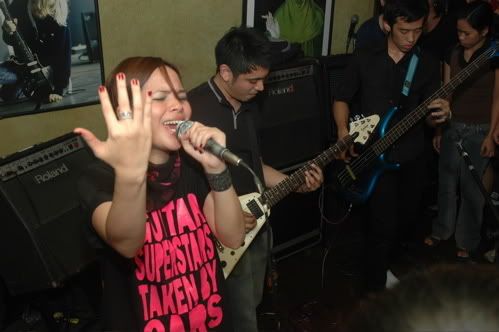 taken by cars' sarah marco showing some bling