my scheduled trip to cotabato city yesterday was canceled due to
"security reasons"
, and this at least gives me some form of respite from having traveled by air in and out of manila for successive weeks. as i've said in an earlier entry, this last fiscal year, ending march 2008, has been my most mobile thus far, at least in so far as flying is concerned. but it does not help of course that you have to leave manila in an airport terminal beset with delays, lack of comfort, and a generally unfortunate vibe about it. last friday, there were not enough seats in the waiting area; the people standing in the picture below are not queuing to board. they have nowhere to rest their bottoms!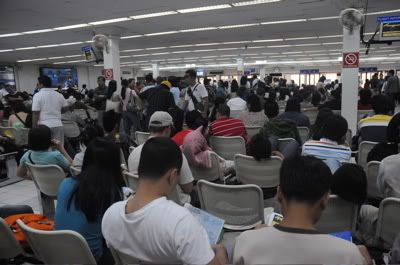 this is compounded by a less-than-stellar service provided by cebu pacific, who lets every juan fly, but in true budget fashion. and it doesn't help either that the fee is P200, and when you fly out, and about 70 minutes later, find that the airport of destination which charges only P30 (at least until middle of april) is as impressive as this: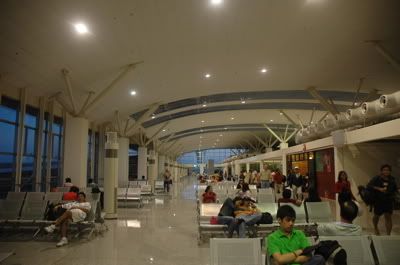 are there actually plans to upgrade the domestic airport, so i can at least hold on to this fantasy, just as i do about a future world-class DMIA, or if the forces allow, the upcoming opening of T3? something has to be done with our gateways. the NAIA 2 is an impressive little terminal, but its predecessor is in such a sorry state i find it rather embarrassing! but will all these plans matter,
or are they bound to end up like london's T5
?