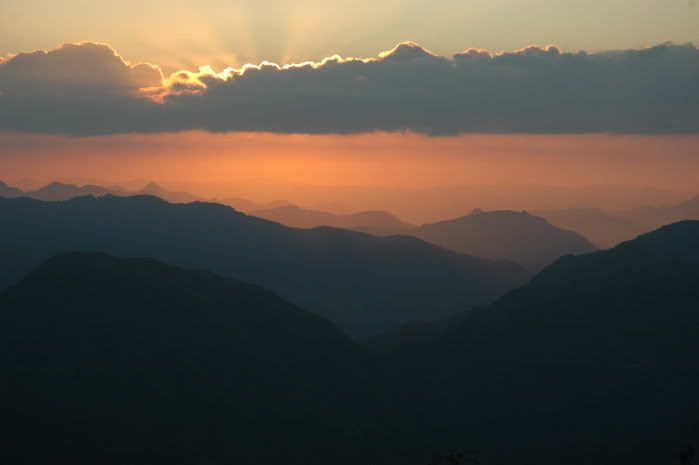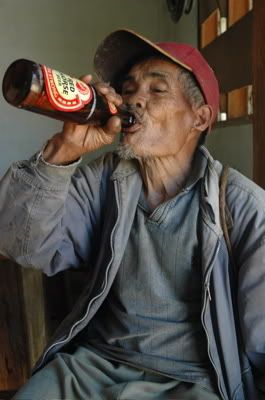 my affair with mountaineering has acquainted me with some of the most perilous roads in the philippines. over this last weekend, my avocation brought me to a seldom-traveled route into the municipality of hungduan, about 25 kilometers from downtown banaue. in many parts the road was unpaved, fringed by a cliff that drops many meters below, or a wall of mountain that sometimes knocks on the doors of a landslide. i found myself here, along with 7 others, when i made good on a promise to cecil i would organize a climb to mt. napulauan. i have long wanted to go, but in 2004, news about missionaries being held up kept many plans away. but nearly 4 years later, the fears had subsided, and the jeepney we hired blew up dust as it sped away on one of the country's worst national highways.
because of the condition of the roads, local transport come far and few between. the locals spend long periods of time walking from home to their farms, perched high up on a terrace carved from the mountainside, or from their homes to their schools. on our way, we passed an old man, his back bent by age, walking barefoot on the road, wearing a dickies hat, a small backpack, and assisted by a wooden cane. when we chanced upon him during lunch, we accosted him with an interview. "how old are you?" cecil asked in ilocano. "maybe 97," he replied in english. he had just walked over 7 kilometers, under the unrelenting april sun, to have a bottle of red horse. after he's done with the beer, he walks back, another 7 kilometers, to his home. we found his story to be a little amazing, even the small picnic a few teenagers decided to undertake on the summit of mt. napulauan, bringing with them 2 chickens, fleece blankets, and a few sheets of tarp.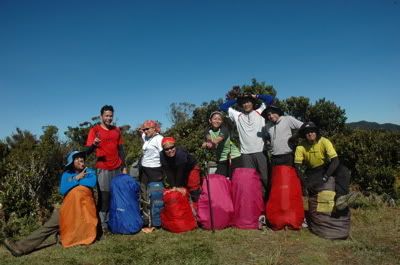 but why would we find their pastimes, and the sacrifices that surround them, to be a little crazy, when we ourselves have traveled a great distance and much time -- over 11 hours in total -- to be subjected to the fury of what felt like 50 degrees, and slopes that twisted muscles on our legs? i have been to few new mountains in the past year, and i am probably in really bad shape, but faced with the daunting task of tackling napulauan, we decided to enjoy the experience, and break up the climb to 3 instead of 2 days. beginning our trek at past lunch on day 1, we reached the ny-o campsite just after 2 hours. on day 2, we were already enjoying camp dunuan at the summit after about 4 hours of trekking.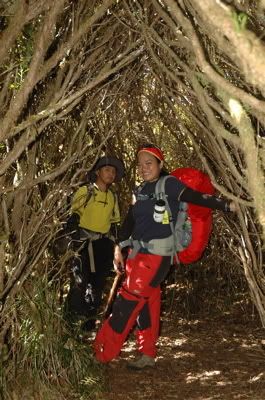 the following day would take us deep into the forest, and the chances of suffering heat stroke was less, but we feared the onslaught of bees and leeches, which is
matok
in their dialect. day 2 was a great challenge, and it was necessary to pause every 10 or 15 steps. i budgeted our rest periods, even as the mossy forest swallowed us whole. it was a little unfortunate though that napulauan, despite its difficulty, is visited by the carelessness of a few mountaineers, and the disrespect of even the locals. a lot of trash finds its way all the way to the summit, and boar traps have been converted into garbage bins, where large plastic bags, empty glass and PET bottles, find instant burial grounds.
i suppose the weather had been too ideal -- there was not a drop of rain when we slept -- that we woke up to a windy morning on both day 1 and day 2. the sea of clouds was nowhere to be seen, although the distant mountains appeared to be draped in a thin mist, appearing in different hues of blue.
the descent was also a huge challenge: very steep, unnecessarily long, and for the last hour and a half, terribly hot, i felt my hair would burst in flames. nevertheless, it was a great climb, i would think: the group was pretty strong, went far ahead of the itinerary for most of the climb, and carried their share of the burden. there were many great stories on the summit, and although we'd only brought 2 liters of alcohol, the local kids decided to chat with us and share their napoleon brandy with us. one of the kids, obviously drunk, talked about robbers. his friends apologized on his behalf, and one of them even spoke to me in an english that would not embarrass anyone -- and this, for some reason, i did not find surprising.
we arrived in banaue at around 5 of monday, our legs sore from the experience. we left 2 hours later, and arrived in manila over 8 hours the following day. my harem is increasing, to follow on the metaphor of my well-received article on mountaineering. a few more, and i might consider semi-retirement, or perhaps, a long sabbatical.
oh perish the thought.