when i left for CDO last tuesday, i met my UP law batchmate migs mejia, putting on his shoes just after the last security check. he was wearing a barong, and i correctly assumed that he had a scheduled hearing somewhere. as it turns out, we were both headed for the same city.
now i am always tickled by the idea that people don't see me as a lawyer, or are surprised when they find out that i am one. this flatters me to no end because i do not necessarily have a very high regard for my fellow lawyers. i think that many of us are boring, pedantic, one-dimensional, and undeservingly haughty. i loathe lawyers who write down a-t-t-y as a prefix to their names when you're just signing a visitor's logbook in a videoke bar up north in batanes. one's profession has nothing to do with investing nightmares into people with your singing! and i always tell people who address me as attorney, to just call me alman.
but i was not very happy with migs's greeting, after i said: "oh we're on the same flight."
"you're climbing a mountain?" he responded, matter-of-factly.
there i was, collecting my
laptop bag
as it went out the x-ray's conveyor. i was wearing a
blue long-sleeved polo shirt
, and wore
black leather office shoes
. was migs not very observant, or has he forgotten that we had passed the same difficult bar exams? yes, i climb mountains, but that is not my work -- i don't do that everyday. yes, CDO is near a lot of nice mountains i have not even climbed, but does everyone go to CDO to climb a mountain? do i give the impression that i'm always about to climb a mountain? is it the color of my skin? the way i smell? am i betrayed by my accent? or are my generous calves a dead give-away? can't i choose to go to CDO to have an asian ostrich skewer at bigby's, which much to my surprise, tastes nothing like poultry, but is closer to beef?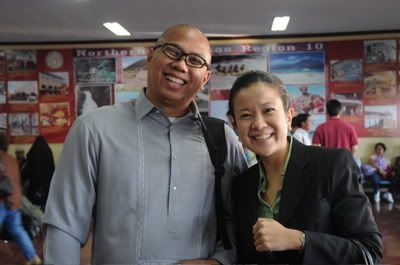 sure, i don't practice law in the traditional way anymore. that is, i don't hammer hours at the office writing copious pleadings filled with latinate words, nor do i always have my nose high up in the air as i stand up in court to say: "for the defendant, your honor."
anyway, having said that, i found out that migs had left castillo laman. he and a few senior associates have put together a firm. i am happy for all my friends who are turning named partners. but i don't envy them, in that i don't say: how i wish i had my own firm, in the same way that most practicing lawyers tell me: how i wish i could do what you do! that's what tining bautista, who also took the same bar as migs and i, although she finished law from the best law school in makati (or the school that topped this year's bar -- it has to happen every 10 years!), told me when i told her that i don't practice law anymore. "i'm also going that direction, and i can't wait," she said.
* * *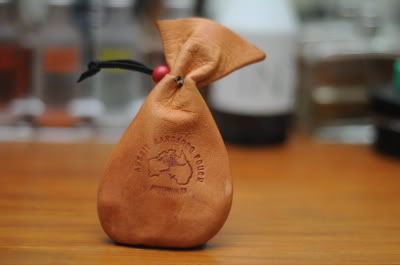 genie arrived from australia recently and we met up last night. she gave me a present, and after she explained to me what it was, i realized that it probably is the most original gift i have ever received. it's a pouch fashioned from a kangaroo's scrotum. it has no seams. haha. i already showed it to a lot of people and they weren't sure whether to be shocked, surprised, or pleased. one girl even found it immediately disgusting. thanks genie for the pouch. not only is it original, but also very appropriate. haha.
* * *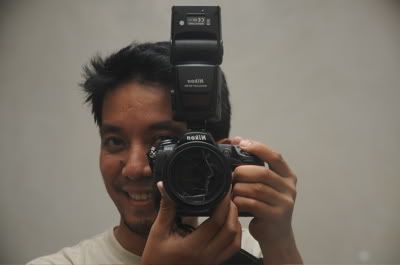 i'm very very careless. and earlier this evening, i leaned on my bed and suddenly heard something fall to the floor and break. i looked to see what it was, and there was my AF-S DX zoom-nikkor 18-70mm f/3.5-4.5G IF-ED lens, surrounded by shards of glass. ***ang ina! i cursed, the way a real man does: loud and crisp. but i immediately collected my cool: without skipping a beat (and i usually do when things of this sort happen to my beloved gadgets: i'm a technosexual, i must confess), picked up my lens, cleaned up the mess with a piece of tissue, and photographed the lens.
so you might ask: what happened? why do i even sound cool about it?
it's working just fine! look at the picture on your right! so i cannot emphasize enough the need to have a UV filter
at all times
. friends who have recently taken up digital SLR photography, listen! not only does it resolve many issues with sunlight, it also provides a lot of protection to your camera lens. the broken glass came from my hoya UV filter. which is a pity because it's a hoya. but better the hoya than my nikkor! clumsy clumsy me! i really should be more cautious with all my expensive gear. particularly when i have plans to upgrade to a better all-arhound lens, get a reliable tripod, and and even purchase an anti-moisture box.
in the meantime, i'm keeping the broken hoya as a reminder to me to be more careful.