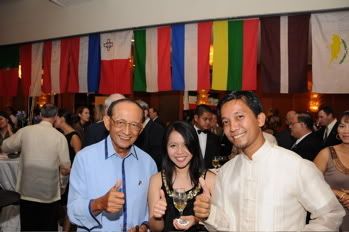 last saturday, the european commission hosted the europe foundation day at the mandarin oriental. a lot of important dignitaries came, although i was too shy and reticent to meet any of them. i did, however, gang up on former president ramos and had a photo with him. when i handed my D300 to jat (also a lawyer, one batch below me at UP law), fidel, who reeked of stale tobacco, immediately gave pointers on photography. "alam nyo," he said, "dati akong cinematographer. meron akong 3 tip na sasabihin sa inyo. una, dapat may eksena, kaya ang background natin itong mga flags." he turns us around so our backs are on the flags. "pangalawa, kelangan maayos ang pustura natin. pare, magulo buhok mo." i brush away a few strands on my forehead. "at pangatlo, dapat, pare," he said, turning to jat, "non-glare ang salamin mo. tingnan mo ang akin." he proceeds to put his finger between the frame of his glasses. turns out he was wearing just the frame of his spectacles, sans the glass. he explained that he had laser surgery long before and so he just wears the frame because people have associated him with the pair.


when we told him we were all lawyers, he said he also took up law, until dean jose abad santos gave him a heap of assignments and ming made him choose between law school and her. well, at least that's the story. later, while this small group was singing a religious hymn in a dead language (not sure if it was latin... could have been italian), he came up to me and said. "alam ko yang kantang yan pare, protestante ako."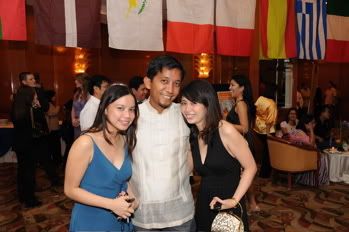 "me too, mr. president," i replied, which turns out to be a stupid reply. the music was indeed familiar, although the lyrics sounded greek to me. aside from fidel, there was JDV, satur, a few other congressmen, top government brass, and of course, our partner beneficiaries. the girls from our office were dressed to the nines, and i was mighty impressed. i wore my piña barong and received heaps of compliments from the europeans. since traffic was pretty bad, i had to walk from my building to mandarin, wearing the thing! i got a few stares from pedestrians that night too! and god, that chinese collar itches like a skin disease. the price we have to pay to look good! haha.

we ended that evening at the martini bar also at the mandarin. i haven't been there before, and i ordered a lychee martini. it was a bit too sweet for me though. after that, i walked home, still in my piña barong, with the top button undone. i got home, took off my barong, leaned on my bed and read around 2 stories of vonnegut. i'm almost done with the collection.



* * *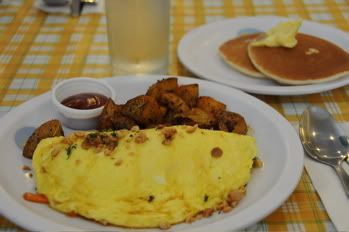 saturday, i facilitated a workshop on blogging at the CIIT at tomas morato corner timog avenue in quezon city. the people behind the new IT school are friends of mine. i was up from 10pm till about 4am doing research and preparing a slideshow. since i was deprived of sleep, i decided to treat myself to a nice breakfast, so i went on over to heaven and eggs which was right across of it. the lecture itself wasn't too difficult. i talked briefly about what a blog is, pimped my own blog, cited some blogging software, discussed issues related to the blogosphere, such as getting dooced and online libel, mentioned some professional bloggers without necessarily recommending their blogs, and helped everyone to open a blog and publish an entry. it was tiring, and each of the 3 sessions lasted about 2 hours. i slept in between workshops. unfortunately, i felt that it wasn't worth my effort. the participants were half-interested in the subject. their attention was glued to some far-off idea, mediocre in every sense, and i strained my voice to be heard in the small classroom. i think my english was too heavy for most of them, and i would speak filipino tersely as i feared sounding theatrical, if not poetic. also, the organizers seemed to have undervalued my efforts, and quite frankly, offended my time.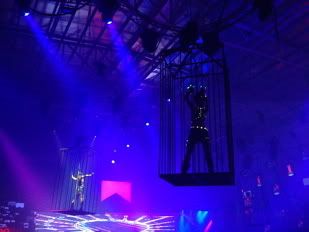 as a result of the workshop, i missed the opening of jason moss's latest one-man exhibit at glorietta. i wanted to be there, but instead arrived only in time for the post-opening dinner. so as a consolation, i joined JC and passed myself off as a certain "vince dizon" and crashed the marlboro event a a. venue along makati avenue, right across of WG diner which we used to frequent. there were free drinks, a famous DJ whose name i didn't know spinning music, caged dancers, drunk brazilian models, a lot of posing and pretending and ogling and watching. there was a riot somewhere and a young man with blood oozing from his temples had to be taken out, along with a drag queen and a few other guys. a few people had passed out and they were carried out of the big venue. and throughout the entire time, i was in tears. not from happiness, nor loneliness, nor any identifiable emotion, but because of the smoke stinging my eyes. ugh!

i don't know how many times i've said this, but i don't have television, so i can't confirm whether in fact the provisions of republic act 9211, or the tobacco regulation act of 2003, have been complied with. section 22 of the law states:


Ban On Advertisements. - Beginning 1 January 2007, all tobacco advertising on television, cable television and radio shall be prohibited.

Beginning 1 July 2007, all cinema and outdoor advertising shall be prohibited. No leaflets, posters and similar outdoor advertising materials be posted, except inside
the premises of point-of-sale retail establishments.

Beginning 1 July 2008, all forms of tobacco advertising in mass media shall be prohibited except tobacco advertisements placed inside the premises of point-of- sale establishments.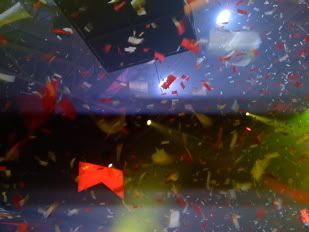 it's probably because i just have really good memory but i can still see a man snapping his fingers and finding himself in the company of a beautiful girl in an expensive top-down car, after having been chased by ugly goons from a restaurant. or a cowboy with his steed, resting before a campfire. these images are still in my mind. i don't know whether a lot of people know that RA 9211 exists, and have questioned the gradual disappearance of cigarette ads from mainstream consciousness. i was also looking for a provision in the law which would have dealt with the event that took place, whether this was allowed or not.

i found that sec. 25 states that a tobacco company may not sponsor an event which appeals to minors. since the marlboro event was by-invitation only, i guess it qualified. but further reading of the law would show that in fact, this is probably marlboro's last hurrah. sec. 26 states:


Ban on Sponsorships. - Beginning 1 July 2008, cigarette and tobacco companies are hereby prohibited from sponsoring any sport, concert, cultural art or event, as well as individual and team athletes, artists, or performers where such sponsorship shall require or involve the advertisement or promotion of any cigarette or tobacco company, tobacco product or tobacco use, name, logo or trademarks and other words, symbols, designs, colors or other depictions commonly associated with or likely to identify a tobacco product; Provided, further, That no manufacturer may register a tobacco brand name as a company name after the passage of this Act.

it was admittedly fun while it was taking place, but i don't think that i'm of the partying type really, particularly of events like this. while i won't mind getting invited to something similar, getting crazy every now and then, and enjoying free booze (we had free booze at the european foundation day last thursday), i left a. venue feeling empty. there was nothing severely profound with the experience. not that everything has to have a huge impact on one's life, but that i cannot imagine a life solely dedicated to endless nights swimming in alcohol and wrapped in a haze of cigarette smoke, in the company of unnamed strangers. i would rather have endless nights swimming in alcohol, dreaming through a haze of cigarette smoke, and exchanging bright ideas and wild thoughts with friends. that makes all the difference, really.



* * *



last sunday, i found myself at the roxas boulevard, hoping to catch a good sunset. but there was a tempest stoking the waters of manila bay, causing waves to crash into baywalk. plus, there was a commotion, when a man jumped into the bay, and refused to go up. a woman who turned out to be his wife wailed uncontrollably while the man walked through chest-deep filthy waters. suddenly, he disappeared, retreating into one of the outlets that flush out manila's canals into the bay. a policeman in plainclothes berated the wailing woman and said: your husband's wanted for 4 robbery-hold-up cases! so it was not a matter of a man falling helplessly into a tempestuous bay, but of a fugitive hiding from justice. oh the drama of this city! i love it. our attractions are far more unique that anywhere else i could imagine.

also, i took this picture below. it illustrates a more-or-less successful pan shot. although this man on the bicycle with his dog is moving, in the photo, he appears motionless, while his surroundings are a blur. i remember my officemate trying a similar shot with me. i think her mistake was that she wasn't on burst mode, and didn't follow me fast enough.