i have had to struggle these past many weeks with my writing output, in a way that doesn't quite depart from my agonizing about not producing a single work of literature since i entered law school. my blog, quite certainly, is still there, and i have managed to provide updates on a regular basis, but i have other commitments, such as contributing to manila bulletin, which i have not managed to fulfill. after i labored for over a week on an uninspired article, i refurbished two previous essays on mountaineering, and in 2 days, finished my piece on mount kinabalu -- something that got stalled when i discovered in early march that the CD of the photos from my first visit has gone missing.
rather oddly, the places where i've written my essay are the same places i used to avoid when i was studying law. i used to say that i don't honestly know how people can actually read in a café, but i've found myself writing, first at coffee bean in trinoma, then at hooters behind mall of asia, then finally at blenz coffee at the e-commerce center. this is so strange, first, because i don't drink coffee, and second, because the prices there are so ridiculously expensive, the meager honorarium i receive from writing an article is hardly enough to cover the cost of the tea or hot chocolate i order, or even the cost of transportation. but wait, did i just mention hooters?
yes,
hooters is in manila
. they're at the san miguel by the bay, a few meters away from the edge of the land reclaimed from the sea. the bay crashes against the boulders with a lot of anger. i wonder how it would look like on a stormy day. hooters manila bay has only been open for about two weeks, and on the weekday that i visited, there weren't that many people. i sat at the bar, took out my laptop, and one of the servers came to me and handed a menu. "hi, is it your first time here?" she had a twang. "yes," i said, and she left to attend to other customers. after a while, she came back and asked: "are you ready to order?" i asked for a salad. and i said the beer could follow a little later. then she asked again: "how did you heard about hooters?" ayun, sumablay.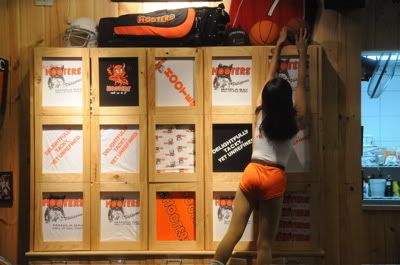 the waitresses at hooters manila bay are not particularly attractive. patrons frequent hooters because of the cleavages, but no amount of push up bras can ever squeeze enough breasts to approximate the american archetype of the restaurant. i doubt whether filipinos will be running to hooters to see boobs or hot, sexy servers, because the ones i saw weren't enough to cause any fevers. i'm afraid that people won't be rushing to hooters for the food either, because although i wolfed down my salad down to the last morsel, it was just as good as any salad. nothing particularly special or unique. besides, it was expensive and i have a rule on expensive food. and the selection on the menu looked limited. chicken wings, burgers, salads. i would imagine there would be more diversity, such as what's offered at chili's or TGI friday's.
then, while i was dividing my time between my macbook pro and the baseball game, the song YMCA piped in. the waitresses stopped their tasks, stood on top chairs, and started moving their hands. i was supposed to say "started dancing", but they were so stiff and lackluster. i later asked the bar server when they would dance. she said, "kung feel lang po namin at wala kami masyadong ginagawa." well, they weren't doing too much because it wasn't filled to bursting yet, and the other waitresses were playing basketball or were doing hula hoops. they weren't very busy. a little later, they had a shouting match with the kitchen staff. i couldn't understand a word. they were screaming take it out or something. a lot of white guys though, expecting perhaps the same amount of cleavage they've seen elsewhere.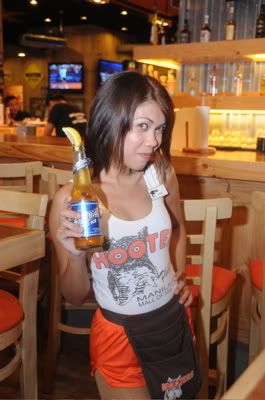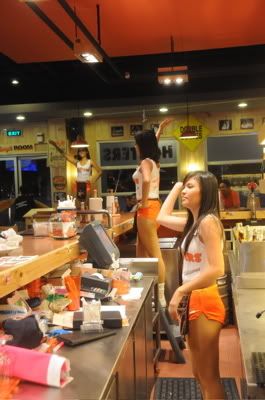 and i don't understand the uniform. a bad fit on the petite, filipina frame. the orange hot pants are also off, and those thick stockings are annoying. yeah, they're pretty nice and gamely posed for my camera, but i think that hooters should offer so much more in order to attract a steady flow of returning clients. i don't see it yet.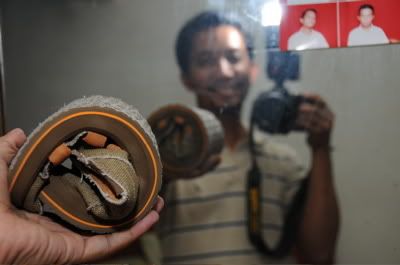 anyway, my trip to hooters and mall of asia was courtesy of my new sanuks -- they're not shoes, they're sandals. i've seen them before, but didn't really pay so much attention because i'm not into fads. besides, i felt they were a bit too expensive. but i got my pair the other day, slid them on, started walking, and bang! i was converted. the soles are extremely comfortable, like walking on cake. well, not really, but you know what i mean. it feels good. the canvass uppers take some getting used to and someone warned that they might cause the feet to smell. i don't have smelly feet, so i hope that won't be an issue. i'm tempted to even get an extra pair, if only they weren't so pricey. and the color? earth tones. haha. that's to be expected.
anyway, i still have a few articles to write. i hope to finish at least another one by this week's end.