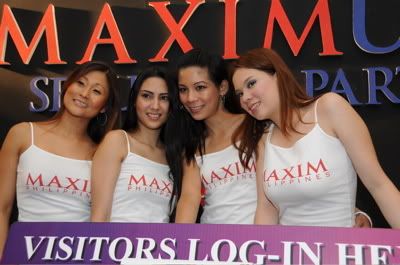 last tuesday, karl invited me to the maxim hot 100 party at a. venue. images of a long, elevated catwalk populated by sexy models and celebrities wearing things that left little to the imagination, and a predominantly male crowd with enough testosterone to flood bangladesh filled my mind. i was extremely excited to go. can you feel my excitement? no? well, let me tell you why.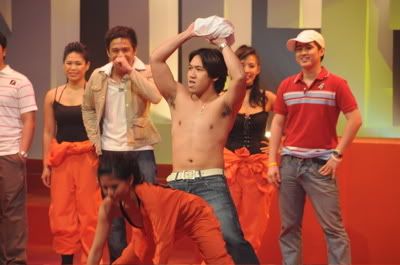 so i arrived at a. venue with karl and aaron and we were whisked to the VIP area courtesy of aaron's client who handed us these baller IDs, and eagerly anticipated the stage to be filled with strips of lace and lingerie on bodies that would, presumably, bring out the wolves in us. yeah right. so the show started with these dancers in orange overalls. then joey mead showed up and introduced herself as the warden. one hot warden, but wait: joey mead is still around? she asked guys to go up the stage for a dance-off.
for the love of humanity! there were at least a thousand digital cameras at the venue, so please don't be surprised when someone posts the embarrassment you brought on to yourself onstage, and you become an instant, but temporary, online celebrity. and besides, this is manila! someone probably knows you, and you'll be forever reminded of the disgusting things you did in full view of the people.
her co-host was rovilson "i suck at geography" fernandez, who has this really strange accent that sounds like it's coming from the roof of his mouth. i don't know what was going wrong, but they were buying time for most of the show.
brazil, brazil? i'm not even sure she's brazilian. but that's the knee jerk reaction these days: all things beautiful are from brazil!
wowowee!
finally the show started with cloaked ladies coming out from the back with so much drama, tears welled in my eyes. or it could have been the smoke. anyway, i didn't know any of them, but yes, thank God for brazil. i want to go there before i die.
then joey announced that the stage was going to burst in flames. 3 girls came out. the first two had breasts that struggled out of their bras. they teased the crowd. wink here. wink there. bite your lower lip. work the crowd. yeah. i don't know their names. karl said the first one is a wowowee dancer. great. i don't have television.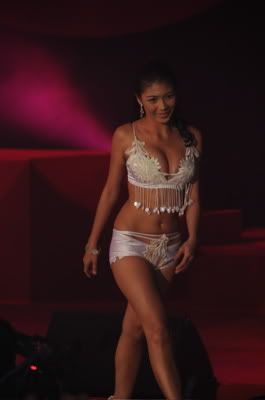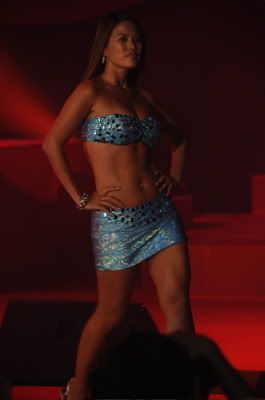 i've never actually purchased a copy of either maxim or FHM, so forgive me if i don't know them, as they've never been on T3 either. oh wait, yeah, i keep forgetting. the other one's andrea del rosario. and the first girl could be anyone's neighbor.
the third girl had a great tan and she looked familiar. oh wait, it's andrea del rosario. yes, she's still in currency. she's not exactly the euro, and her exchange rate's gone seriously down. she's always been big boned, but her body looked like the trunk of a tree!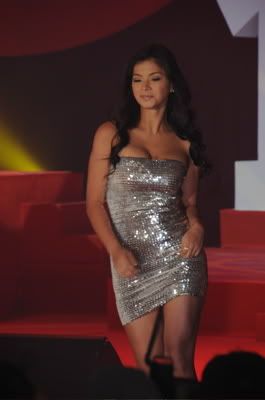 so there we've seen about 20 models and those 3 semi-celebrities. i was thinking, woohoo! 70 more! but joey came in and said: here's the hottest, adjudged guilty by magistrates of beauty. i was tearing my hair out with anticipation. can you imagine that? well, don't try so hard, because when the girl unrobed herself, it was, well, angel locsin.
she wore a short, silver dress which was the least revealing of all. but then again, sexiness or hotness isn't the amount of clothes that you don't wear. so angel parades herself on the stage. by herself, she actually looks tall. don't just put her between those brazilian imports!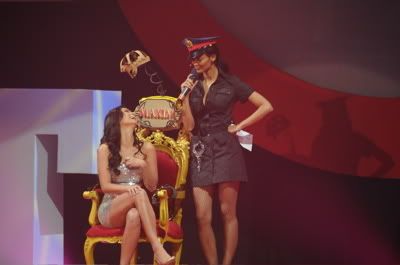 and joey mead is one evil girl. she made angel sit on a throne, yakked about her being the sexiest thing on earth and asked, in english: so how do you feel about being maxim's hottest? angel giggled like a schoolgirl who has had too much vodka, and i was squirming where i stood, fearing that angel might douse her hotness with an extinguisher by blundering her response.
"don't reply in english," i kept saying, and the good girl heard my advice.
"syempre flattered ako," she said. "maraming salamat sa lahat ng bumoto sa akin, and enjoy kayo!"
but angel isn't exactly the IT girl these days. she's been eclipsed by many other stars, and it's pretty obvious that ABS-CBN is trying to re-ignite the coals of her waning career. but you can't set fire to a stone, and i'm not sure what her next project is going to be after a lackluster "lobo".
after one last parade, the show was over. now wait a minute. this was the maxim hot 100 party. do the people behind maxim actually know how to count? bitin, karl said, but i think even that's giving the show too much because it assumes that the show actually reached a degree that was close to riveting, but the plug was pulled in a way that was not anti-climactic. we were far from even reaching climax.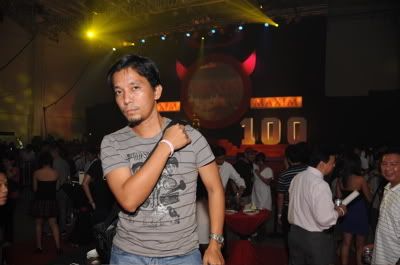 i'll see if summit's countdowns (plural is intended) are more sweat-inducing. but if you want your eyes to bleed,
you can find more photos here
.