i've never been much into the scene, despite
miraclecello
's protestations, and my drinking binges, which aren't necessarily far and few between, but aren't too often that i'd consider checking myself into AA, are usually done in cheap restaurants where we get more beer for the buck. so when aaron invited me last week to guilly's after the maxim hot 100 party, i wasn't too excited. i thought it would be a bar, and we'd be drinking. but it turns out to be a hip and happening place bursting at the seams with kids of all kinds. we came in for free, because aaron's niece's friend is the owner's daughter (that's a lot of possessives!), but after 10 minutes, i was already teary eyed. from the smoke! i really can't handle the smoke.
anyway, i immediately felt i didn't quite belong, not owing perhaps to my predilections for different things, but for my age. it looked like a high school prom gone wild. and this was a thursday, mind you, and these kids, who care not about waking up early the following day to get to work, were partying like crazy. at past 12mn, there was even a queue outside (i had to go out to wipe my eyes),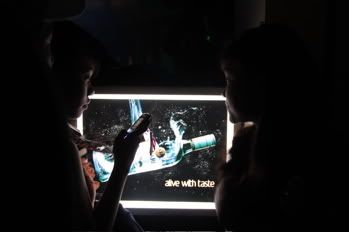 as guilly's couldn't accommodate everyone! so i've never really partied like that. when i was young(er), i had occasion to go to only 1 disco, and that one burned to smithereens. i preferred those laid back places where you kick back, nurse a bottle of beer, and don't have to shout to your friends to talk. and i didn't go out much either when i was in school. well, i was poor, i didn't drink beer (so now i'm really just making up for lost time), and i chose to read or watch television rather than to go out. so i guess when i'm partying like crazy these days, people should understand that there's a lot of boil in me that i've been holding back.
going back to guilly's, it dawned on me that the beer there isn't cheap, even the entrance fee isn't cheap, and that's coming from someone who's doing well. so these kids must have really generous parents, or are making their own money. i remember that i had to work as a student because i couldn't ask my parents for gimik money. i just felt that it was too much to say: hey ma, i'm going out with my friends. we'll see a movie, and end the day at a 24-hour wendy's (this was the age before cafés, and remember, when i was in school, i didn't really drink beer). my mom would've said: is that required for school? haha. one time, a parent was looking at some cameras and she grumbled that a DSLR at least was required by one subject her son was going to take in DLSU-CSB. i'm not that old, but now i completely understand when older people balk at the things younger people do. things are a-changing. and the pace of change is light speed. as they say, what is the world is coming to?