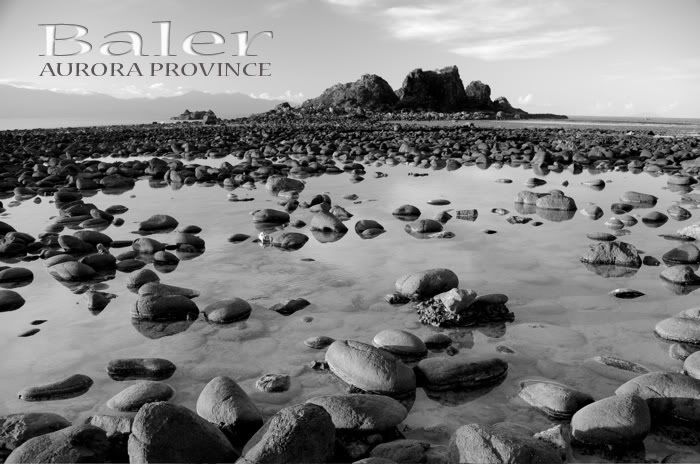 not only will it be highly uncharacteristic, but it will also possibly disappoint my readers, if i had allowed the last long weekend to pass without giving in to wanderlust. worse, and it has taken place more than a few times, it would be dastardly on my part to have gone on some peregrination without indulging myself (more than anyone else) to a vivid retelling, replete with snapshots of even the most mundane things.
as the independence day long weekend approached, i sat on the possibility of being left with nothing to do. there were many possible options, but i had procrastinated on making a decision, eager perhaps that some suddenly planned weekend might take place. but with six days till saturday, i was close to panic: i balked at the idea of sulking in the blistering plains of the metropolis during this window of opportunity. then i remembered: back in the day when i was surrounded by a whirlwind of activity, i would often receive queries from an old friend with whom i had shared a few misadventures (which you can read
here
and
here
). when my response was that i'd be engaged in a flurry of excitement with a different set of friends, i feared i might have disappointed him and he would explore the endless possibilities of solitude. he'd done it before, more than i can count i would suppose, and at one time, i'd seen him riding the back of a motorcycle in caramoan. he and i share a common comfort: the desire to be alone.
but since i had no bright ideas of my own, i decided to send jay a text message. he said he'll be heading to baler. i'd been there before, less than a day to be exact, and i wondered whether there was something really worth returning to. i confess ignorance about the delights of the province of aurora, and i had once mentioned that getting there was such a task. it is, to my imagination, the only province in luzon disconnected from all the rest by kilometers of unpaved highways. it promised to be a long, bumpy, possibly listless ride.
but i had heard of jay's meteoric rise as a digital photographer of landscapes. i remember the days when i shot with film and he had a clunky canon A10 (or something like it). he naturally scoffed at my analog camera (a nikon F80s, no less, which i still keep), and i returned my haughtiness with a stab at the digital darkroom: that i am a photographer, and not a photoshop artist. of course, i had given in to the DSLR earlier than jay, purchasing my D70s before the end of december 2005, but other than the instant previews, i have treated my camera as though it were film. i had done virtually no manipulation.
to be fair with jay, his images have captured imagination and vision in a way i have seldom seen in other photographers our age (we're only less than 10 days apart, after all). and his dedication to the artform has resulted in appropriate decoration: he's on the cover of the current issue of digital photographer philippines, although i must come clean and admit that i have never purchased a copy of the DPP mag. he previously has been in its pages, getting a few spreads with his experimentation on low light. even with my unfamiliarity to the body of his work beyond what he's posted on multiply (which i should really check if he's said anything about me), i knew that jay's images have leapfrogged from the flat stills his old P&S churned out. and i was eager to see how the "master" worked: pick up a few tricks by observation and interrogation, perhaps. i am a sponge, after all, and i learn more than anyone else by mere osmosis.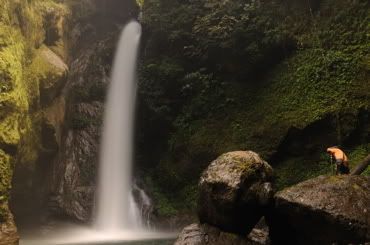 so after the journey, we reached baler, and i left jay to work out the details of our shoots. he had sent me a very sketchy IT, which i didn't bother so much to read, because everything was tentative. we took a tricycle to our first destination, and during the trip, i marveled at the sight of aurora: it resembled mindanao in the degree of progress it enjoyed, which was very little. this may be a bad thing, or a good thing. a good thing for people like us wanting to see nature still savage, wild, and untouched.
we shortly found ourselves at the ditumabo falls. i'd left my bag with the tricycle, and we hiked the rest of the way, following a winding path, which was wider than how jay remembered it. humongous pipes welded together and supported by concrete columns had been built along the path. the stream flushing out of the pool just below the falls ran alongside a primitive concrete pavement. as we approached, i could hear the thunderous force of the falls, blowing up a very wet mist into the air. we had to go up and around the dam built near the pool to find the waterfall, dropping from a height of about 70 feet. i was unsure at first whether we were accompanied by a drizzle, or were simply feeling the strength of the pouring river.
i must confess i had difficulty photographing the falls. there was mist, and there was the matter of overexposure. if i wanted to prolong my shutter opening, i ran the risk of blowing out all other highlights. and here i learned my first lesson from the "master". of course i already have an ND8 filter, but it was only good for about 2 stops. jay told me later that i could stack my filters. my CPL plus ND8 would be good for about 4 or 5 stops lower. and i could achieve the effect that i imagined. i also found out about an ND400 and a graduated ND filter. now where can i find those?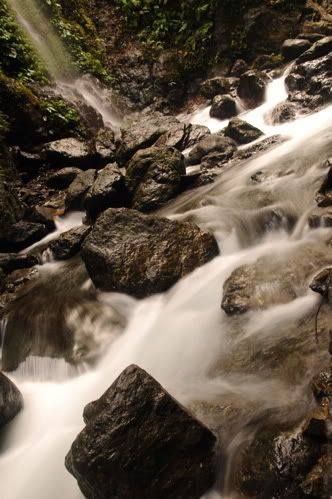 after we shot the falls and the stream, we returned to where the tricycle waited for us, spoke briefly to briccio, the caretaker, and sped off for amper beach. jay regards this place with some sentimentality, because his photos of the sea froth retreating from the pebbles on the beach was what launched his career.
jay took photos of the pacific crashing against monoliths of stone near the beach. he soaked his feet and the legs of a carbon filter benro tripod on loan on the water, and completely risked his canon 30D to seawater. i wouldn't even let my feet get wet! my aluminum benro and D300 are far too new to be exposed to potentially destructive forces. and by refusing the risk, i missed out on some fantastic photo opportunities, as jay's photos, with the aid of his intense concentration, brooding observation, and focused appreciation of the entire landscape resulted in images that spoke pages of emotions. i turned out with a few amateur snapshots. and while jay spent over an hour studying the same spot, i decided that 10 photos in raw were good enough, and found a place to lie down and snooze.
after sunset, we found a place to sleep for the night, enjoying small town hospitality. and i tended to the kitchen to prepare dinner. i put together a spicy eggplant and chicken dish, which we wiped clean. jay's contribution was turning on his kovea stove. and this would be the theme for the following day. after nearly being left at amper beach, we commandeered a bus traveling from dingalan, and left for baler. (bad roads, once again, although a lot of construction is taking place, and it looks like they managed to get a contractor who's not out to rob the province -- the concrete that's been poured so far looks promising.) we took another tricycle and had ourselves taken to semento. we decided to camp at a resort, which had probably the rockiest beach i have ever seen: it wasn't suitable for swimming, as sharp edges crisscrossed its rocky bottom, doubtless the result of the sea's movements. we arrived early, and while i dozed off, "master" jay was off "at work". i briefly caught a glimpse of him with his tripod on the boulders where the sea crashed with the island. it was still very bright, i thought, and went back to sleep.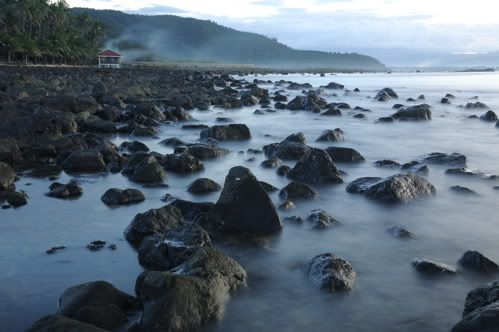 i only got out of my therm-a-rest at a little before 4pm to do my own shooting. the resort sits in front of a layer of rock that must have been the result of volcanic activity. the flow of hot magma suddenly cooled by the sea cannot be ignored. the rocks suddenly rise into three nearly even peaks, and connects to the mainland through scattered boulders of various sizes. when the tide rises, the peaks suddenly turn into islands surrounded by the froth of the pushing and pulling waves of the pacific. but alas, our bags were placed under an open hut in an unfenced resort with an open gate, so i couldn't get really far. i had to keep within a certain radius, to keep an eye on our things, as it were. and at half past 6pm, i had to go back to our hut, arrange the kitchen, and boil water for my aligue pasta with smoked mussels. jay came back when it was already dark, and he asked: "why didn't you shoot? there were surfers just beyond the pier and the mangroves."
"didn't you tell me to look after our bags?" i said, and poured the spaghetti into the boiling water. that evening, jay again took pictures of star trails, while i leafed through a book on outdoor photography, one of my finds at booksale. of course, jay was nothing but floored with dinner, and he had to ask how i came up with my recipes. i had to say, of course, that there is very little in the way of originality in how i prepare my outdoor meals, but they are carefully-thought out. i often tweak the instructions on packets. "if you understand what flavors work well together," i confidently told jay, "you can come up with things that are far from ordinary."
before the evening ended, i looked at jay's photos, and he shared a few more of his techniques, including photoshop tricks. i still was not completely convinced though, about going the whole length with digital manipulation, but there i was very certain that i was learning, and learning really fast. the following morning, jay had to rise early. i don't remember if also took my camera that morning, but my shots were pretty limited, and besides, i had to clean the kitchen, pack up, and heat water for jay's noodles and hot chocolate. i felt like jay's PA, but isn't that what apprentices do?
"sensei jay," i said, more snidely than sincere, "how come you haven't taught me a lot these past 2 days?"
"i had to work!" i felt like jacky chan in "drunken master" or some other kung-fu movie.
by 9am, we were at the bus station and caught the last airconditioned trip to manila. jay wasn't completely averse to taking d'liner all the way to cabanatuan, but i was thanking the heavens for delaying this trip so we could take it. we retraced our steps, drove through very bad roads, and found ourselves in manila long before 6pm.
jay and i may not agree on many things. i still consider myself a photographer of the old school, and jay a master of photography in its digital form. i do not doubt that he will still get fantastic compositions if he had a film camera with the right filters and given the same amount of time for deliberate framing. but there will certainly be a marked difference if these photos are left without manipulation. so he had to ask me, while we were preparing to go home: you're not the type to admit that i'm a very good photographer. how come you're now the one asking me questions? i was actually tempted to answer, for the sake of deflating his ego, that i've never recognized his talent. but i'd be thrice blind not to concede that. on the other hand, jay has long acknowledged my talent as a writer (but will not -- and would probably never -- say that i have even
some
talent as a photographer). so while we have our differences, we both know that we do have a lot of common, and of them being that between the two us, there is little humility. i fell short of saying that jay takes some of the most amazing landscape photos only because he said it first.