there are few things that mannie and i have in common, and one of them must be this absolute lack of humility. but while my false braggadocio is part of my comedic spiels, coated as they usually are with abstract ideas that foregrounds their unreality, mannie tends to demonstrate his lack of modesty in very clear and unequivocal terms, such as when he talks about the size of his tool, the age when he made his first million, and fairly recently, when he invited the whole world to his birthday celebration at the hard rock café in glorietta. he even called me up and insisted that i should go because he'd budgeted at least P200k for it. comments such as that don't necessarily affect me in a bad way, and i laugh it off as one of the many embellishments people are generally wont to do, but in mannie's case, it was probably true, and still i don't find it offensive when he concludes that the P200k he'd allocated is small change.
i sneaked in a bottle of absolut vodka in a sigg bottle, for which we weren't charged any corkage, and kept ordering sprite, although it wasn't in the pre-paid menu, effectively avoiding the coors beer and san mig light which everyone else had. so although mannie had invited the world, only about a hundred plus people came, half of whom are members of AMCI, notwithstanding the fact that mannie himself has not even been inducted as a member. so since i cannot indulge myself in detailed descriptions of how we helped mannie overshoot his budget, let me just post pictures from the event, which i only got to download this afternoon. it took over 10 minutes to transfer over 800 shots from my 8GB CF card, and here are some of them:
not exactly the most flattering photograph of mannie, but we're all in this for the fun. happy birthday!
mannie's youngest, kaikaku, who also celebrated her first birthday that day (so hard rock does kiddie parties now). i used to fear carrying babies because i'm always afraid i'd drop them. but having a second nephew has given me some practice.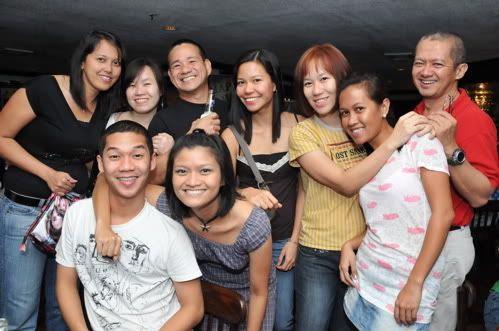 mannie's batchmates from 2k7, whose BMC i directed.
some visitors from 2k8, whose BMC i am not a part of. see, mannie's invitation was all-encompassing. he'd only met these guys there.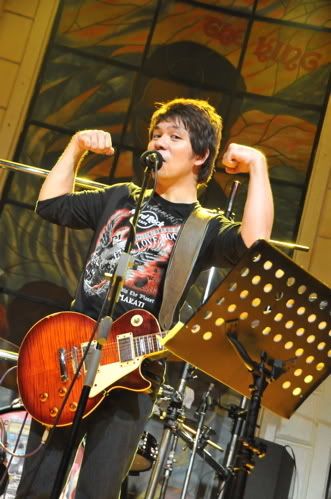 from orange and lemons to apples and bananas.
one of the vocalists of the show band. mannie's wife len has lost so much weight, she's an inspiration.
no, none of these photos had been cropped, and no, i took none of these photos. karl had my camera almost the entire night, and he must have a thing for women's midsections, because there are quite a lof of heads cut off in this album.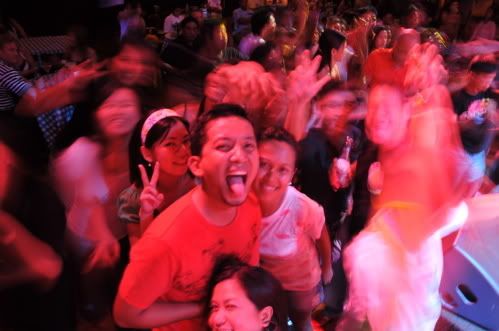 crazy at the dance floor.
beth is so deathly pale, she makes me look abyssinian. but i like this photo. i'd actually think i'm handsome, haha!
one of karl's many sooo gay poses that night.