the other day, roy asked me to join him for a recon of the course for the white rock long distance triathlon slated for october 4. he texted to meet at 4am on saturday outside his shop along buendia, although he actually offered to pick me up outside my condo since it's along the way. i asked him again about the assembly time and he again said 4am sharp without hesitation and with so much certainty that i woke up a minute ahead of my alarm which i set at 3:30am. while i was throwing clothes onto my bed to prepare for the recon, my phone rang, and kuya mar complained that he was already at the jaro glass and no one was in sight. so i phoned roy, and after a few rings, my call was rejected. i figured, he must already be driving. it later turned out that i had roused him from sleep. he lives in santa rosa, laguna, so the drive to makati will take a minimum of 30 minutes at top speed. at past 4:45am, he finally showed up along buendia and we quickly loaded ourselves onto his suzuki vitara, and flew to the NLEx. the rest of the story can be told with the following pictures:
the tollgates at the marilao barrier sport these new neon signs.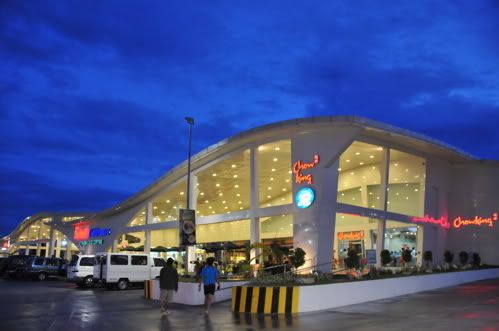 this shell station has got to the most well-designed pit stop along the expressway. i love the undulating, flowy architecture of the roof.
carlo is very seriously training for the langkawi ironman in february that he's now darker than i am. so next time anyone says anything disparaging about my color, i could very easily say i'm training for a duathlon (because my lack of swimming skills is public knowledge).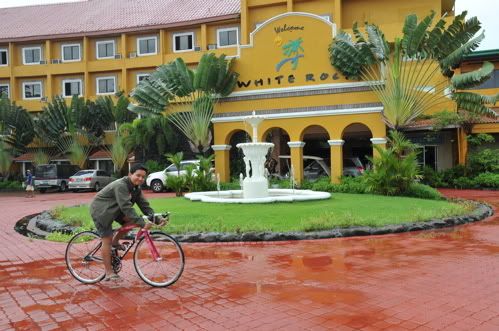 trying out don's bike at the white rock parking lot.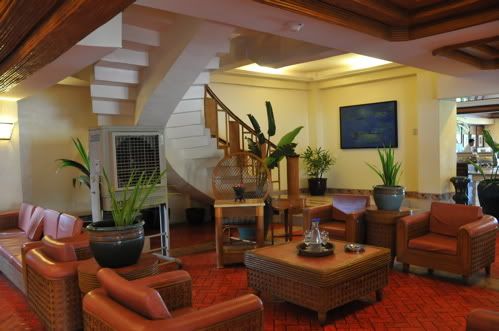 the lobby of the much ballyhooed white rock resort and hotel.
i've actually never been to white rock, even for a short visit, much less an overnight stay. i've always just heard about it and i've always thought it was a beautiful and enchanting place, but after half a day of waiting for our athletes to return from a 100-km ride, i was completely unimpressed. the term white rock is a complete misnomer, and it's priced as like a luxury destination although it seems rundown and unpolished, harking on a storied past i am unfamiliar with, which could be a myth, for all i know. the food was not exactly memorable, although i will remember how expensive they are. perhaps the accessibility of subic, thanks to the SCTEx will reawaken it as a viable weekend destination.
cabanas on white rock's beach front, which faces the edge of subic bay, and the mountains of zambales, including cinco picos.
trying out roy's new tri-bike.
perhaps roy took his less-than stellar performance at the
subic olympic-distance triathlon
as a challenge to elevate his game, because he's very serious with his training, and even upgraded to an argon 18 E-112 tri-bike. he'd used the roadie at the subic tri for the first time, and here he comes brandishing a new pair of razor-thin wheels designed to cut through any headwind and hurt anyone's back in the process. his roadie is already much more than my current monthly salary, which means it's a rather expensive piece of equipment. but this baby, this E-112 is over-the-top, it costs nearly as much as a brand-new hyundai getz, i'm not kidding.
just thinking about how all of these things cost makes me nauseous. but roy is awash with cash, and he deserves all these little toys because he works very hard for the money.
he once said to me, while very drunk in sabang, puerto galera, that he makes one million in a month
. and i didn't blink or feign surprise, but replied: gross or net? seriously though, spending that much on a bike is like throwing away money unless you're a professional triathlete earning from winning competitions, or a very rich man who hasn't outgrown his boyhood fascination with glittering toys.
some of the challenges of the bike course of the triathlon is having to share the highway with buses and trucks like these. very scary.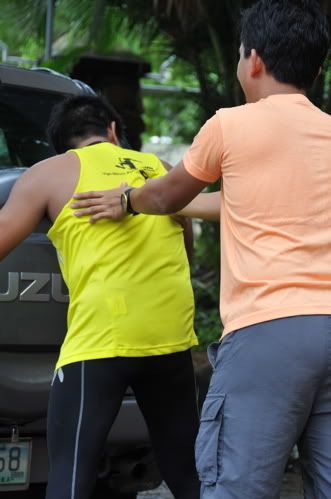 i didn't actually know what my contribution was going to be, but i managed to recon the venue, and that was that. apparently, this is one of my roles as a member of the support crew: masseur.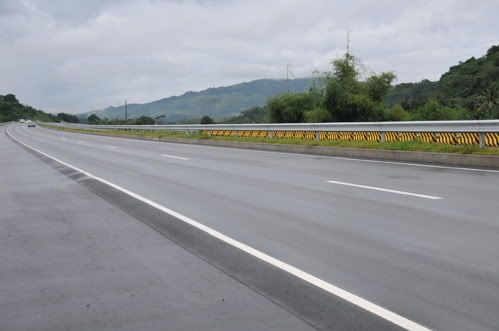 i still can't get over gushing about the SCTEx. it's world class. even at 140kph, you'd think you're still a little slow. it took us exactly 32"45' to go from the the subic tollgate to the clark barrier. filipinos deserve infrastructure like this.