my role in the 2008 white rock triathlon held just over the weekend was ambiguous. i straddled the not-so-fine line between spectator and supporter. unlike the subic triathlon in early august where i actually was able to be of real assistance to my friends, the rules of the WRT are different: the athletes cannot benefit from any form of external assistance, such as taking advantage of a passing wind, or getting a banana or a bottle of water at an undesignated area. the only support that was allowed, was to either heckle or cheer the athletes as they went through the rigorous rigmarole composed of a 2km swim, a 91km bike, and a 20km run. five years running, the WRT, although not sanctioned by the ITU, has been a favorite of athletes and enthusiasts alike. and three of my friends, whom i also helped out in subic two months earlier, had decided to join the fray.
other than don, roy, and orland, there were several other people i knew in the roster: my AMCI batchmate carlo, AMCI folks chari and chock (whose real name, i pleasantly found out, is benson), my pañero chito, and mannie, who indicated his team as solo tri, a punch at the rich and affluent athletes of polo tri.
on friday afternoon, kuya mar and i joined don and iton (who planed in from singapore to deliver some stuff for roy, including a whole lot of gu for the whole team) for the ride to barangay baretto outside of olongapo. we again were booked at daddy ed's inside subic, where sir manny was already waiting. by the time we arrived at white rock, the registration was already ongoing, and the briefing shortly followed. at this time we took our cue, left for subic, and had dinner at gerry's. our athletes joined us shortly, and we coaxed them to a few beers -- in case they DNF, at least they have a valid excuse: a bad hangover. by 10:30pm, we sent them packing back to whiterock to rest, while we proceeded to pier 1. we stayed there briefly, although iton and i had a lot of exercise dancing to the same songs i heard over 7 weeks ago. before going to sleep, sir manny and i agreed to run at 5am, but although i got up when my iPhone sounded its alarm, i decided not to wake sir manny. haha.
we arrived at whiterock just after the gun went off for the 2km swim. the triathletes were to do three rounds of a course that ran perpendicular to the beach. it looked like a mad scramble out there, and the water splashed with hands flailing on the surface, and heads with their green swimcaps bobbed up and down. first out of the water was this european triathlete, who was a guest and wasn't in competition. but locals were really close behind. among my friends, carlo was first out of the water, and roy was last. by the time roy took his bike from the transition area, there were only 4 other bikes left. recently, he threw away P8k for 8 sessions of total immersion. i'm not sure if that helped a lot, really.
and since we weren't allowed to trail them during the bike phase going up more than 45 kilometers all the way to san marcelino, we just stayed in white rock. surprisingly, first to return was roy, who must've overtaken about 50 other bikers on the road. expensive technology worked: the nearly half a million peso tri-bike paid off, really. oddly, orland was last to finish the ride, and looked really spent, he was either too much of a snob, or just too focused on the race that he barely even gave a nod as we cheered him on.
what followed was the 20km run, which given the earlier events, we figured would end after 2 hours since roy began, so after orland started for the route that would send them up successive inclines (which don described as cardiac hill) and into SBMA, we had an early lunch at the coffee shop where sir manny, kuya mar, and iton each had the house specialty: the giant taco.
we stepped out of the coffee shop just in time to cheer on chock and roy. by this time, i had found my presence at the WRT to be utterly useless, not even managing to take that many pictures, or to be or real assistance to anyone i knew. but chock admitted how much his spirits lifted when he saw us on the highway, even as his shoulders burned under the early afternoon sun, his scalp fried, and his lungs suffered from the combination of a long run and invasive vehicle fumes. as i had predicted when we did our reconnaissance at white rock, the busy busy road with its manifold challenges, least of which include vehicles and other pedestrians who have no idea what's taking place, would make this event less than ideal. it may have been too tall an order for the organizers to actually require that a lane be dedicated solely for the athletes, to ensure their safety, and also to promote the event. either that or athletic events, even of the fame of WRT and its top-caliber participants, really just don't get that much respect hereabouts.
we then returned to white rock to be present when everyone crossed the finish line: screaming out loud, clapping, and cheering their accomplishments were the least we could offer since we couldn't do anything else, like tread the water with them and help keep them afloat, or run alongside them, or push their bike when their legs grew tired. one by one, as the weather began to sour, they trickled into the finish line, while a voice from somewhere announced their names and the recent races they've finished. orland was the last to arrive, about 10 minutes before 2pm, just shy over 7 hours since they started the run.
at around this time, the white rock grounds were filled with people limping and hurting, moving around with profound happiness despite their strange gait, unbelieving perhaps, that they had finished 3 grueling tests of physical strength and determination.
triathlons remain to be the exclusive playground of the rich, and the upwardly mobile. i doubt that it will ever penetrate the mainstream and we begin to develop talents from the grassroots. at least, that's the reality here in the philippines. it is a very expensive sport: from the gear, to the training, to the logistics involved in participating in these events, a whole lot of money is involved. while i laud my friends and everyone who took part in this long-distance triathlon for pushing themselves to the limits of insanity, i also ask whether this is yet another fashionable thing to do. i have a lot of time, i'm strong and have a lot of energy, and i have a lot of money. i can swim, i can run, i can ride a bike. therefore, i am a triathlete. i think the word athlete is something to be deserved, rather than something one ascribes to one's self. it involves dedication, not the kind of tongue-in-cheekiness you get from lifestyles that lean more towards the bacchanalian than to the pure love of sport. but i am getting too far ahead of myself. triathlons, stripped of these political ideas, is still, in its unadulterated form, rather poetic. i'd do it, were i not so afraid of the water.
again, to my friends who successfully finished, my warm congratulations.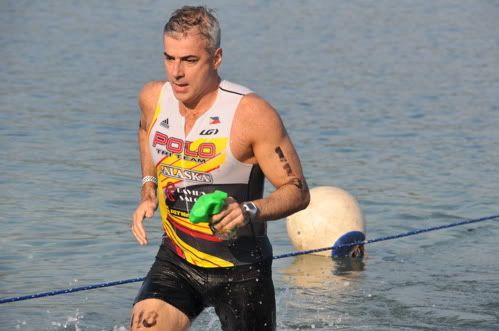 out of the water fernando zobel de ayala
the swim course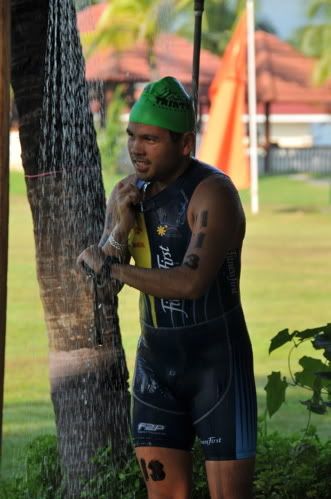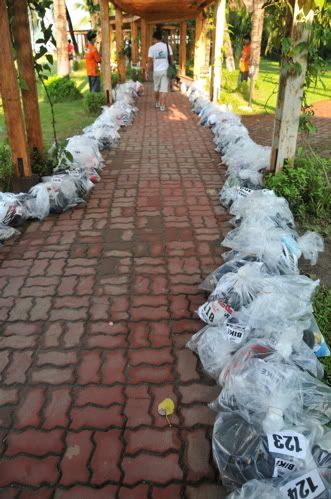 "am i still alive?" chito checks for a pulse | bike gear line the trellised path near the transition area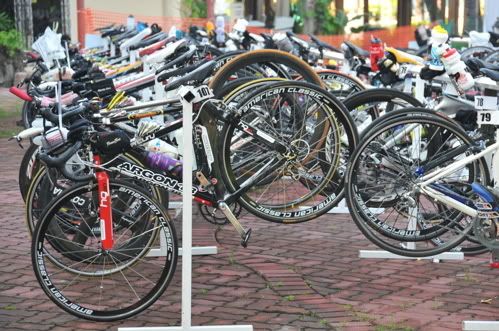 bikers had to leave their bikes overnight at the transition area and the organizers had to provide stiff security -- there's 20 million pesos there easily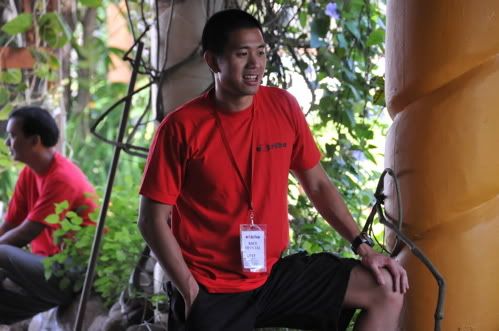 geoff (2k3) had a really difficult job: to direct athletes to his left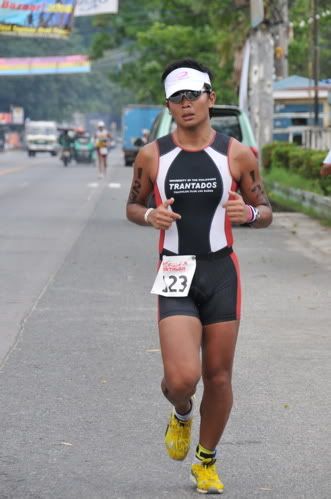 pollution, vehicle traffic, early afternoon sun, and concrete road. i'd hate, quite literally, to be in their running shoes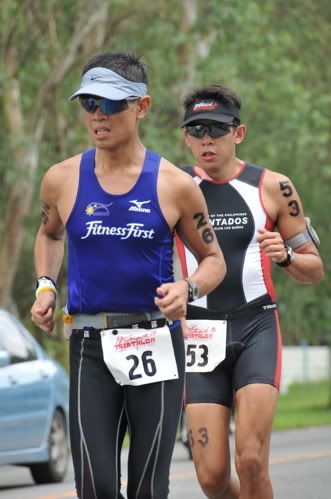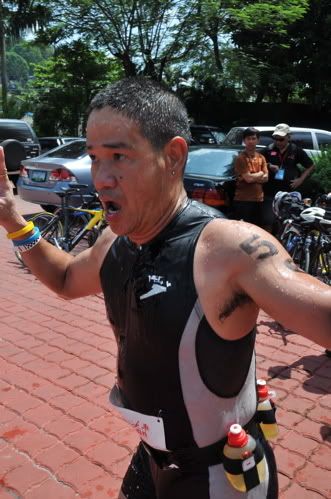 the run portion was filled with so much emotion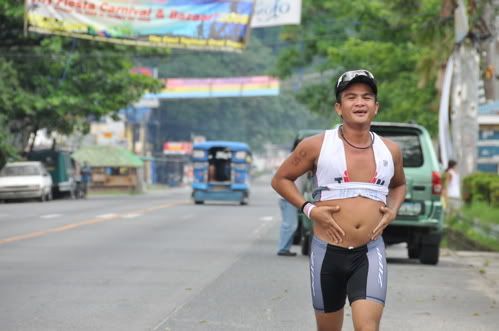 regretting having extra baggage and contemplating a change in lifestyles... not!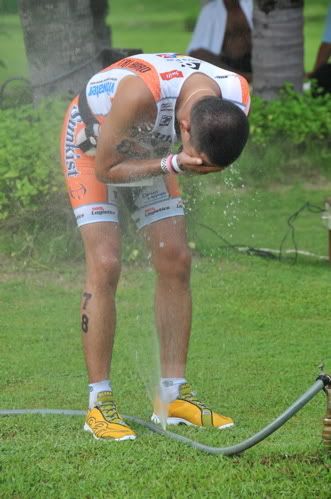 shower time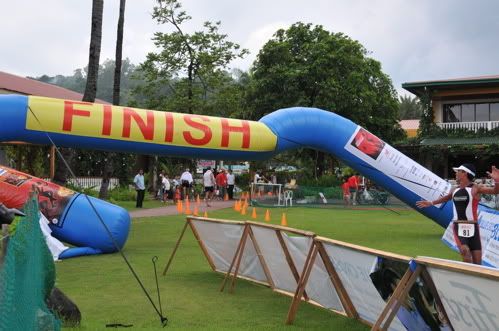 finisher: "i had nothing to do with it! but having been out in the sun for over 6 hours can make you stink"
this triathlete's worst fears were confirmed: he would have to do the limbo rock at the finish line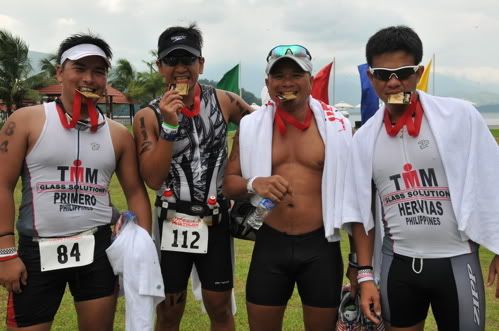 my "athletes" bite into their finisher's medals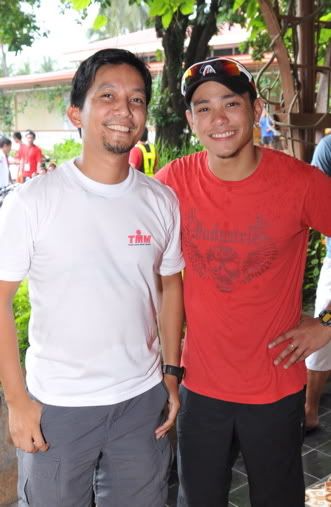 drew arellano is acquitted for doing that lousy shampoo commercial (the one where he's riding a bike without a helmet) where he describes himself a triathlete. he actually did really really well. go drew!