when people think about travel, they more often than not refer to the sometimes complicated process of packing a bag, getting on a vehicle for a long trip, and staying in places outside one's home for at least two days. a journey's worth is measured by its distance from the usual spheres we occupy.
i have a far less elaborate notion of travel, one might think that my trips are unsophisticated or that my standards are simply really low. but if we always think of traveling as getting to the far corners of the universe, then we become unfamiliar with the pockets of details that surround us, and we become strangers even in our own territories.
in this blog, i have written many times about my my trips within manila: dragging and guiding my friends to holes-in-the-wall in binondo, finding obscure restaurants in little-known street corners, talking about (not-so) secret urban enclaves such as the salcedo and legazpi markets, plotting out running routes and biking trails within the city, and revisiting icons and landmarks that define me as filipino and specifically as a resident of manila. i think that this has been a silent advocacy of mine: i write about all these experiences not to demonstrate how much free time i have, how itchy my feet are, or how i am so concerned with trivial things, but rather to share with others who have been jaded by all the squalor, the pollution, the vandalism, the lack of foresight and planning, the traffic, that seen under a different light and the right frame of mind, manila is so much more interesting, so much more colorful, and so much more beautiful than we've ever given it credit for.
recently, on a bright sunday morning, i decided to go on another one of my mini field trips. i wanted to avoid land traffic, and since air taxis are expensive, and i've done rail many times, i decided to turn to the water. and it might surprise a lot of people to know that for nearly two years now, the pasig river ferry has been in operation. i first took the service early last year, and went from guadalupe to escolta. on this recent sunday when i was equipped with a decent camera, i took the LRT to carriedo, walked along the riverbank leading to chinatown, and waited for the 10:30am trip at the escolta station, which is right across the post office building, and right beside the bridge that connects intramuros to binondo.
the pasig river ferry has 14 stations beginning at kalawaan in pasig city to intramuros in the city of manila. the fare may be P25, P35, or P45 depending on the distance. most of the stations are air-conditioned, and are equipped with modern turnstiles with barcode readers and metal detectors. the boats, which follow the general design of the catamaran, are also airconditioned, and are equipped with toilets. trips on weekdays begin as early as 6:30am from kalawaan, and leave the intramuros station as late as 7pm. trips are scheduled at intervals of 30 minutes, and are thankfully on time. from escolta to guadalupe, travel time was about an hour and 10 minutes, which isn't necessarily fast, but was really quite pleasant.
a lot of people might still be stuck in the 90s when it comes to the pasig river: they tend to think that there is more trash there than actual water, so much so that they avoid it like the plague, or stay as far away from it because it might just cause a plague. but i was out of the comforts of the air-conditioned boat for most of the breezy cruise, and i will say that the pasig river does not stink at all. yes, it isn't clean, and i don't think the kids at guadalupe who swore they get no sores from swimming in the river will convince me to dip any part of my body into this waterway, but so much has been achieved in making the river navigable and alive again.
the cruise itself is far from boring. the river, which winds through manila like a long, slender serpent, runs along banks with a mix of industry and urban blight, framed in the background by the behemoths of the makati CBD and rockwell, and crossed by so many spans, by the time we went under the makati-mandaluyong bridge, i had lost count.
the pasig river and its ferry service are outside the realms of my routines, so riding it felt really like a tour. i recommend it to anyone who hasn't given up on manila, to anyone who wants to resuscitate their cultural citizenship, to anyone who might be wanting to experience something new, something different.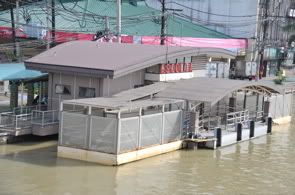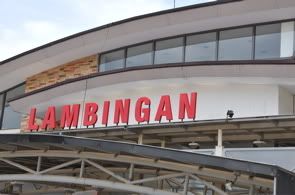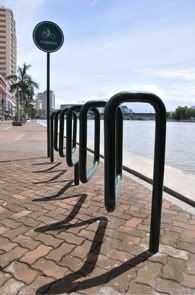 stations of the cruise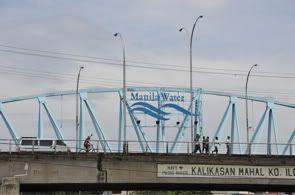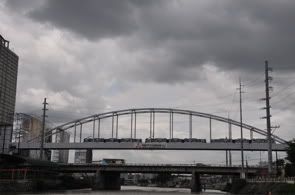 bridges over less troubled waters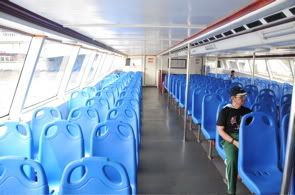 the boat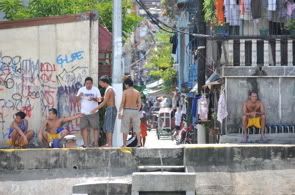 just around the riverbend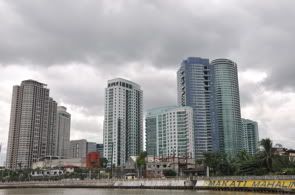 a river runs through it