i was in UP diliman the entire week last week for training on a subject in which i not only lack expertise, but for which i have a natural aversion. the accounting for non-accountants was nearly as exciting as watching paint dry.

nevertheless, i took the opportunity of being in the vicinity to catch up with my ates from the UP law center, whom i treated to lunch at chocolate kiss. they've added more than 20 new dishes to the menu, and i was terribly excited with the new pasta dishes. quite noticeably though was that the portions had been reduced in size; whence before i couldn't finish a plate of seafood pasta, my serving of aligue pasta with shrimp left me wanting more.

of course, i don't think it was the free lunch that inspired comments like i haven't grown old or observations from other fixtures in the UP college of law how i look good in comparison to most of my batchmates (and other lawyers in general). it was pretty obvious, they said, that i don't stress myself out, that i get a lot of exercise, and balance work with other things. true enough, even while i was in UP for a seminar, i brought along my training gear and sneaked in early evening runs around the academic oval. i left my bag with the guards at the college and went off for 3 rounds on tuesday and thursday, which i finished both in very good time.

although i blame law school for the generally sedentary life i've lived, it was actually in law school that i discovered running. it was late in my junior year, when i steadily plumped to more than 170lbs, my waistline was bursting to 34 inches, and my cholesterol at danger levels, that i decided to watch what i was eating and take up exercise. and the cheapest form of exercise available of course was running.

it has been quite a long time since i last ran inside campus. i very pleasantly found out that since march of this year, they've implemented a one-way traffic route around most of the academic oval for all days. it used to be closed to vehicular traffic only on sundays, but now, a lane is dedicated to bikes, and by consequence, also runners. so one needn't get pushed into the sidewalk, and health conscious folks can feel king or queen of the road on any day, any hour, and enjoy UP's sweet air, the shade of its 60-year old acacia trees, and the traffic of other runners and bikers. i'm loving it. the only thing lacking is a facility for both runners and bikers: lockers and showers for rent would be a great idea: i wouldn't mind paying P50 for a space where my stuff would be secure, and a quick shower (note that in the MMDA's gwapotel, a 7-minute shower is P5).

all of a sudden i regret not being part of the university anymore. it crossed my mind somehow that i could still be a student now -- or a member of the faculty. i almost was, actually. maybe i can contemplate that again in the distant future. i love UP. now i understand completely why i so wanted to stay longer.
BMX daredevils gather in front of the faculty center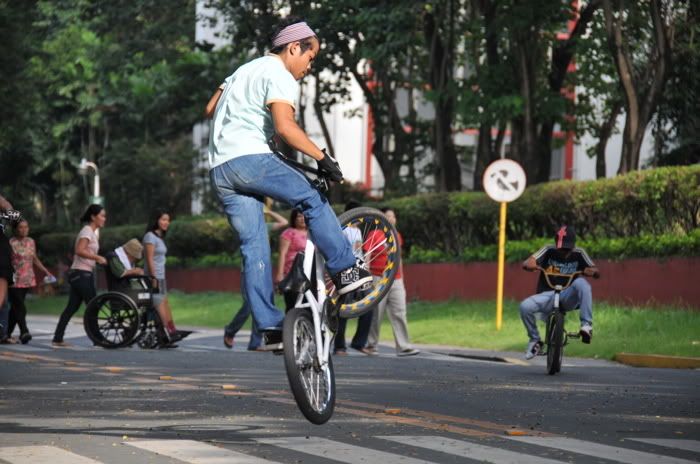 anywhere else, these stunts wouldn't be tolerated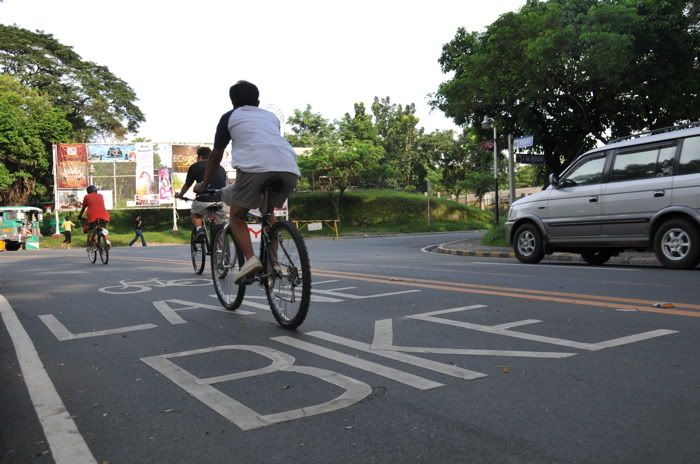 UPD is one of the few places where bikers and runners get respect