despite my predilection for adventure and action, i have never imagined myself an athlete. i have poor motor skills, not the best coordination, and am generally not the strongest, nor the fastest. i have a low tolerance for pain, and i tend to over-analyze and rationalize, which ultimately results in my lacking both focus and sheer physical determination. i have come to realize that one's mental will is not necessarily proportional to one's degree of intelligence. nevertheless i involve myself in sporting endeavors because i desire exercise.
so this really was the main intention when i forked over a grand to janice to have me registered for the 2008 philippine international duathlon championship held early today. i couldn't even fantasize about winning, because i had many handicaps: lack of training, zero experience in a multi-sport race, and a clunky, chunky, mountain bike.but i drew inspiration from the fact that i wouldn't be alone: there would be at least 6 of us riding upwards of 20-kilogram bikes in the race. so although everyone else had 20-pound road bikes that made us look really stupid or maybe a little crazy, at least i had company.
we booked a bare apartment inside clark courtesy of janet. at 5:30am, we pedalled to the nearby clark museum and got our bibs and numbers. the weight of the bewildered stares were heavier than the combined weight of our bikes. one person remaked: "pang adventure race." in response, i prayed for
lubak
. lots of them. i was registered for the sprint event, which required a 5km run, a 24km bike, and a final 2.5km run. there were many familiar faces at the starting line: people i've seen and even photographed at the last
WRT
and the recent
asian long-distance tri
at subic.
and at a shade past 6:30am, we were off. in my event, we had to do just 2 loops around the parade grounds which is beautifully shaded by these great rain trees -- it kind of reminds me of the academic oval. i started at the back, but my twice weekly runs have paid off because i outran a lot of people and had a 27:35 split despite taking more than a minute in the transition area to change into my bike shirt, consume a bottle of red bull, and wear my bladder -- another faux pas i would suppose, but i had no choice since my bike does not have a water bottle cage. it was a really good 5km split, because in my event, it was the 20th best time in a field of 42.
but the bike portion, which required us to do 3 loops around an 8km course that had serious inclines, was absolutely terrible. i wasn't even past the freedom park when i realized the odds; it was like entering an SUV in an F1 race. the feeling of having all these people eat up the small leads i had in the run and build enormous advantages with their much lighter and much faster roadies was so insane that i wanted to trash my bike right there. i was so slow in the uphill portions that i was actually singing. it didn't appear at all that i was in competition, and it showed. these much faster riders condescended on me, shouting bike! bike! or keep to the right! hey bitches! i'm racing too! and the marshals conspired to belittle my awful machine because at one point i was asked: sir, kasali po ba kayo? well, it did look like i was just taking a leisurely ride around clark because i was unforgivingly slow.
on my last loop, i reached for my powergel, squeezed most of it into my mouth, and chugged gatorade from my bladder. but neither helped at all because i wasn't feeling weak, my muscles weren't cramping. when i dismounted at the transition area, i couldn't walk because my butt was aflame with pain. even the people who gave directions couldn't hold back smiling when i doubled over on the road to dramatize just how painful my butt was. i wanted to walk the last 2.5km! but then mercy shows up and although muscle cramps were in the offing, i allowed her to pace me. i told her that we should cross the finish line together, and as we were approaching the arc, i made sure that we'd have the same total time by holding on to her hand. right after we crossed the line, we were told that holding another racer's hand would have constituted assistance and could have disqualified either one or both of us. i said: go ahead, it's not like we were going to win!
sure enough, with my 1:15:25 bike split, and a pretty bad final 2.5km of 16:25, i ended up in joint 38th-39th. i was happy to note that two of the people below me had road bikes. haha.
anyway, it was a great and humbling experience. my friends janice and doc won medals, and we managed to get free brunch for our supporters by picking up stubs that other participants had either thrown or dropped. i wolfed down my food with such ferocity, it seemed as if i was bent on gaining back all the calories i just burned in the race. whether or not this episode has inspired in me a desire to get a road bike, i'm not sure. i'm not yet convinced i need one. besides, there aren't that many duathlons being organized, and there's no way, at this point, that i'll ever break into the winners' column.
race briefing: how many loops again oliver?
mass start at 6:31
i'm not thirsty, but my hair's on fire!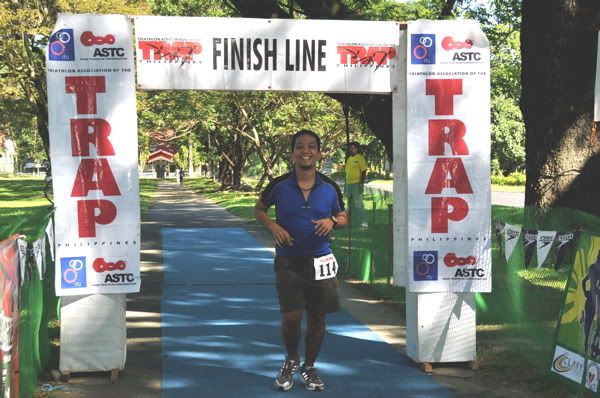 faking a finish for photography's sake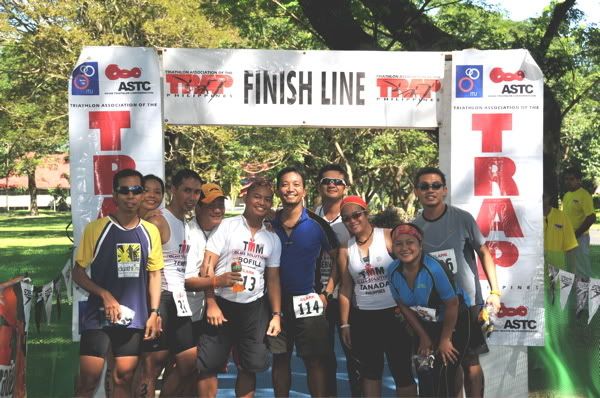 team mang mar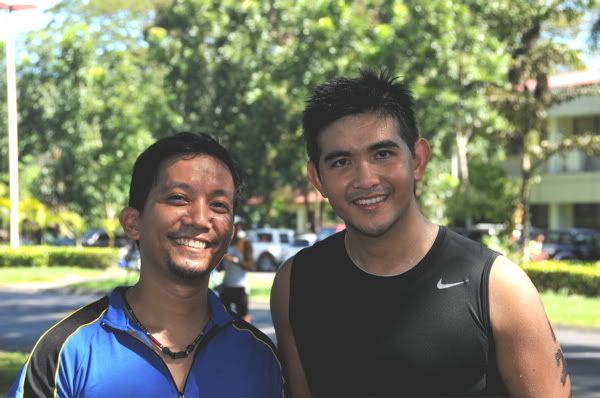 from basketball to duathlon: former UAAP heartthrob BJ manalo, who's a celebrity in so far as i'm concerned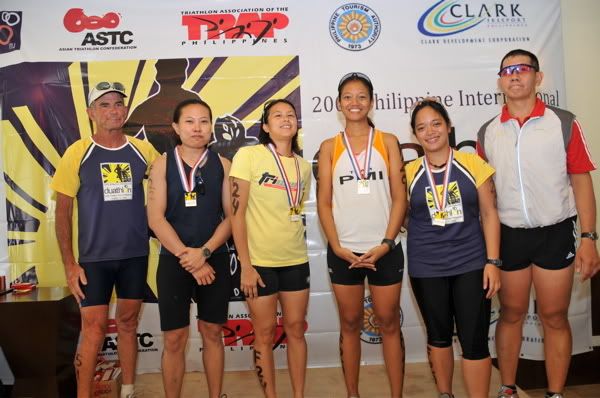 top 4 women in the sprint
race photos taken by tobias (2k8)