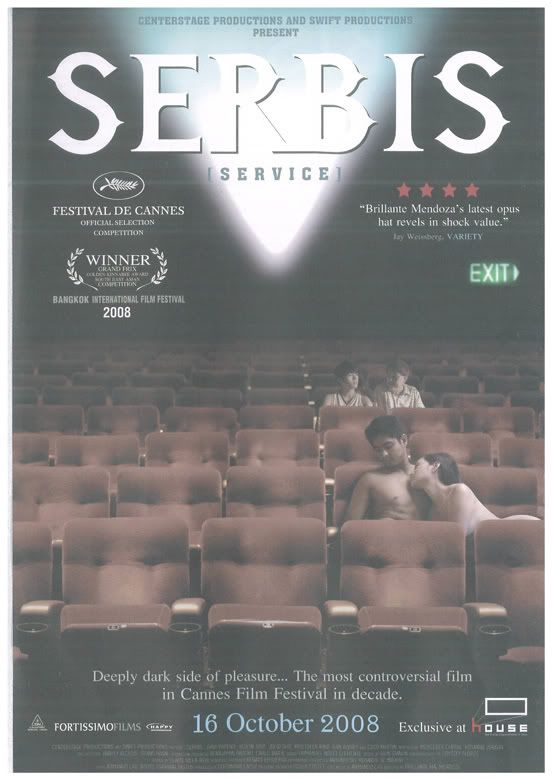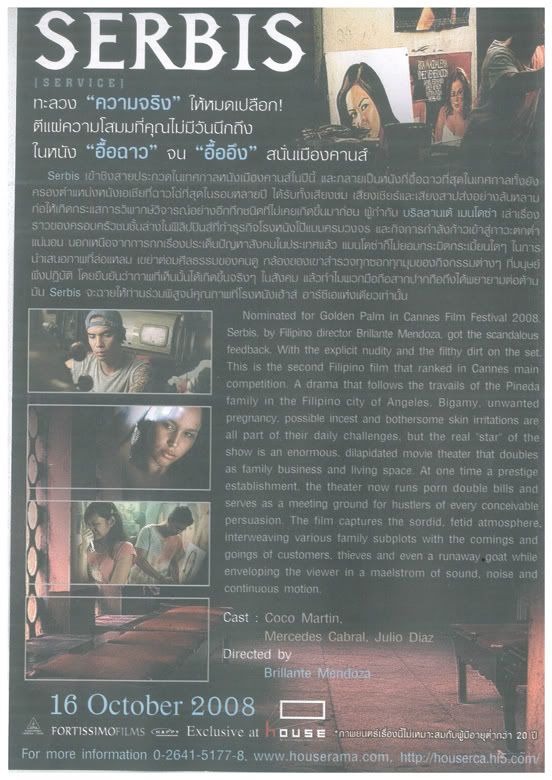 or conversely, it could be said that
serbis
is big in bangkok. during my brief visit to the city of angels, i got hold of a flyer for brillante mendoza's
serbis
, which until i left on sunday, was still being exhibited and viewed by an increasingly philippine-cinema-aware thai population. at least 3 people i met there said they'd seen the movie, while more than that number said they've also seen
ang pagdadalaga ni maximo oliveros (the blossoming of maximo oliveros)
. strangely, i have not seen
serbis
, not that i think it's a bad movie, but movies have not found a convenient and consistent place in my tight schedule.
locally, i have seen a number of thai films. i know that
love of siam
is top search priority in pirated DVD stalls in MCS, and i myself have seen
beautiful boxer
and
shutter
. and no,
anna and the king
and
the king and i
are not thai films. i think that the philippines has held a long jealousy of thailand and its success in international cinema as well as in the advertising industry, but we've caught up with our neighbor. we may have been ahead over 2 decades ago, but thai cinema really captured the attention of the world in the late 80s and throughout the 90s. in this new century, the philippines, and its vibrant cinema (2nd only to india in terms of production size) is getting much deserved praise. nevertheless, there seems to be a mutual interest, if not admiration, between the industries of these 2 nations. in many different levels, although we're much closer geographically to malaysia and indonesia, i think that filipinos can relate so much more to thais than to anyone else, religion and the concept of royalty notwithstanding.
footnote: interestingly, gina pareño and jaclyn jose are completely left out in the billing for this film. and coco martin, i hear, is winning the hearts of many girls and gays in bangkok.