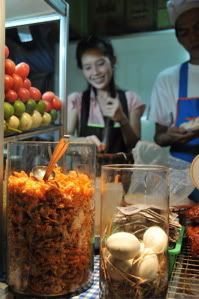 aroy
is the thai word for delicious. this i kept hearing during the many authentic thai meals i had in bangkok and its outskirts. but i probably will not say this of the expensive meal i had earlier today.
only 5 days after i left bangkok, and already i began to crave thai food, so i had a very late lunch at oody's this afternoon, and i was mighty disappointed. i used to love dropping by som's, and prior to that, my thai fix consisted mostly of the thai canteen outside UP and the now non-existent ayuthaya near the ateneo in katipunan. lately, i've also taken a liking to chariya. but after having several fantastic authentic thai cooking at amazingly affordable prices, i begin to wonder whether it will ever be the same again: will i go back to som's feeling excited, only to leave gravely disappointed? and will chariya not meet the great expectations i have held of her reputation?
i had my first thai meal on the sunday after i arrived, at the night market at the end of witthayu, which i reached after a hike of over half a kilometer along the mostly unlit, but empty narrow sidewalk. i walked into an immense hall, like 4 barangay basketball courts put together, which had more than 20 different stalls vying for my attention and my coupons: i would later learn that in thailand, most food establishments in malls and places such as this one never handle money: you buy pre-paid cards, or as in this case, coupons. many of the stalls offered thai food, with exciting and delectable photos of plates with colorful and tasty-looking preparations. i went to a stall which had a long queue, and which had more photos than most. i pointed to one photo, and exchanged it for the coupons i bought. beside the stall was a small table with condiments, herbs, sauces, and water kept hot by a broiler. i correctly guessed that it wasn't to make soup, but for dipping the utensils. i also ordered rice and dessert -- mango sticky rice. i could have fed 3 people with what i ordered, and i hadn't spent more than THB150. but the winner really was the som tam mango salad i ordered from the pretty lady with braces who smiled when i took her picture while preparing the tasty, spicy salad inside a big pestle.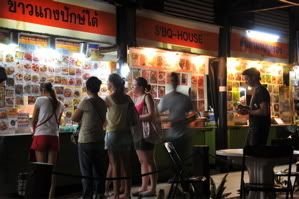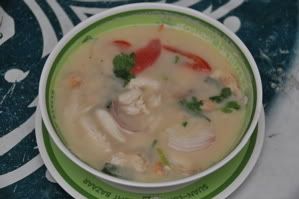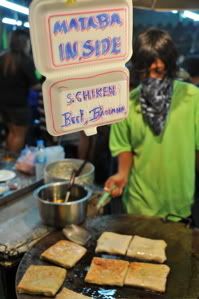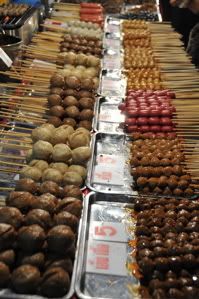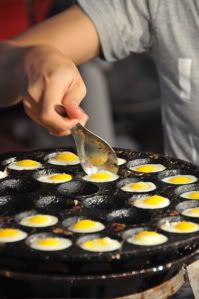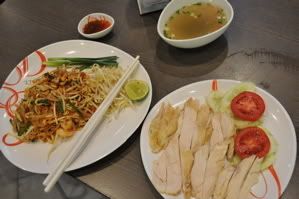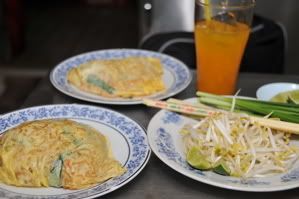 on the nights i went out with my friend pitsa, i managed to eat in places where i was visibly the only foreigner. although not much of a foreigner really, because i look every inch thai, and people do talk to me in this interesting language which is a mash of sounds, rather than precise syllables that describe most western languages. i suppose filipino sounds much like the cackling of turkeys to anyone who does not speak it either.
my first stop with pitsa was at the thip samai pad thai in bangkok. it kind of reminds you of the eating places in quiapo or chinatown: plain tables, a plain, square interior, which was unadorned save for several framed news and magazine articles, and an outdoor kitchen, where you could watch them mix noodles by the batch on big woks. we had to wait 5 minutes to get a table, and outside, there were more than 10 people waiting for take out. pitsa gave me options, and i chose to get the one with shrimp and egg. and i was very surprised when they placed on our table what looked like a yellow, deflated ball. it turned out that the noodles were delicately wrapped in scrambled egg. and after over 4 decades of existence, i immediately understood why pitsa said this must be the best pad thai in all of bangkok. it was delicious! i will never look at pad thai the same way again -- and my tastebuds remember.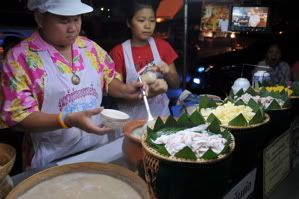 pitsa and his friends also took me to bug & bee which served thai fusion food. a bit more pricey but the food was very interesting: everything had hints of crepe or some other french-inspired standards. although, admittedly, they refused to serve me beer because it was already after midnight, but gave a bottle to a white man at 12:30am only because he arrived before we did. and this really pissed my friend pitsa.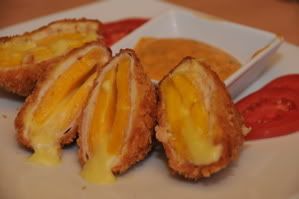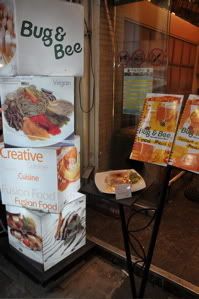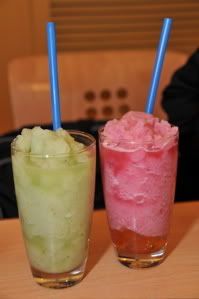 the next memorable meal took place in what pitsa says is the first beach resort in thailand: at huahin, at the province of prachuap khirikhan. it was a seaside restaurant and i had a grant time getting heaps and heaps of food. thais are extremely accommodating and they adjusted their orders knowing my biological aversion for very spicy food. and the best part was that they tolerated my need to photograph every single meal before it's touched. they'd even arrange the plates in front of me so i never had to rise to the other end of the table.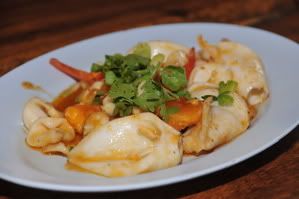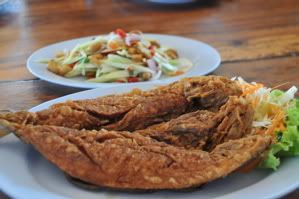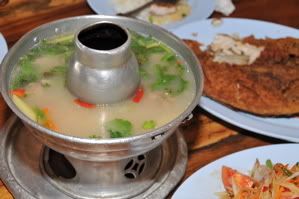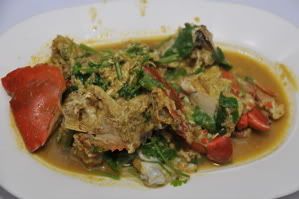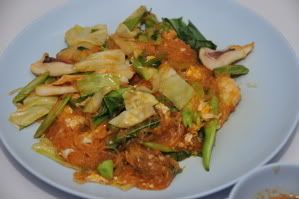 most of the other thai meals i had were at non-descript holes-in-the-walls and street stalls with makeshift tables. these seem to be standards for bangkok folk, who are unassuming and unpretentious like many of manila's noveau riche, who can't be seen eating fishballs or who won't deign to order at a carinderia, whilst several luxury cars ordered chicken rice from a stall that served iced water in tin cups.
i told pitsa and my other thai friends that if ever they visited me in manila, i would probably not take them to establishments in which i could not assure the standard of sanitation. but they had no qualms telling me to order this food or that food, from sidewalk stalls to ambulant vendors, who displayed sticks of odd balls and other strange looking things, swimming in pools of chili and spice. i kept thinking about friends who love the burning sensation of chili, and thought: they would so love it here. and i did, although i was never a fan of things that were too spicy.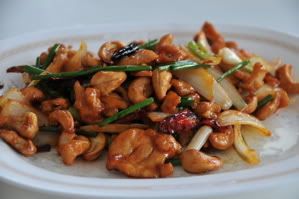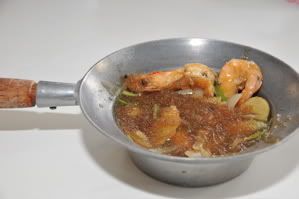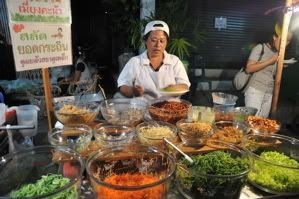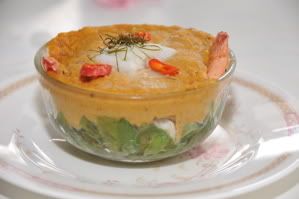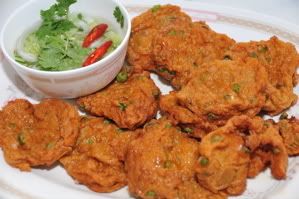 despite the wealth of food choices at bangkok, what i clearly noticed was that there are very few fat people in bangkok. whereas manila seems to be filled with overweight, if not obese types, bangkok folk are lithe, slim, trim. can it be the food? it probably is. the girls there snack mostly on fruits: mangoes, guavas, pineapples, etc. it really is time to throw away our chips and fastfood! although i had binge after binge in bangkok, eating well after midnight, i weighed in at the gym earlier today to find out that i actually lost weight! like a full 2 pounds, even while i had no exercise at all!
so where do i next find my thai fix? i think it will be very hard, and i might just set myself up for huge disappointments. the only solution is to go back to bangkok. and soon, i hope.