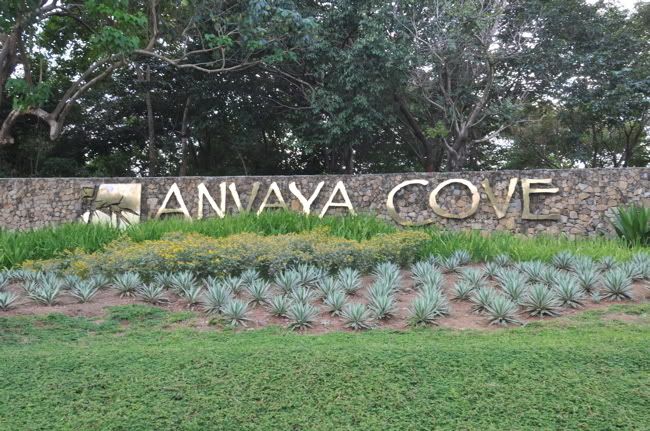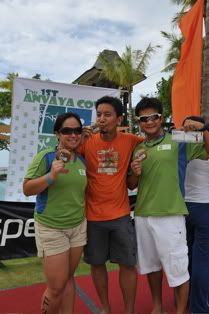 not accidentally, i brought along my running shoes in the hope that i would sneak in a run during the weekend, as part of my uninspired preparation for the singapore standard chartered marathon. so when don couldn't make it to the 1st anvaya cove invitational triathlon, i pretended to be him and claimed his race packet. at the time, i didn't know yet that i would be running in the event.
i ditched the first amcibads badminton tournament for the year just to support roy and janice in this event. and after marveling at the leisure community that ayala carved out of a forested cove in morong, bataan, i knew immediately that i had made the right choice. we arrived at anvaya under cover of darkness. we wound through a smooth, undulating road hemmed by lush forests. even in the dark, it looked like a difficult trail, and janice immediately cried out: i'm scared tito roy! but we set aside their concerns when we reached the welcome pavilion. i could make out the silhouette of a structure made of wood, floating above a rippling moat. music was playing, and we had just missed the briefing by an hour. nonetheless, we helped ourselves to the buffet, where i even had the tenacity to ask for spaghetti, because i don't really like angel hair pasta. haha.
we were given instructions on the race course, and since i was just there to masquerade, i was more interested in looking around. i immediately noticed triathlon superstars like monica torres, neil catiil, etc. TRAP's rick immediately said that they were guests of anvaya, invited to enjoy the facilities, and not to race. roy's chances immediately increased. invitational must mean that anyone who's seeded is out! after dinner, we proceeded to our crib for the night: white corals resort in morong town, which could very well be anvaya gilid. it wasn't that bad, we thought at first, and we spent the night with stories, cans of beer, spicy sweets from thailand, and a bunch of other things. we deprived janice of even a single puff of smoke, and she retired earlier than the rest of us. when our athletes finally slept, joni, ai, jon and i wrested control of the videoke nearby, and then, in a fit of drunkenness, i stripped to my briefs and jumped into the pool with joni, who with deftness, flicked off her bra under her shirt. i quickly realized that it was a saltwater pool, and a bit later, after we struggled with the uncooperative videoke, that it would be our last bath before turning in. jon and i slept at past 3am after talking about everything, and an hour later, we were roused, and found out that the resort won't have water till about 6am. we left for anvaya without having even brushed our teeth. that is so not posh! but then again, you get what you pay for.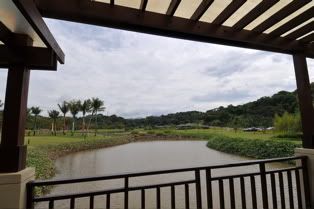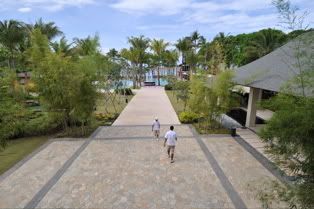 we proceeded to the transition area where roy and janice prepared their bikes and their stuff, and where we also had our numbers written on our arms and legs. we quickly proceeded to the beach, and by this time, the sun rising behind the cliffs began to shine over anvaya, and i marveled at its beauty. even in its state of incompleteness, the posh community was beginning to take shape. identical villas had been tucked within forests, while a beach resort was built around a landscaped space: meticulously manicured in the smallest details. it was fully-staffed by the friendliest people i've encountered in a long time, who offered five-star service in a laid-back, island-paradise atmosphere. clearly, the triathlon was anvaya's debut, its soft opening, its launch: the rich had arrived in droves, driven by the longing for sport, and by the curiosity over ayala's foray into leisure development.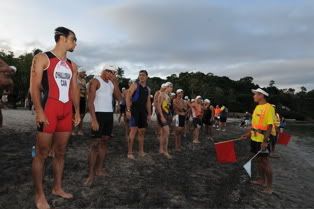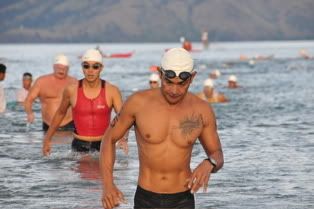 those among us who were neither rich nor curious were just delirious that we'd penetrated the playgrounds of people who never wear the same pair of socks twice. membership in anvaya is nearly my whole year's salary, so the triathlon was a rare opportunity to see where the rich spend their weekends, and experience fleeting exclusivity and temporary luxury. but rest and relaxation were farthest from our minds that morning as the racers braced for the start of the event. rick called kitkat zobel to sound the gong to mark the beginning of the triathlon. at past 6am, the girls waded into the water for their 1km swim, and at 7am, the men dove in.
janice was last out of the water in the women's division, but we egged her on as she proceeded to the transition area for the bike portion. that morning we confirmed her fears: that the bike route was three loops of killer ascents up the hills leading to the gates and out to the road. roy's swim has been steadily improving as well, and he left more than 5 guys sputtering in the crystal clear waters of anvaya's cove when he changed into his bike outfit for the 30km bike portion. we stationed ourselves near the turnaround of the bike route, and at the start of the steep incline where several people struggled. at one point, someone stopped in front of me and said: "pare hindi ako sira-ulo." i was about to get defensive and would've said: "wala naman akong sinasabi na sira-ulo ka eh," when he dismounted and walked.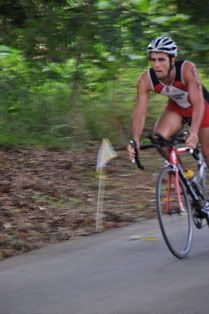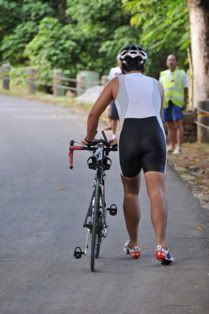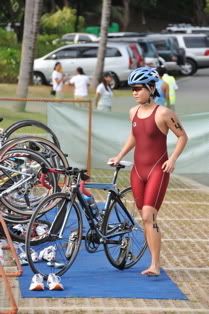 when roy and janice left for their final loop, we proceeded to the transition area. since i had a number anyway, i decided to participate in the run portion, and pace janice, to make sure she doesn't walk the entire 6km route. by this time, people were looking at me in a strange way: why wasn't i out there biking? i'd been saying "i'm here for the triathlon" since the previous night, and yet i was just there, standing, with a number on my chest, my arms and my legs. i told someone: "i just love body markings. so this morning when they were writing numbers on everyone, i knew i just had to get my own." kidding.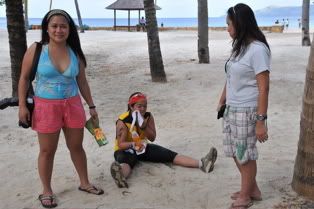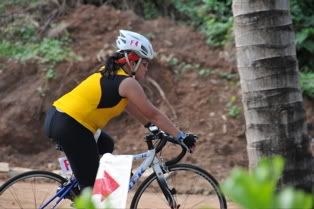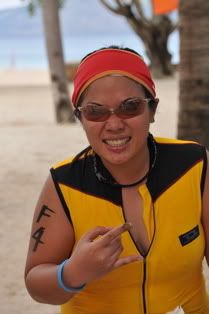 the many phases and faces of janice
when janice came in, i held on to her gu gels and her water, and ran at a pace of about 8kph, or probably slower, since she was about to cramp, and had to walk the uphill portions. anvaya is amazing, and the layout is marvelous, i regret i don't have a million pesos to become a member. but then again, there's 6 degrees of separation, and i'm sure someone i know knows someone who's a member. anyway, the running route pushes up a hill behind a number of cottages, and enters the residential area called the sunset villas where an american hosed us down each time we passed, then proceeds around the peaceful, artificial lake on a street for golf carts. we had to do 3 loops of this, and anthony pangilinan, who earlier suffered a flat, passed us and probably did an extra, unnecessary loop. although janice was last out of the water, she overtook 3 others in her division. but the two american girls -- teachers at the faith academy -- just had stronger legs and they outran her. in the last 300 meters, when janice began to complain about debilitating cramps, i said i'd go ahead, and i kicked for a final sprint. i passed someone who said: sprint ka na? yeah, i said, but left out the detail about my not swimming nor biking. i crossed the finish line amid the cheers of anvaya's staff who were waving hotdog balloons and collected two refrigerated face towels (service deluxe), a bottle of vitwater, and my finisher's shirt. i'm so not giving this to don. haha.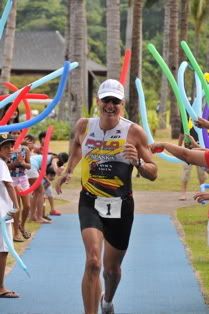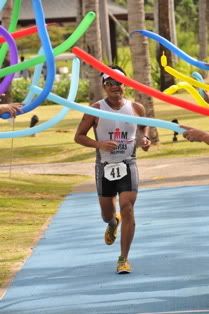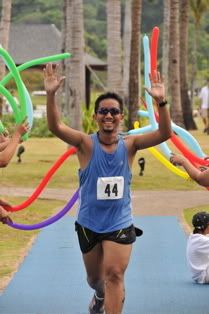 finishers and fakers
after the last racer crossed the finish line, we had brunch, and thanks to the generosity of the ayalas, even our support crew managed to enjoy the best triathlon brunch buffet ever! even though i just ran 6km, i stuffed myself like i had just endured my first long-distance triathlon! when you're served luxury on a golden plate, you don't act coy and shy and pretend that you have it everyday. you enjoy it and savor it for all its worth -- there may not be another opportunity. and during awarding time, we sat far away from the stage (it was just so damn hot), since none of us were expecting encouraging results. but, wonder of wonders, roy was called in as champion of his age category (30-34)! woot! kitkat zobel de ayala herself placed roy's hand-made medal. and i have to say something about her: i mean, she's amazing. no pretensions, no ladies in waiting. she even lined up at the toilet for her turn, carried her own bag, and took fernando's pictures with a heavy canon 5D. i didn't know who she was at first, but she immediately caught my attention with her stunning simplicity: she wore slippers, absolutely no make-up, not a single piece of jewelry, and a flowing green dress that caressed the ground she walked on. the truly rich have absolutely no need to rub just how much they are worth into everyone's faces. class speaks for itself, and it really can't be bought! i love the ayalas! even though the photo we had with them made me look like a little brown
indio
beside fernando! haha.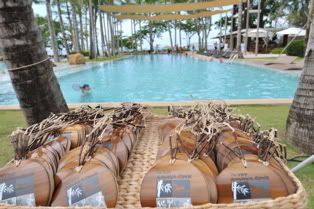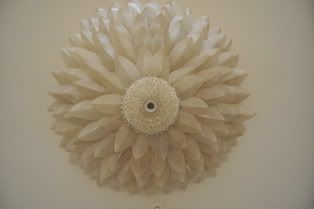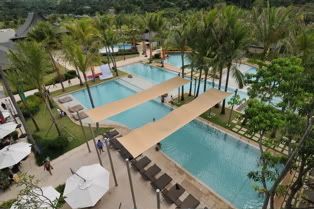 after the awarding, we lounged beside the pool and relaxed on one of those outdoor rattan furniture. i want one for myself, but trouble is, i have no pool! haha. i fell asleep there despite the spotty wind which too often gave in to the bristling heat of the afternoon. at 3pm, we decided to call it a day, and proceeded home. we could've waited for the sunset, but alas, we had to be back in manila soon. in half an hour, we were in subic, and after 2 more hours, we had returned to reality: manila, where there are no cold towels, no comfortable furniture weaved from artificial rattan, no free buffets, no posh shower facilities that poor people like me cannot figure out.
i have taken many little peeks into the lives of the rich and famous, and i have drawn a few preliminary conclusions. the über-rich are bred differently, and they could either be too sheltered that they are consumed by their own privilege, or have neither worries nor complaints that they need not be reminded about just how much they're worth.
and i'm also beginning to see triathlons in a completely different light. who knows what the future holds? for now, let me just congratulate my friends janice and roy for finishing, and finishing well!