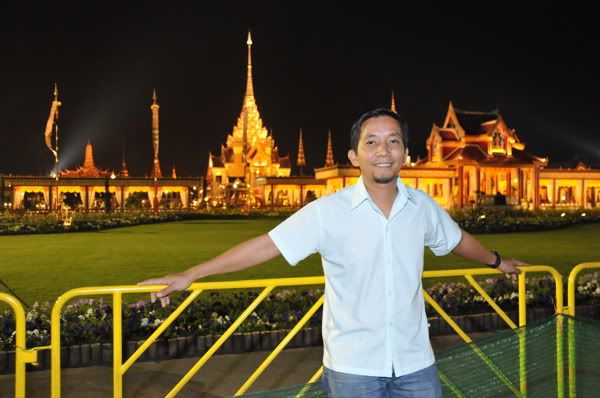 not a few people i know, including my mom, who are remotely aware of my activities and who happen to tune in to the daily news, have said that i should be so lucky i visited bangkok ahead of the domestic crisis that resulted in the week-long paralysis of the operations of both don muang and suvarnabhumi airports, stranding hundreds of thousands of transiting workers, tourists, and travelers. but call me strange or crazy or both, but i would not have scrambled for a bus to chiang mai or elbow other passengers for the few seats that were made available in the special flights arranged by both cebu pacific and philippine airlines, or scurry off to far-away KL to book another flight home. i would have just said, okay, so i'm stranded in the city of angels... who wouldn't want to be with angels?
i so enjoyed my evenings at bangkok, that although i was trapped inside a cold conference room for most of the day for 4 days since i arrived, i stole slices of bangkok's rich and colorful culture which is steeped in religion, royalty, and tradition, but still somehow strikes you as modern. perhaps i was fortunate to have friends who are also locals and know exactly what a wide-eyed visitor like me wants to see.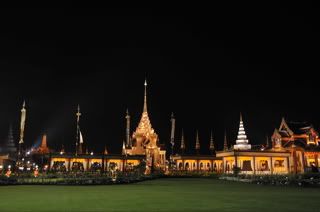 of course, long before i left for bangkok, i already knew that there was a political crisis. i read that protesters had evicted the prime minister from the government house. but my friend jay quickly dismissed my concerns and said that i had no cause for worry. in fact, i hadn't felt the protests at all while i was there. it happened that on the second saturday of my brief stay, her royal highness princess galyani vadhana krom luang naradhiwas rajanagarindra, princess of narathiwat, and beloved elder sister of his majesty king bhumibol adulyadej, was going to be cremated in an intricate royal ceremony beamed live across the kingdom. over 3 days of national mourning was declared, and flags were raised half mast all throughout thailand.
that the thais love and revere the royal family is already widely known, but i found it ultimately strange that at one point, while marching to my hotel on an elevated walkway, i was stopped on my tracks by a policeman who said something to me in thai. i didn't understand, of course, and asked why? what's going on? he said: "princess pass". it turned out that the convoy of the princess was about to pass, and if i happened to cross the bridge at the time her car passes under it, it would have been no different from me stepping on her head. which is of course stretching respect too much, because i asked if the royal family ever used the subway when it opened, and pitsa said yes. "maybe that was an exception," he added. but my friend ruangchai (or tae, who is also a lawyer) admitted: "even i don't understand. sometimes it's ridiculous."
so a princess was going to be loaded onto a chariot centuries old, and a ceremony that has more pomp and pageantry than the living will ever see had been prepared. "this is a rare occasion," enthused jay's mom. "it's not all the time that a member of the royal family is cremated." i later realized what she meant by this. when my friend tae (pronounced teh, with a prolonged e, for all you pinoys out there) drove pitsa and i around the grand palace, we stopped by the grounds where a small wat flooded in lights had been built. it looked like a miniature temple artfully constructed down to the smallest details with characteristic siamese craftsmanship. "that's where the princess will be cremated," pitsa said, as we marveled at it from a distance. "oh i think i'll cry again this saturday. i really love the princess. she has done so much for the thai people." and the thais did mourn on a national scale. i saw streams and streams of people in black, whereas each day is normally associated with a specific, particularly bright, pastel color.
of course, not everyone was as deeply involved as pitsa was: he decided to mourn the cremation of the princess, who passed on in january this year (although pitsa, who works for the office of his majesty the king, says that the princess had been in coma since december, but it was not officially announced to the people so that they may celebrate the king's birthday in december, then the new year in january). not that jay and his cohorts didn't share the same regard for the royal family, but when i joined them at bed supperclub, they regretted the fact that it had to close promptly at 12mn.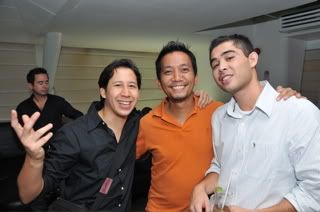 all of a sudden, there was an invitation to continue the party at spicy, which by word of mouth, was said to defy the official declaration of national mourning, and allowed foreigners to party till they desired. we left with david and his friends from france, none of whom were of the same race as napoleon bonaparte. vincent, who is of spanish and vietnamese descent, looks like a mestizo filipino, and he asked me: "are filipino girls easy? what i mean is, will they go with me?" i forgave him his limited english, and i replied: "well generally filipino girls are conservative, but if you meet them in a bar, yeah they'll give you the time of night." he nodded his head and interjected: "and they are not prostitutes?" "not likely," i replied, and continued: "but really, if you look like that, you don't have to worry."
anyway, we found spicy to be dreary and almost scary: it was a small, temporary space converted into a bar that walked the thin line between seedy and just plain third world. jay and i agreed to split. on the way to jay's house, he kept saying why do we have to spend so many days mourning anyway? i kept quiet, knowing i had no business interfering with the domestic affairs of a country where i was only a visitor.
other than the royal cremation ceremony, which befuddled me without end to see thais walk on their knees in the presence of the royal family, among other things which must have exhausted pitsa in his attempts to explain, that he finally said: even i don't understand everything, my visit also coincided with the loy krathong festival.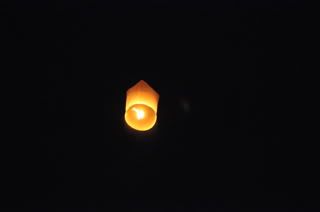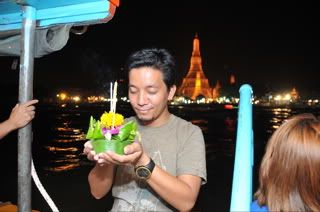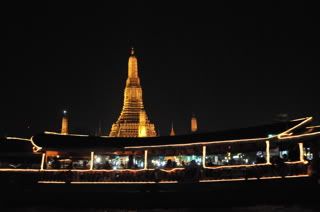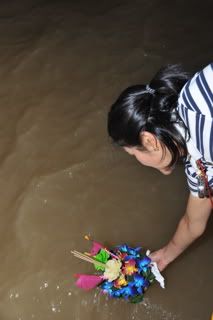 loy krathong is celebrated during the full moon of the 12th month of the thai lunar calendar. for me, it just meant wednesday. traditionally, bangkok folk would troop to the chao phraya to release small rafts on the river, which are always accompanied by wishes and prayers. pitsa and his friends asked me if i would like to buy one, and after a small glance at one of canals that drained into the river, i said that my contribution to the environment of thailand would be not to float a krathong. pitsa seemed to agree and said that loy krathong makers are now shifting from styrofoam to banana tree trunks and even bread.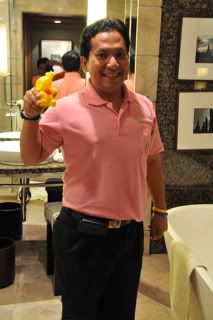 we also took a long boat to cruise along the river. along its banks are perhaps the poshest of bangkok's hotels. when we reached the area around wat arun, the temple of dawn, i noticed that there were yellow lights in the sky. "what are those?" i asked pitsa, realizing they were neither stars nor airplanes. "they are called khom fai," pitsa said. like small, hot air balloons, these lanterns are launched into the sky, which during this festival, explodes with colors and fireworks.
pitsa is a gem of a friend. he has a talent for remembering distances between two places, and has a very keen knowledge of geography. although he finished political science at chiang mai university, his love for thailand prodded him to secure a professional license as a tour guide. and i did feel like i had top notch annotations to the littlest things in bangkok, which pitsa colored with bits of history and trivia. while waiting for a water taxi to bring us to the area of golden mount, i asked: what is this place called? this is the saen saeb canal, was pitsa's reply, his hand gesturing to the narrow channel. saen means very, and saeb is itchy, he continued, explaining that the canal used to be infested by mosquitoes, such that those who lived along its banks kept scratching their bites, hence the name.
we reached saen saeb after taking the bangkok skytrain to ratchatewi (which for some odd reason is a name i really like saying) and crossing the sapan hua chang, the oldest bridge in the kingdom. i didn't have to go to wikipedia for all this information. pitsa wrote this down on a piece of paper complete with verbatim translations.
we reached the phan fa pier to find that a long queue had collected leading to wat saket, which glowed in the distance. thousands of buddhists and a sprinkling of tourists (such as myself) were on their way to climb the top of golden mount, which was built during the time of king rama I (bhumibol is king rama IX), and was intended to be the highest structure in what was then a relatively flat krung thep (the old name of bangkok, and from which it derives the name: city of angels). pitsa had occasion to explain to me that after successive failures (they took soil from the canal), it took king rama IV to hire a german engineer to finally build the structure. somehow, having a friend like pitsa makes looking at a lamppost and realize that it has tourism potential. a temple fair was underway, and the faithful flocked to the temple to fulfill their buddhist obligations. the stairs to the top of wat saket winds around it. at its base is a circular street filled with oddities, food stalls, and bazaars. it looked like a cross between a university fair, a provincial fiesta, a weekend market, and even small barrio attractions (a floating head, a mermaid, conjoined twins: all fake of course).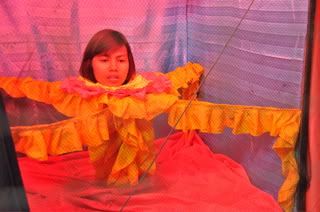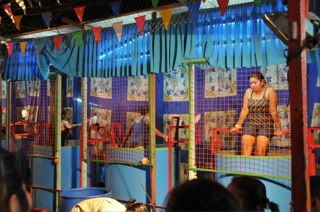 but what really grabbed my attention were the "dunk the girl in the water" and "hit the boy in the girl's clothes with jello" booths. are thais, who are nearly as friendly as filipinos, that cruel, even a little malevolent? the girls who sat on their flimsy chairs built over big drums filled with water wore little cloth, but had amazingly waterproof make up that rouged their lips and cheeks. teens of all genders took delight in hitting the bulls-eye that plunged the sorry-looking little girls into the water. some feigned ungrudging smiles, but they couldn't pretend they weren't feeling cold. alas, even pitsa, por, and may asked if i wanted to try it and i was really quite aghast! that booth where you try to hit teenage boys dressed to look like ugly girls with awful make-up was also really strange to me. i've played dodge ball before, but that was ridiculous. outright inhuman. i only thought it was funny and amusing for a very brief moment.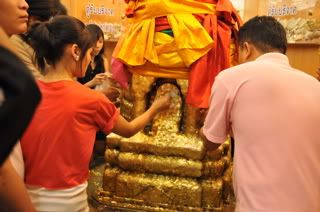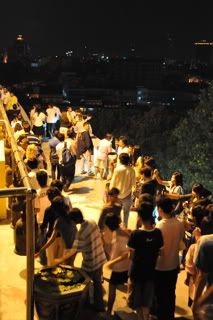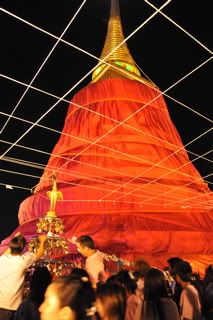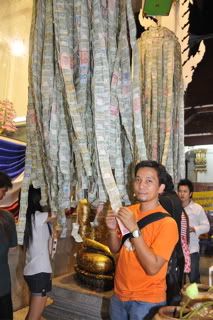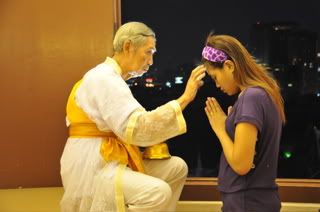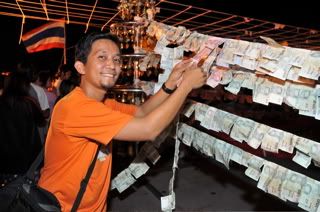 anyway, other than those two things, i did enjoy my climb to wat saket. we even managed to get into the roof which had a golden stuppa wrapped with saffron-colored cloth, and where bills of 20 and 50 were stapled all around it. i did my part and contributed a 50 (in my currency of course). i felt a little strange though invading what seemed like a very real religious activity. thais were there not to look around, but to fulfill their religious beliefs. i was just interested in taking a whole lot of pictures.
with all these things happening all in the space of one week, it really was an auspicious time in bangkok. i even had occasion to drop by a mall or two, which totally robs thailand of its flavor, texture, colors, and sounds. all malls are the same, and i dare say, thanks to the ayalas and the sys, that we have the most beautiful and the biggest here so there is no need for me to experience malls outside of the country. i also walked along khao san road, dropped by patpong, which seem to be mandatory stops for foreigners such as myself.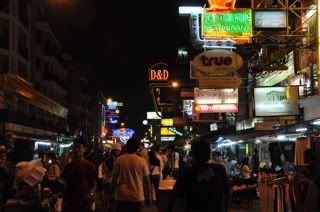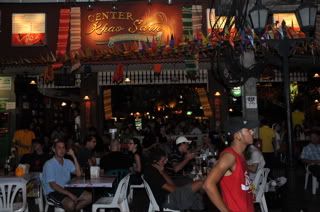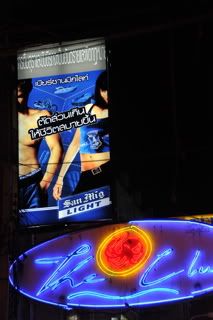 it is pretty obvious that while i was preoccupied by work during the day, i stole many nights for my bangkok experience, and i enjoyed myself immensely. so really, i would have welcomed being stranded in bangkok, feeding off the small allowance, and patiently waiting for flights to resume. call me crazy, strange, or both, but really, i envy everyone stranded in bangkok.