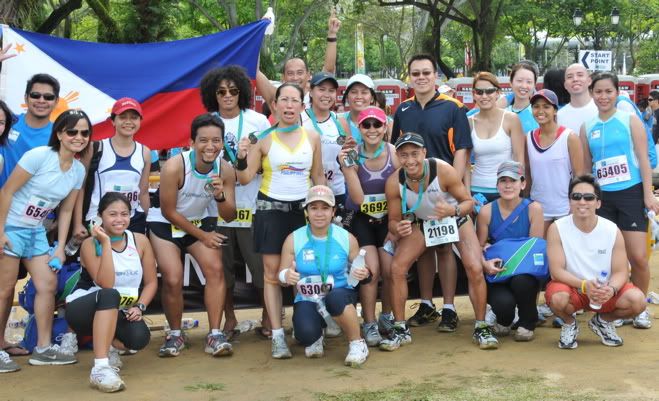 since i got up for work last friday at around 7:30am until i peeled myself out of bed last tuesday at around about the same time, i had only slept a total of about 9 hours, and packed in those 4 days the longest 96 hours of my life, where i danced on the ledge, on the floor, and on the sand at 4 different happening places, logged mileage of over 3000 miles, spent over SGD 1300, drank about half a case of beer ranging from sol, guinness, tiger and heineken, drank different cocktails, consumed over a kilo of delicious chili crabs, and ran 21 kilometers in 2 hours 35 minutes and 31 seconds for the 2008 singapore standard chartered marathon.
so it was with much trepidation that i carefully packed my running shoes into my luggage last friday afternoon, thinking that i might actually end up not running at all, although while in manila, i had no inkling about the things that would transpire prior to the sunday marathon that drew 50,000 entries from around the world, but which was lorded over by kenyan runners. iton had remarked that it felt as though we stayed long in singapore, although the time we spent on singapore soil, immediately after and before we passed the immigration counters at the budget terminal, were just shy of 72 hours. so the details of our sordid singapore sling will be told some other time. this entry is dedicated to my first half marathon experience.
i have a love/hate relationship with running. i love the idea of being fit, and hitting the pavement, pushing against the asphalt, and feeling my heartbeat step with the cadence of my feet. but i hate all the complicated pains associated with running: the nagging stitch that knot my intestines, the pulsing pains that radiate from certain points, and the creeping cramps that are nearly as abrupt as a trap door. i can run 10km on a good day, and given practice, i would normally finish it in an hour. so the task of a half marathon, though trifle and trivial to some, is one that poses much much challenge.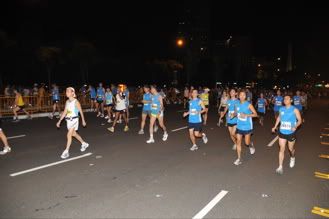 with a clean set of clothes stuffed in a separate bag, iton, sir manny, cris and i left for the esplanade to get ready for the 6:30am gun of the half marathon event. while we were walking towards the starting line at 5:30am, they sent the full marathon runners to tackle their debacles. i hadn't slept at all, having arrived at iton's apartment slightly after 4am and rising to get ready well before 5am. i chewed on a loaf of bread, applied sunblock on my face, and pretended that i was neither nervous nor afraid. we filled the bridge between the merlion park and the fullerton hotel where they played great music which i danced to. it was still dark, and the silhouettes of the singapore flyer as well as the booms and cranes of construction appeared against the midnight blue of dawn. i could hear voices of 3 guys talking, but i was just so amazed at the volume of people on the bridge. later, i learned there were more than 6000 runners in my event. and i'm talking only of the men.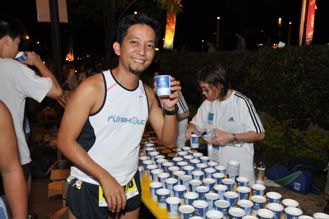 at exactly 6:30am, they sounded the start of the race, and i ran steadily, knowing that inside me jiggled an interesting mix of beer, vodka, and red bull. we went into singapore's business district (which is something of an irony because the whole island looks like a well-planned CBD), which unfolds just above the raffles MRT station. few buildings have been added to the area since i last walked around it in 1997, but everything looked different from where we were: in the middle of a usually busy street that was empty save for runners. there were so many participants in the race that at any given time, there were probably more than 30 runners within my immediate 10 meter radius. i knew that i should have focused on my run, but i kept craning my head, looking up, looking around. it felt like a running tour of singapore skyscrapers. this was a consequence of not having a consistent enough distraction throughout the run. as some of my friends already know, my iPod nano, whom i referred to as iAlman junior, perished in a sea accident, so i didn't have a constant companion during my run. it was my first long run where i had no music plugged to my ears. but although i was not shackled to the steady beats of my training playlist, i was nonetheless completely distracted by several external factors, so my brain was preoccupied, processing images and sounds, and i managed to hold off boredom and impatience for more than i had imagined.
a few days before the road race, i was resigned to the fact that would not finish in 2 hours and 15 minutes as originally planned, and that 2 hours and 30 seems more appropriate. but those goals were quickly updated after i allowed myself to be dragged to the pump room in clarke quay on saturday evening, where melay, iton and i partied till the wee hours. music was good, and the venue was packed. a band that sang 80s vintage as well as recent tracks and who featured a transvestite singer was performing. how do i know the singer was transvestite? certainly it could not have been a real woman, otherwise i would slap its mother. it had the ugliest drawn eyebrows, and a pudgy look that defied definition. but it sang quite well, and i danced deliriously, even dropping by that bar that cannot be named to meet up with my friend glenn who was in town just because i was also there.
so against that background, i had quickly surrendered to the possibility of running a 3 hour half marathon, and was not about to be ashamed of it. as i was moving through the cleanest streets in memory, i kept checking my suunto core for my time. i was doing sub 6 minutes to a kilometer, and it would have been one of my best 10km times, but of course my event was longer, so i decided that i would just walk the remaining 11kms as i was mentally exhausted. but as i was running, my goals kept changing, and i managed to trick my brain and convince it that i could push a little further. and this adjustment began as i was nearing 50 minutes along the stretch of nicoll highway, and i began to see the top runners of my category on their way back to the finish line. at first i just saw 1 runner and then about 200 meters behind her another 1. goodness they're fast. finally, i noticed someone because of his enormous black hair bobbing up and down. it was coach rio. i've heard of him before and he seems like a really famous guy because so many people kept calling his name. there were less than 15 people ahead of him by my count, and he did end up 12th in the men's division, and after cheering him on, i was endowed with renewed energy and i felt i could go further than my initial goal of just running for an hour. and i was quite amazed by this when i reached the 12km mark. a boy was screaming: go on! go on! you are at the 12km mark! and i replied: serious? my watch read 1 hour 12 minutes. i began to wonder whether i would actually break through my 15km psychological barrier and then go on to finish in 2 hours and 15 minutes. the run was still pretty steady at this point until we entered the stadium blvd, into the kallang leisure park.
maybe i was just imagining it but a cramp was developing behind my left knee and spreading rather quickly, like wildfire. i fought it the best i could and kids were cheering me on with their straw pompoms and their scripts. sprinkled along the trail were delirious supporters with small banners scribbled with inspirational messages. i ran as best i could and when we turned around back to mountbatten road, my pains swooped from under the ground and clamped onto my legs. and bang. just like that, i was grimacing in pain, 10 steps from crossing the next RFID checkpoint. i devoured the last of my 2 powergels and limped to the side of the road and asked for a girl's bottled water to wash down my gel. i tried to run again but i was pulled down until i found a first aid station where they provided me with liniment that i applied on my legs. after a few minutes. i tried running again, very slowly. but my muscles refused to cooperate and i would crumble, nearly tumbling to the pavement at certain points. a cramp is like that: you fold and deflate into a diffused ball. i ran alternately, and walked when running became impossible, and at each first aid station i squeezed liniment onto my palm which i smothered on my legs. by the time i had reached the singapore flyer where i last applied liniment, the cramps had infected other muscles on my legs and they were on fire from the liniment. it was that seriously uncomfortable. and i had also fallen short of my goals, since it was already 2 hours and 30 minutes since we started, and i was still not near the finish line.
finally, i walked past the hotels across of the esplanade, crossed the bridge where we started our race, and turned right just before fullerton hotel into the padang area in front of city hall for the finish. there were less than 800 meters left so i ran. it wasn't a sprint, doubtless i was not in a condition to do something like that, but i wanted to make a good effort for my finish. besides, there were cameras left and right, and i would prefer that any photos of me would show me running, fighting till the end. and i did cross that line with a time of 2 hours 35 minutes and 31 seconds. it couldn't be more accurate than that as the champion RFID chip was securely fastened on my laces.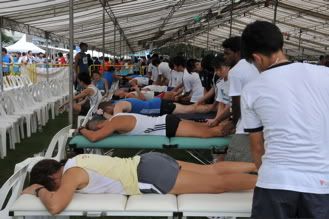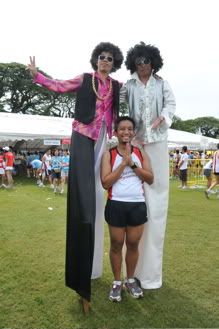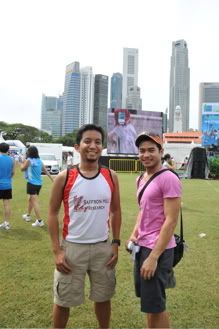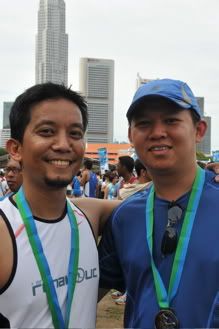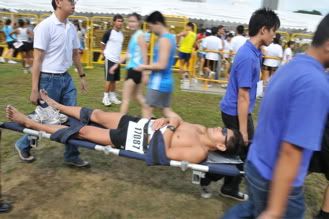 i lined up to exit the finish line, walking with a strange, injured gait, returned the chip and collected my finisher's medal. and then i realized: my friends and i hadn't previously agreed where to meet, and since the padang was huge and teeming with people, finding my friends would be impossible. at this point i found coach rio's spot where he displayed a nike running philippines banner and a philippine flag. he was wearing a manny pacquiao shirt promoting his bout later that same day, and there were lots of other runners from the philippines. it's quite amazing how so many filipinos booked flights to singapore just to participate in the marathon, one might say sports tourism paid off for the island city. i reckon there must have been more than 300 pinoys (out of 50,000 participants) who flew into singapore with the singular (or at least primary) intention to run. in my group of friends alone, there were more than 20 of us already.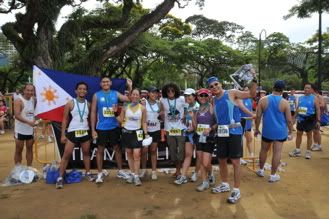 after a while, i was entertaining the idea that i'd be walking home since i had no money, no phone, no MRT card. but i became thirsty and tried to find something to drink. i noticed the booths and decided to snoop around, and it was this way that i found my friends. in my excitement, and despite the pain, i forgot to stretch and skipped the opportunity to reflect on the last 2 and half hours or so. the singapore standard chartered marathon is amazing in so many different levels. it probably is the flattest course there is, and the logistics involved has been amazing. water and 100 plus were never in short supply, and bananas imported from the philippines were also available. very busy streets were closed off from vehicular traffic for as many as 13 hours, and we ran without having to be wary of getting sideswiped, except by other faster runners. the singapore scenery was amply displayed along the course.
on our way home, after having changed into dry clothes, and after having had lunch at marina square, there were still people running. or actually, walking, into the finish line area. many of these guys signed up for the marathon without training and got the shock of their lives. but they are so extremely competitive that they would finish the race at all cost. pride can be fuel as well, and competitive spirit can be a bitch. i was ticked off a bit by this
kiasu attitude (google it)
at one water station where i slowed down to get water, and some guy tapped me on the shoulder and screamed: move! move! don't slow me down. WTF! and on the way back, just in front of the esplanade, where the runners from all categories converged, a guy was screaming: get out of the way! marathoner passing through! we're all in this race, you asshole! it's not like you're going to win. besides, if us non full marathoners were such impedances, then he should have run faster!
one thing i realized though was my unbridled passion for running. i may not be able to run for this whole week due to a knee injury as a result of last sunday's race, but i've realized i can now run an easy 10kms on any given sunday, with a crowd and good weather to keep me company. i would prefer to do 15kms as a true test of consistency. a 2 hour half marathon is now my current challenge. and who knows? despite my asseverations in previous posts, i just might write down a full marathon as a definitive goal. cheers to running!