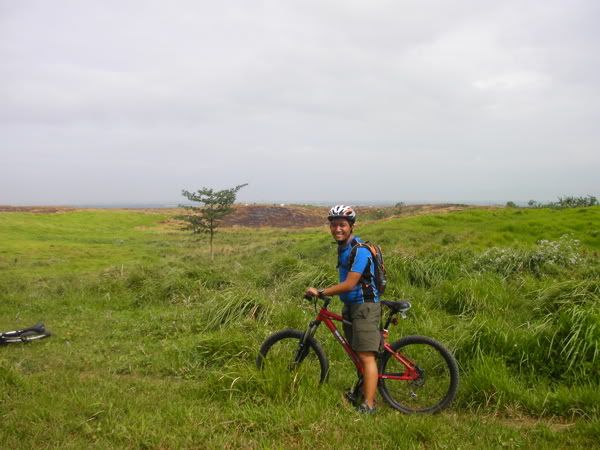 let me begin with last saturday's ride.
friday evening, i left melay's birthday party in binangonan, rizal at around half past 11 in the pm and reached 2k7's christmas party at the pool area of lancaster hotel way past midnight. i only planned to stay a while because the following day, i had to rise early for a bike ride in nuvali. but things got in the way, and although we were kicked out of the venue at 2:30am, we basically just crossed the hall and continued drinking at toyz bar, which has a fantastic view of the lights of pasig and mandaluyong. i kept bugging manny that we still had to be in santa rosa, laguna by 7am that same day, until i basically fainted from sheer exhaustion. when i stirred, it was already a quarter to 5am. i just missed my ride to laguna with janice. manny offered and i accepted. we passed by my house, where i only managed to wash my face and brush my teeth after changing into my bike costume. 10 minutes later, i was loading my bike into his CR-V. not 200 meters away, manny was caught by a policeman for making an illegal u-turn. manny bribed him with PhP100, but as luck would have it, between us we only had PhP60. we completed our transaction with a SGD2, and we sped to manny's house where he unhooked his bike from its display -- it was starting to collect cobwebs from non-use.
at the 2k7 party, manny and i chugged the bottle of stolichnaya as though it were beer only because we refused to take pathetic shots on a bottle cap. so we reeked of 80 proof alcohol, and manny was not only drunk, but also very sleepy. he asked if i could drive the two of us to santa rosa. i don't have a license and i don't really know how to drive (having had no formal lessons), but given manny's state, we would probably be less in danger if i took over the wheel. my first question to him was: which one is the brake? after that, i let him fall asleep as i tackled SLEx on a busy saturday morning. i had to figure out for myself how to deal with the many other cars, merging traffic, making left or right turning signals. i was averaging about 60kph, although i did reach 100kph in some parts of the expressway. it was certainly better than when manny first gave me the wheel and demanded that we get ourselves out of a subdivision in pasig, and i screamed all sorts of expletives as i cruised thorough 6am EDSA at an average of 40kph. for some reason, i was so much more confident yesterday, and other than being safe and alert, i wasn't really nervous. i was particularly proud of the fact that i managed to fit the car quite nicely into the toll booth. i know a 'matic isn't really a challenge. but outside of manny's crazy antics, my only experiences with driving a car is with my brother's playstation, at timezone, at fiesta carnival, and at enchanted kingdom.
when i slowed down in front of sir manny's house, i opened my window and the folks who were already there could not believe what they had just seen. i safely ferried manny's CR-V and our two MTBs from makati all the way to santa rosa, laguna through the perilous SLEx which is undergoing rehabilitation, with no dents, scratches, or any other unpleasant surprises. so having survived that drive, i was definitely ready for the bike ride.
i hadn't paid too much attention to the details of the ride, although i'd been told it would be fairly easy. i just wanted to get some mileage on my bike, which far too seldom gets to experience trails. lately, it's been doing mainly commuter chores and the nuvali ride would only be its 3rd trail ride so far (read about the
first
and
second
). nuvali was the venue of AMCI's first off-road duathlon. it is an ayala land development which is slowly taking shape: a master planned community drawn on the rugged terrain of the santa rosa landscape that's undergoing rapid changes from the development of a number of residential communities. the ties between AMCI and ALI of course go way way back, and we were fortunate enough to be given a permit to ride through the still untamed hills of the property, complete with escort. although stretches of concrete now make their way into this piece of real estate, there still are places wild enough to provide a good challenge for riders of all levels. on this ride, we were joined by several new bikers: joni, howard, joven. we even had guests from australia: someone who works in the same building as i, and his two kids, aged 9 and 7. joven's participation was particularly important, because he is slowly moving into the space that dyake vacated.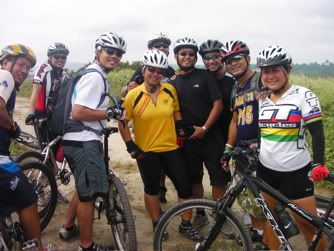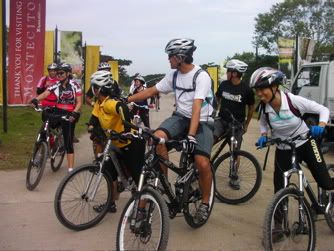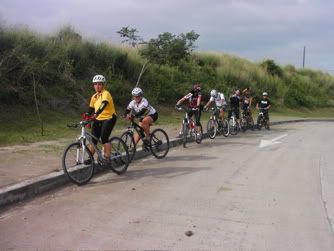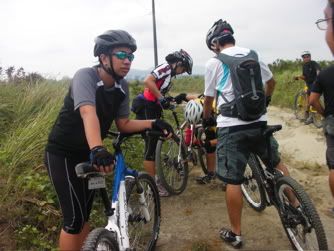 we left manny's house at past 8am and cycled around the area until 1pm. the weather was extremely cooperative, and it wasn't as hot as we dreaded. there were rough roads, single trails, slight inclines, and short downhill drives on beautiful scenery that completed the experience. the barren hills of ALI's property had been covered by threads of grass, green, yellow, and brown, swaying under the steady wind. it was actually a very enjoyable ride, regardless of your level of skill and experience. we took only one break during the ride, to stop by a store on the property's perimeter for what sir manny described as snacks. there, the local kids stared at our caucasian guests as though they were oddities, observing the color of their skin, the freckles scattered across their faces, the color of their hair. the australian kids were actually very strong bikers and handled themselves pretty well on their small rides. i on the other hand suffered from many cuts and nicks after exposing my legs to the elements. bike pants ought to be in vogue among bikers, particularly when the trail is as untamed as in nuvali.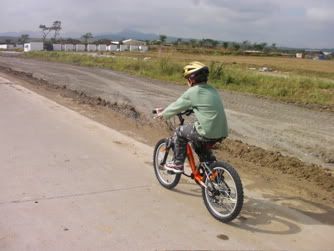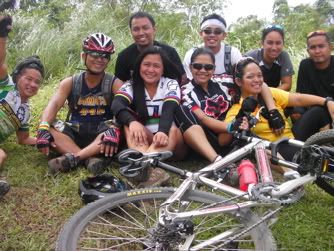 we took the last long stretch back to concrete road which i enjoyed until i realized i had been biking without anyone either ahead or behind me. we had nearly repeated the ride until i noticed that we'd been there previously. janice asked locals if they had seen bikers pass, and they said yes. they were apparently referring to us when we started the ride, and not to the lead pack. after a very good ride, i got so hungry i went immediately to roy's house for AMCItoda's christmas party. roy prepared food, and i basically stuffed myself close to vomiting.
at 3pm, manny needed to get home, and since i hitched with him, i had to leave as well. still exhausted from the party and the ride, manny's trust of my driving skills allowed him to sleep peacefully as i tackled heavy traffic along SLEx (either that or he was plainly insane). we moved so slowly that at times, my own lack of sleep and exhaustion allowed my mind to wander into a far-off land and i would be moving at about 5kph, much perhaps to the anger of the drivers behind me. when i got home at about 5:30pm, i plopped down on bed and woke up the following day, at 10am. i was that exhausted! and hungry too, having skipped dinner and breakfast.
but the good news is that i am here, safe and sound. not only has my riding skills improved. so has my driving. so things are looking up, even at this last part of the year.
and here's a lazily edited video of our ride last saturday. enjoy!