this month had many blog-worthy events unfolding one after the other that i do not quite know where to begin. the arrangement of the following entries does not necessarily refer to their importance, only perhaps to their order in my photo album.
* * *
UP lantern parade 2008
one of the traditions that identify my alma mater, apart from the now very famous but always poorly copied oblation run, is its annual lantern parade. i cannot remember the last lantern parade that i saw -- in my eight years in UP, i must have watched about 6 or 7, including the 1 where i participated when we paraded the collegian's float. after graduating from law school, i never got to see the parade again because it was always held on a working day. but i was fortunate to have been in a meeting on campus when they held this year's edition, and although i only got to see a few floats, i did not regret running around in my barong and leather shoes to get good photos. yes, i just happened to bring my nikon D300. hahaha. here are some stills: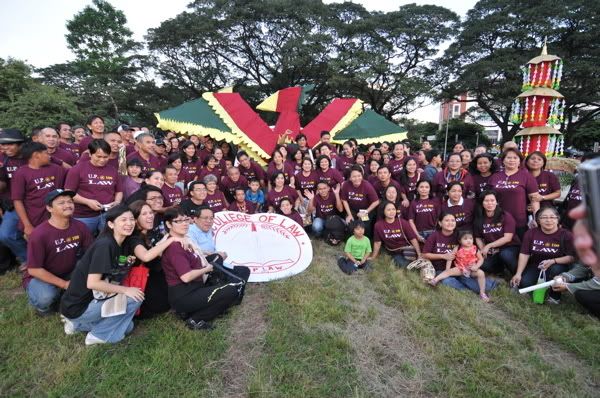 college of law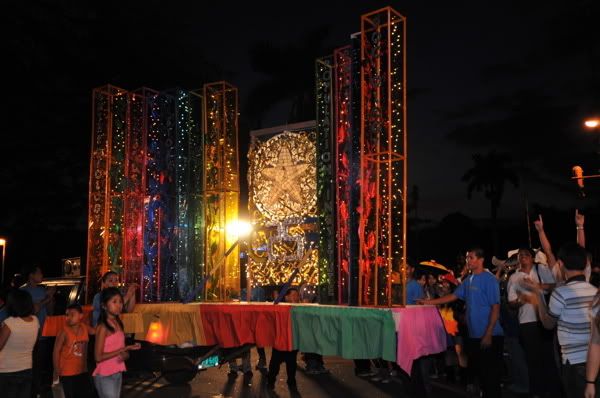 college of science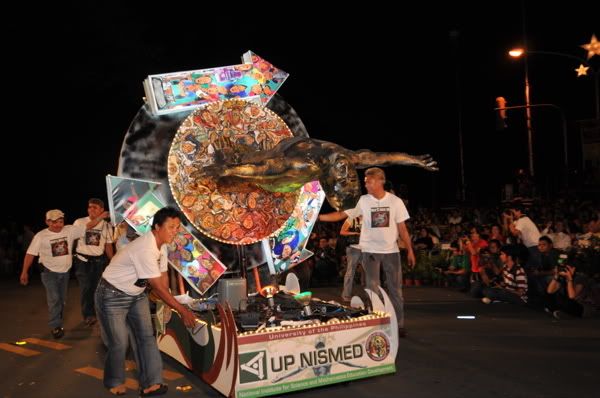 a top view of the oblation



kolehiyo ng arte at literatura
(where i took my undergrad degree, and where once i was also part of the parade)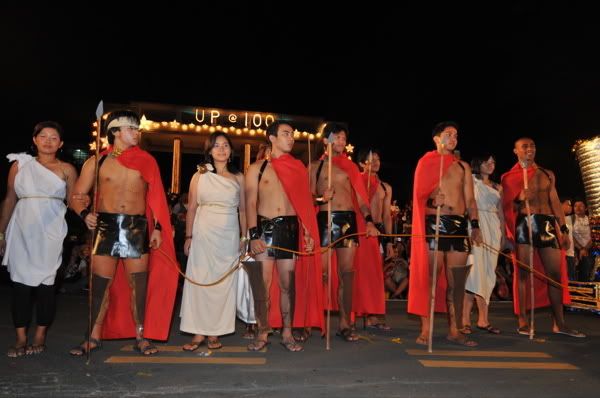 the college of human kinetics does 300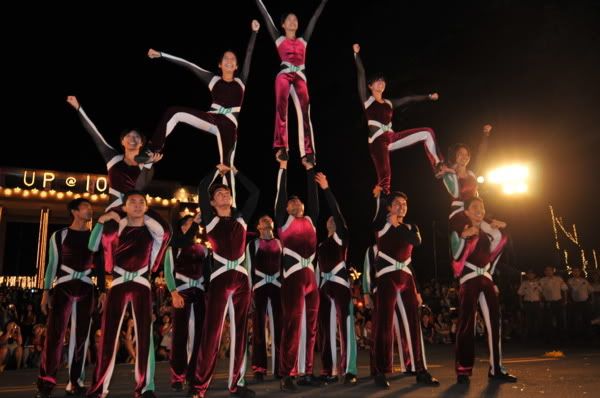 the pep squad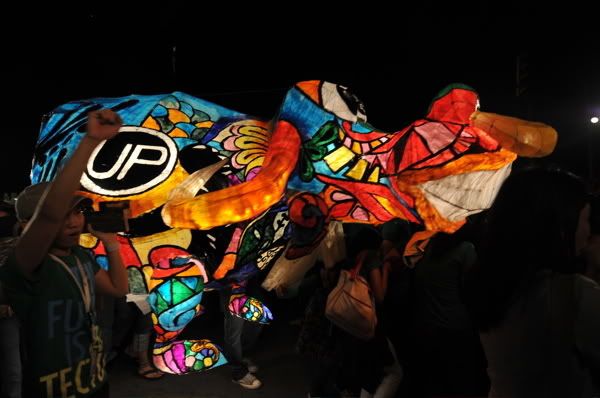 the college of architecture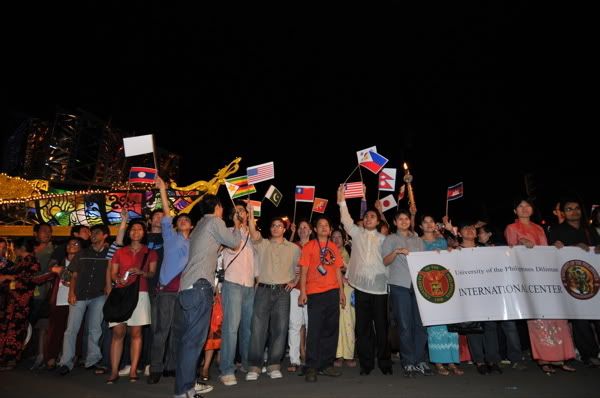 the international center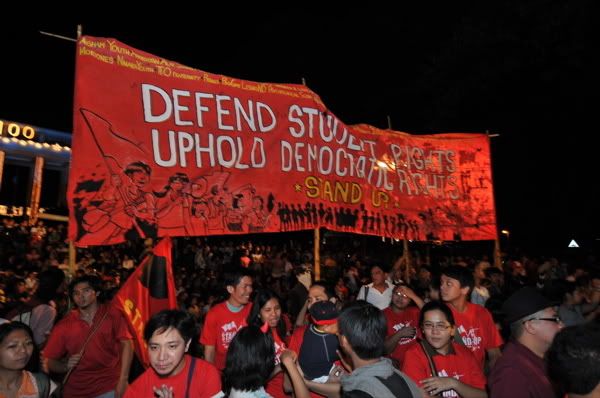 what's a lantern parade without a lightning protest?



the well-lit facade of quezon hall
* * *
my mastercard moment
iPod nano 2nd generation, about P15,000
altec lansing inMotion speakers, about P6,500
MSR XGK XP stove, about P8,600
optimus aluminum bottle, about P800

the respect and admiration of complete strangers, priceless
early this month, vince managed to drag me to join him and his skimboarding friends to the island of cagbalete in quezon. i agreed to tag along because i was looking for another kind of adventure, and i had heard about how cagbalete was supposedly a still little-known paradise destination. i gravitate towards places which do not appear on the tired maps and itineraries of most tourists, and i was excited to meet new people, regardless of the fact that i was almost certain i'd be the eldest. of this last fact i was certain, since vince is 10 years my junior, and skimboarding isn't exactly something people of my generation do. i was armed with my cameras, my lenses, my tripod, and my singular interest on the island was to take pictures. but the weather had some other idea, and it drizzled constantly during our visit there.
but my failure to take pictures is not the subject of this entry. it is the material things that i lost during the trip, and the intangible things which i gained in return.
upon our arrival in mauban, it was already raining, and the trip which regularly crosses the mainland and the island of cagbalete wasn't around. not being part of the group, i just allowed the inexeperienced kids to deal with the situation. they hired two smallish outrigger boats to ferry us to the island. due to lack of space, i was pushed onto the front of the slightly larger boat, along with the bags, and had to suffer a wet tarpaulin sheet over me. the crossing was far from peaceful, i will tell you that, but it wasn't of a kind to inspire so much concern in me, only because i have experienced worse: in caramoan and in batanes. more than 30 minutes had passed, and i could hear nothing but the steady drone of the motor that pushed us forward, even as the boat bobbed up and down. i heard vince talking to his friends. we had overtaken the other boat which went ahead, and apparently, it was now racing to catch us.
"hindi nyo kami maabutan!" vince said, and although i wasn't looking, i was almost certain he was smiling. and then, without a moment's pause, he said: "uy nabali katig nila!" what? was my immediate reaction. "uy nag-capsize sila!" vince continued before i could even do anything to react. i pushed helplessly at the tarpaulin that covered me, and i managed to take it out to get a good view as we circled like a predatory shark around the capsized boat. all i saw was the boat's underside looking up to the overcast heavens, and about 9 people on the water. "vince, kumpleto ba sila?" i said, as i saw persons try to hold on to the boat, and climb its overturned hull.
there were very long pauses, and no immediate responses to questions. "tangina alman, sayang yung gamit mo!" vince referred to the few items that we had loaded onto pew's bag, which included my 8GB 2G iPod nano, my altec lansing inMotion speakers, my MSR XGK XP mountaineering stove, and the optimus aluminum bottle i scored in hong kong. i clutched onto my nikon D300, which was wrapped in a black garbage bag, as all of a sudden the waves became bigger than they really were. "what's important vince is that they're all okay." we circled them once more but they simply will not fit onto our already overloaded boat. but luckily, a much larger boat was 2 minutes away, and they approached the distressed boat and offered assistance as we headed for the island. it was less than 12 minutes away, but each wave had been amplified by the accident, and their sizes magnified the terror. we endured the ride in silence, and walked the shallow shore to finally dry land. the large boat returned with only 5 of the passengers, so our boat had to return to the open sea and fetch the terrified remaining survivors.
on solid ground, we accounted for ourselves first, and then our losses. everyone was safe, a little shaken, but nevertheless alive. the boatman who pushed the envelope even had the temerity to charge for the ride, but i didn't have to turn on my legal mode to tell him off: those who had lost so much more very amply told him off. i had lost so much in that tragic boat ride, but others lost just as much, or perhaps, even a little more. we also lost half of the group's food, and clothes for the two remaining days. despite the tragedy, we weren't about to just go home and damn the long weekend. the survivors were determined to make the most of the situation. so after they had smoked their fears away, after they had toasted to another chance at life, they continued the weekend as though they hadn't lost nearly everything they took with them on that trip, including their boards. so they shared board time with those that remained, and i, robbed of opportunities to shoot, just cooked, and extended the meal plan beyond their original allocations, and fed more than 15 hungry survivors. i also organized everything, appointed roles, allocated sleeping quarters, and bargained for discounted accommodations.
as a result, i apparently gained the respect and admiration of many of these young kids, and they have so generously thanked me and my good cooking on their online forums. so while i may have lost a few of my gadgets on that trip (i actually recovered my sea-soaked iPod nano and altec lansings as they were placed inside a useless rubberducky dry bag), all of them can be bought. but what i gained in return, cannot.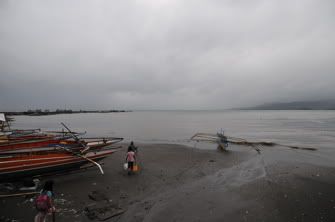 before the tragedy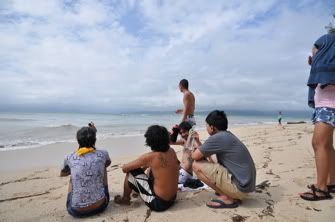 real survivors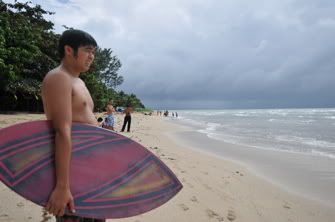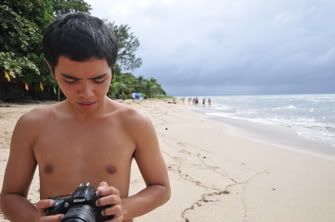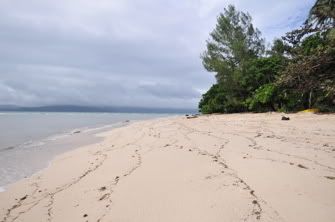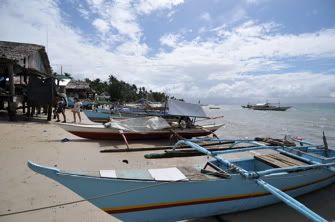 on dry land: views of the island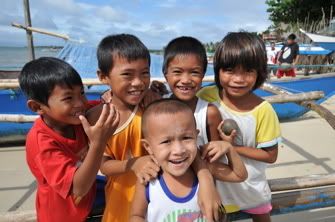 kids of cagbalete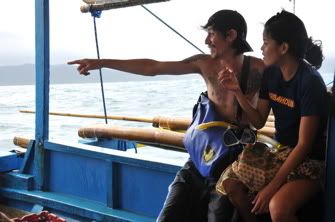 going home