i don't know whether being a frequent traveler qualifies me to become a tour guide, but lately, i've been turned into a tourist information center by friends inquiring about northern journeys. i recited itineraries, cost estimates, and suggested places of interest. haven't received any complaints so far so i would only suppose that i managed to give useful and helpful information. but the icing on the cake, to borrow an old and tired cliché, would be my trip to banaue, batad and sagada with my friend from slovenia, andrija majsen.
i met andri last february at the roofdeck of the borneo backpackers lodge in kota kinabalu, malaysia. my friends and i were celebrating our safe and
successful climb up mount kinabalu
over a few beers when this foreigner came up and greeted us: kumusta ka. we were stunned for a while, and later realized that this fellow had an affinity with filipinos. so we kept in touch and i don't really remember when exactly, but andri all of a sudden told me that he would be visiting the philippines. now i'm not exactly new at being visited by foreigners and acting as a free and unofficial guide. in 1997, my friend jason shiga visited me. then i also walked around manila with the
billboard boys
a few years back (click
this
as well). and maybe i've had this long-held secret desire to become some kind of a guide: i've done walking tours of binondo with my friends (
3 times now
), and fairly often, organize trips for huge groups.
so when andri came, he didn't have to worry about a thing because i planned his visit for him. i had even booked tickets in advance. i picked him up at the clark airport (the commute going there can be a bitch i tell you), and then when we returned to makati, i took him to p. burgos, a brief walk from my place, basically "to see girls". we settled for blush where the girls didn't bother us when we came in, unlike the other places where we were smothered with attention. we just sat there to watch girls dancing.
the following day, i took andri to the embassy of vietnam so he could get his visa and it didn't take him more than 20 minutes. after work we met up at glorietta, played at timezone, and watched "twilight". he and i shared this misconception that it would be an intense action movie. it turned out to be a silly, cheesy love story which dragged on for twice the life of edward. after the movie, i took him to malate, which on a late wednesday evening, was far from exciting.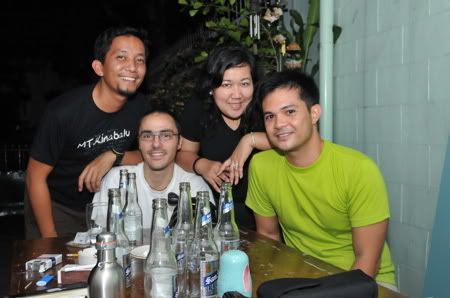 the following day, jason took over my tour guide responsibilities and i think they rode the MRT, went to cubao, and drank at mogwai's. then we proceeded to jason's house in philam for dinner, which was fantastic. now i've noticed that in comparison to the british, who are either too generous with their observations are are simply exaggerating, andri is a little sparse in his speech. but he has a lot of wit about him. we were joking with nette about her weight, and she countered by saying: "but i'm not the biggest in america. i'm not the biggest in europe, right andri?" andri agreed, but said: "but you're the biggest in asia."
the following day we packed our bags and prepared to leave for banaue. it was AMCI's christmas party, and since i had to meet a few people there, i dropped by but left even before the party started. we arrived at the florida bus line with only a little time to spare, and after an overnight trip, we were in banaue, feeling really cold. when andri was picking out his clothes, i told him not to bring pants as they won't be necessary. the next few days, i nearly froze to death.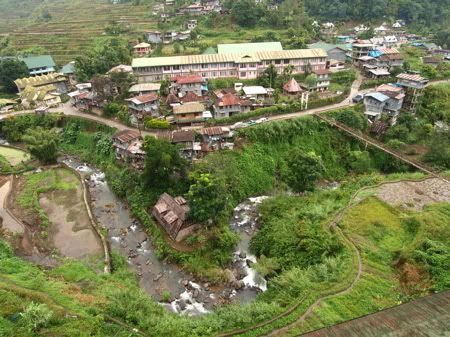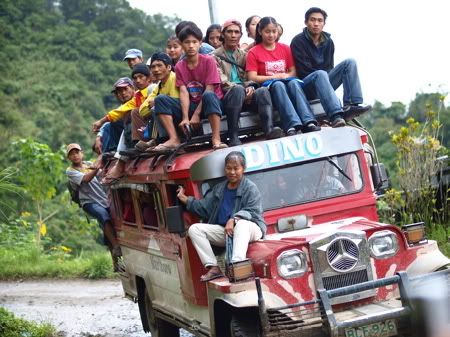 i arranged for a jeep to batad which we shared with max and bo, who are both from bristol in the UK. their visit is a direct result of the events that took place in mumbai and bangkok, although they swear they don't regret the detour, and even plan to extend their visa for an additional 4 months.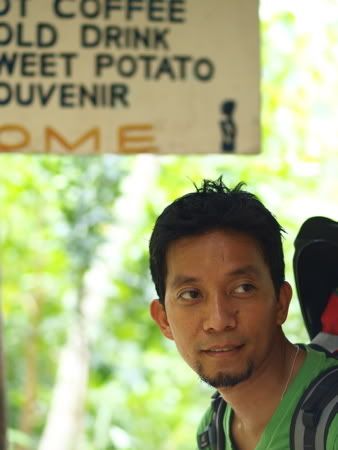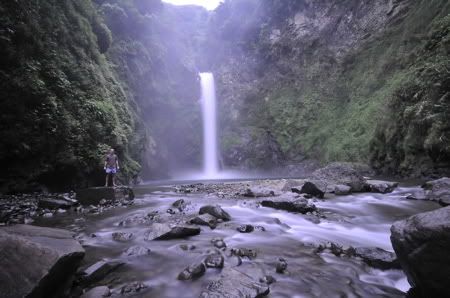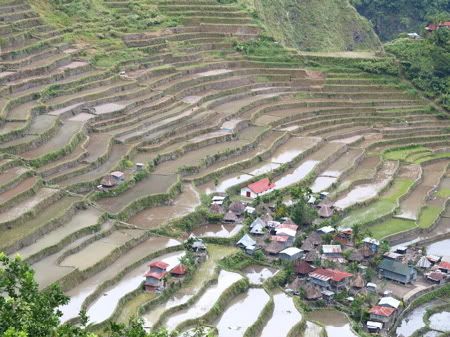 we trekked down to simon's, and after checking in, we walked down the village at the center of the terraces and all the way to tappia falls where andri and i swam at the freezing pool. the water was so cold that my balls nearly fell off, seriously. our visit was ill-timed, unfortunately, since the harvest season was just over, and the terraces were bare. we spent the night at simon's over some beers then left for an early trek to the saddle, and ended up in banaue, arranging a trip to sagada with a romanian woman based in canada, a polish girl interested in getting kalinga tattoos, and 3 kids from herefordshire in the UK. they said they come from a place that had less than 3000 people, and i said, "oh that must be a quaint little town". thus began the observations about my very good english. the kids also swear that the philippines has been the most amazing place they've visited so far.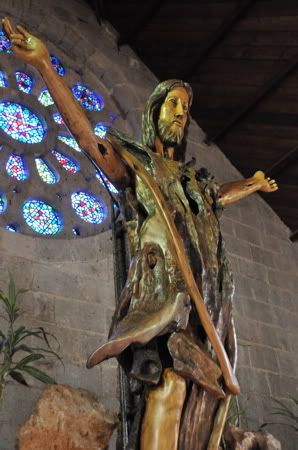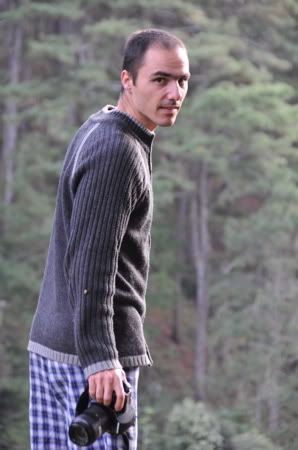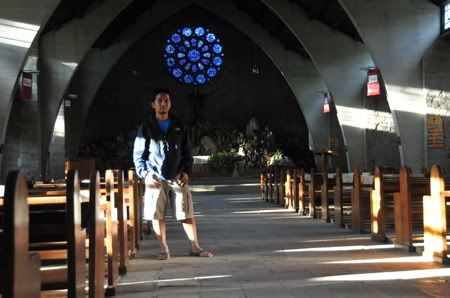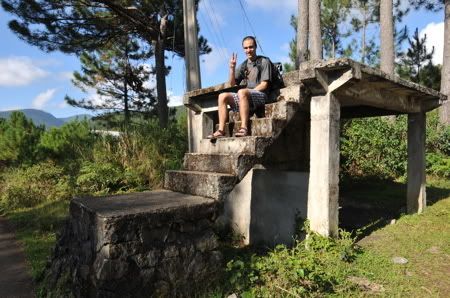 in sagada, andri and i checked in at green house and then proceeded to have lunch at the yoghurt house. while in sagada, i took andri to the cemetery, echo valley, and bomod-ok falls in aguid. on our trek back from the falls, we had to walk more than 5 kms back to the center of town because we weren't fortunate enough to see a passing vehicle.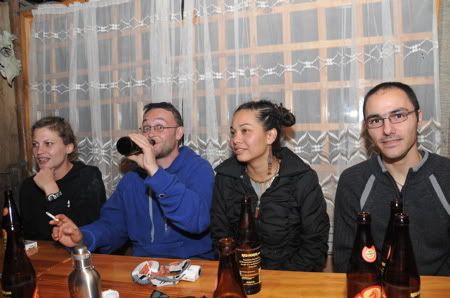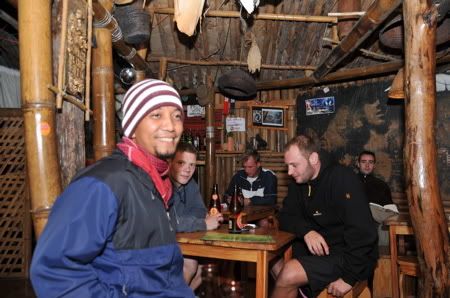 during our two nights in sagada, we were at the persimoon grill where we downed 3 bottles of red horse each, which wiped me out on both nights. there, we met other europeans, and since i get paid by european tax money, i sat with them to listen to their stories and share my own. seriously, i was the only filipino there, although often, my ersatz accent didn't betray my roots. in some odd way, i have this talent, or skill, or disease which allows me to mimic, often not intentionally, the accent of the person i am speaking to, that i fooled max and bo into thinking that i am british. the polish girl thought i was somewhere from western europe, while the romanian woman and the rather gullible english man both thought i was either canadian or american. haha. 3 cheers for fake accents.
on our last day, andri and i braved the chilly morning to take the first trip out of town, and we found ourselves in congested baguio city by 1pm. i am not used to taking long bus rides in the afternoon, and i was awake the entire 7 hour trip to pasay city. back in my unit in makati city, we went out in search of beer and ended up at chili peppers. the following day, i woke andri very early for his bus ride to clark. and here ended my duties as tour guide, although i am sure it would be the last.
and since i have a new toy, i stitched a video of andri's visit which can be viewed on youtube.
photos with a blue border from alman's camera | photos with a red border from andri's camera