between christmas and new year's day, i coordinated the camsur holiday of iton and melay, two friends currently based abroad, and we flew to naga city mainly for 3 things: to see caramoan again, to attend my godson andrei's 1st birthday party, and to try out wakeboarding at the CWC. we rose early for a flight which got delayed by half an hour, and due perhaps to the consistent rattle and the loud boom that our airphilippines plane made on take off, i couldn't relax at all during the flight. the plane rose steeply on take off, and reduced altitude 20 minutes before touchdown. we landed early in the morning at naga's recently renovated terminal, where the short airstrip is bound on both sides by steep ravines, and is framed by the imposing monolith of mount isarog.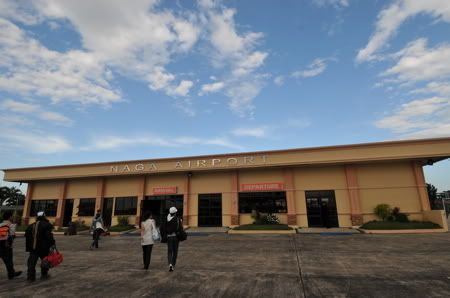 don was there to meet us and he whisked us off to the camsur watersports complex to inquire about a visit to caramoan and accommodations near the facility. without really planning to, we suddenly found ourselves on the coaster headed for bongalo pier in sagñay, where a catamaran built in cavite city waited to ferry us to guijalo port in caramoan. it is this boat ride which gives the impression to less-informed travelers that caramoan is an island, when it fact it is a peninsula of mainland luzon, with parts nestled in lagonoy gulf, and the rest facing the turbulent philippine sea. the road between naga and caramoan is so bad that it takes a whole day's ride over bumpy, dusty (and during the rainy season, muddy), unpaved roads that people prefer to take an outrigger boat from the port of sabang to guijalo. for moneyed holidaymakers, however, the route is a little more convenient. for P500, a comfy coach delivers you to sagñay, where the port is about a hundred meters below the main highway, and since the small concrete plank that sticks out into the sea is damaged in parts, it descends slowly, in reverse. the catamaran normally takes 70 minutes to reach guijalo, but during this holiday, we were beset with bad weather and the sea was choppy, so instead of going for a bee line to guijalo, the catamaran, which is adorned by tropical designs with the words: come south camsur written on its white body, followed the crescent of the coastline, and moored just off caramoan's guijalo port.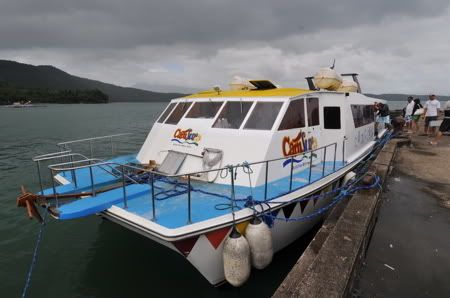 guijalo's small port is shallow, and a huge part of it was smashed by giant waves more than 10 years ago, and its remnants: boulders and lost staircases, are still there to remind us of the kind of weather endured by caramoan. the port is being expanded, hopefully with stronger materials this time, but pending that, the catamaran can't dock near the pier, and passengers had to be ferried one after the other by a small speedboat with a capacity of about 10. it made more than 7 trips in total to offload all passengers and luggage to guijalo. from there, we waited for vans to take us to gota village resort, a brief, 15 minute drive through caramoan's narrow streets, which, while feels like it's been paved with cobblestones. the drive was a little unreal, like something scary was about to take place, such as dinosaurs emerging from the thickets or rebels with vintage guns appearing from the bushes. or it may have been the sombre rain which descended upon us at the time. my friends and i shared the van with the production crew of
survivor
israel. rumor has it that the islands of caramoan, known for their immaculate beaches and amazing limestone formations, will be closed to the outside world for the whole of summer to allow 3 successive episodes of
survivor
(the other from australia, the third, i don't know) to be shot. the israelis gave a hint: they'll hide provisions on one of the islands (probably matukad), and let the castaways swim their way there and find the things they'll need. how exciting.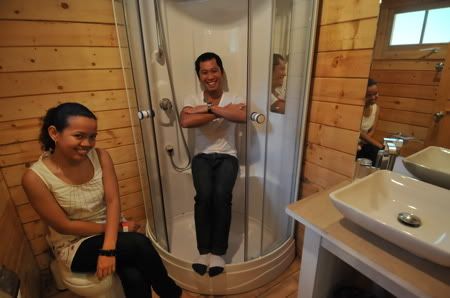 but ideas were the only exciting things in gota beach since we didn't get to do much while we were there.
i was in caramoan 3 years ago
. when we entered bgy. ilawod, i immediately noticed that a new bridge had been built in place of the causeway that lay in rubble. much of the barangay remains the same, except when you enter the area leading to gota beach: it is now gated and guarded, and shortly, a sprawling, but appropriately subdued village of 70 plus identical-looking wooden cabanas, sprinkled over an area of maybe half a hectare, accosts you. our cabana was a small box with a bed for 2, a closet, a table, airconditioning, a brand new LCD TV that didn't have sound, and a shower that resembled a futuristic glass capsule, where you get stored in suspended animation, or get teleported to another planet. it's actually quite nice, to think that this used to be a swamp! but ever since
koh lanta
brought fame to this place of savage wonder, investors poured in funds to build this manicured plot with its undulating and circular pathways. it looked very pretty, even under perennially overcast skies, which sometimes fell on us and forced us to wear hooded jackets on the beach.
we walked over to the beach and found it more or less intact. the terrible sea barraged the rocky face of the coast with such so much force, sea water burst into foam and bubbles, like wet, white fireworks. so although matukad island was within sight, none of the resort's boatmen would dare take us there. gota beach is actually just a small patch of sand where you can swim to other islands. to be honest, it's an ugly beach compared to what else is in caramoan. but we were stuck there because of the weather. there were other options: a kayak through the shallow swamp between gota beach and the village or beach hopping near guijalo port. the swamp looked like a vile mix of vomit and stagnant water: brown and green on the fringes, it was littered with leaves, branches, and disgusting-looking bubbles. so we opted for the 2nd, and shortly, melay got to fulfill her wish to step on pristine sand. we traipsed into at least 4 different beaches, beginning with tinago, then to kahikgikan (or something that sounds like it), etc. due perhaps to the weather, we were the only ones there, and it would have been so much prettier were the sun out.
at gota village resort, we regaled other visitors of how beautiful matukad island is, which irked their guide because it poured alcohol to the gaping wound: they already felt bad they were marooned in the village, no matter how nice it was, and our exaggerations didn't help at all. many things can also be said about the quality of service at gota village: it was worse than the weather. the waiters are nice, always smiling and good-natured, but are probably ill-trained at meeting the demands of the demanding tourist. if you bring luxury to the jungle, and polish the rough edges of the wild, then the kind of people you attract also begins to change: moneyed tourists take the place of adventure seekers, and holidaymakers replace budget travelers. these people expect a different kind of attention, a degree of service that their prosperity, or perhaps their lack of exposure, deserves. interestingly, the long delays at the restaurant, and the general lack of foresight and coordination to meet the sudden flux of visitors were charged to the adventure of caramoan. that you leave caramoan still positive despite the poor service is sufficient for you to claim that you survived it.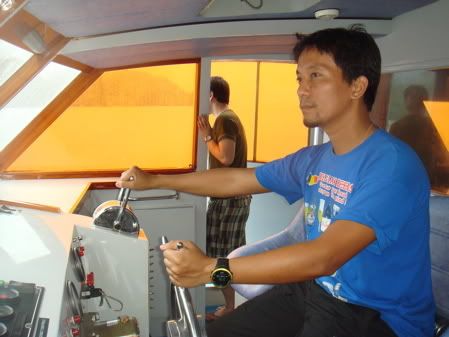 outside of the gota village resort, the rest of caramoan town remains largely the same: there still are bad roads extending over an area largely characterized by rice plantations, bisecting waterways, and forests. but the first noticeable effect of the resort, in some ways, of the fame that resulted in the french survivor and all the hype generated by the buzz it created, is the bridge to gota beach. tourism for the well-heeled and affluent isn't always an evil thing, because tourists burn a lot of money and in many ways contribute to the economy. it also brings in infrastructure, so better roads and connections may well be part of the future. it's just sad to think that more and more, places of solitude and reflection, where you escape the nagging concerns of urban living, are disappearing at a rate worse than the depletion of our forests, and of our wildlife. so where will my wandering heart and my traveling soul go now?
photos credits: alman and iton