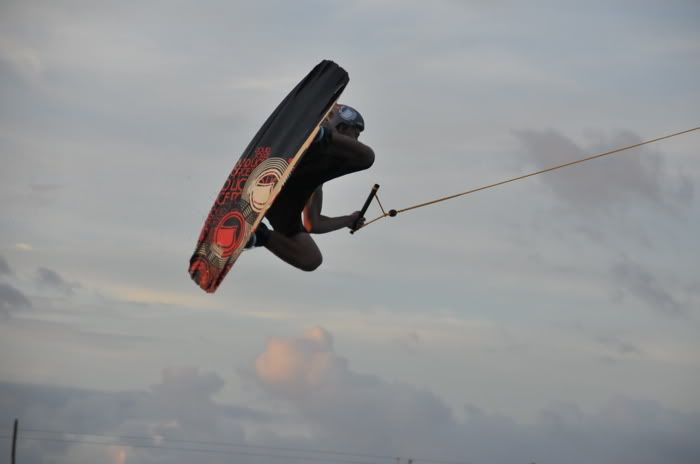 the three of us hurriedly boarded the coaster at the bongalo pier in sagñay no matter that i hadn't even seen my bag since we left the catamaran. the trip back to sagñay from guijalo was a smooth and breezy 70 minutes, and i had no reason to complain... but the huge families we left behind may have raised hell. only after 30 minutes on the road, as i was reading pico iyer's essay on iceland, that we saw the other coaster on its way to the pier. i still had a page to go, but i closed the book as darkness began to fall.
at the CWC, we checked in at one of the new tiki huts near the pool. for P800, they fit 2 people comfortably, and there's a common toilet that's always supplied with toilet paper, and is equipped with water heaters. you pay an extra P300 for a 3rd person, but you don't get an extra mattress, only another pillow and another blanket, which i had to demand from housekeeping. although i had no idea what time my bag would arrive, i gave instructions to the front desk to find the red deuter backpack and load it into tiki hut number 6, and left for the avenue on magsaysay for don and liah's son's 1st birthday. we took a tricycle, and for the 20-minute ride, he charged us P200.
upon our arrival at the venue of james andrei's birthday, we immediately begged for food. we had buffet breakfast that morning, and considering that it would probably take them an eternity to serve our lunch, decided to skip it altogether, and gorge on the feast at the birthday celebration. i have come to realize, based on my experience attending 1st birthday celebrations, that these are grand in scale and preparations. as i was about to put a big spoonful into my mouth, the host called on a ninong to give a message. and she said: "can we have ninong alman to give andrei a message?"
my inaanak james andrei with his parents
i didn't know i was a ninong. i hadn't even seen andrei until that day. and i said that in front of don and liah's friends and family. haha. parents and grandparents seem to have a template message for their kids: that they grow up fearing God and healthy. so i veered away from that and said something like i hope andrei takes after his parents: don is handsome and athletic, while liah is smart and artistic. i was told that a child's intelligence is mostly inherited from the mother. we kept eating and almost finished a table set for 8. a little later, aaron, jing, and bitoy arrived, and we moved to lolo's bar just below the venue for some adult fun.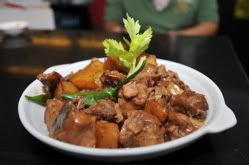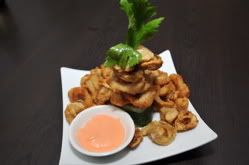 the food at lolo's bar
unfortunately, the band's repertoire was limited to the carpenters and abba. when we ordered 6 bottles of san miguel premium, the waitress was aghast and apologized that they only had 1 bottle. she offered us to have just shots instead. we wanted the all-malt beer, but she thought we each wanted a bottle of ginebra san miguel premium. i told her we still wanted to live.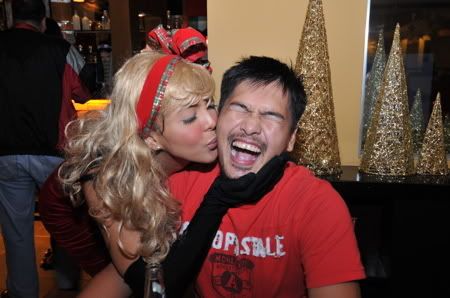 don relishes a kiss from a thorn
we left lolo's bar at midnight and moved to hollywood star where they had drag queen performances. at first i remarked that naga must really be on its way to have drag shows, but it turned out that all the performers, including the one who looks like marjorie barreto, are from manila. more like dregs of manila's competitive drag show market.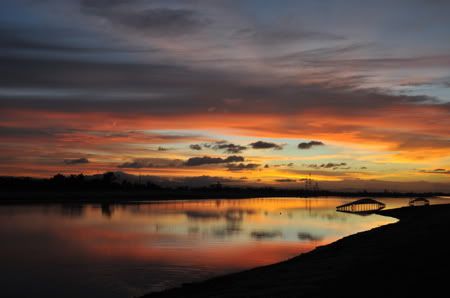 lago del rey at dusk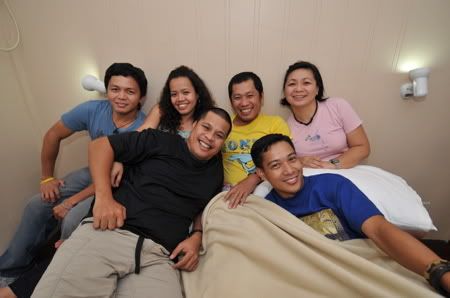 the box fits five
we returned to CWC to find that our bags (including mine) were thankfully at tiki hut number 6, and having failed to secure an extra tiki for bitoy and jing, we crammed ourselves into the small box: bitoy and i enjoying the hard, cold floor. i slept only for 3 hours, and was already up at 6am for an early morning run. i quietly laced my running shoes, and struck out for the pavement around the lago del rey. it looks unfinished, and the water level was still a little low, although in the fine morning air, it was a joy to be exhaling and sweating all the alcohol that i had imbibed the previous night. i wanted to do just 1 round, but a portion of the pavement surrounding the lake remains unfinished. so i ran back until the concrete ended, and ran back again where i started. it was a good 20 minutes, and given my lack of sleep and hydration, i was exhausted. to see an aerial map of the
camsur watersports complex
, click
this
.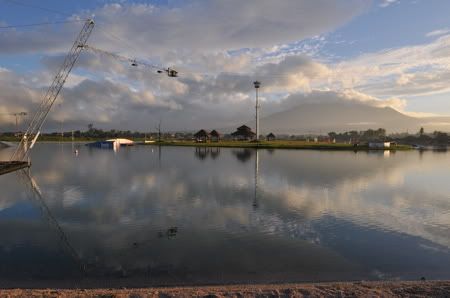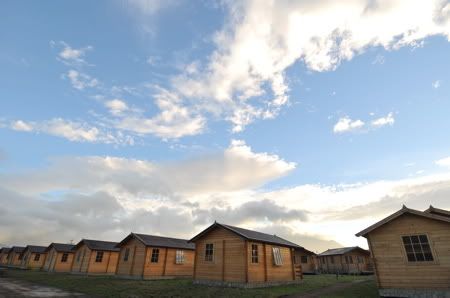 then at 8:00, we decided to head to the resto to order breakfast. we hoped that since it was still early, we would be spared the awful service we encountered at gota village. we were so wrong. we flagged a waiter. he said he was assigned to a different area. we flagged another one. he said he was a bartender and wasn't authorized to take orders at the dining area. we flagged a girl. she was a cleaning lady. we flagged the waiter. he kept saying "sandali lang". he was the only one waiting on a dining area of about 100 seats, although only about 20 were taken. it had been 30 minutes since we were seated and our orders hadn't been taken. the family next to our table stood up and said they had ordered their breakfast the previous night. i stood up, got a piece of paper and wrote down the orders of my companions. the waiter who previously said he was assigned to a different area said "sir hindi nyo na po kelangan gawin yan." i replied: "bakit, kukunin mo ba order namin, o kelangan pa namin lumipat dun sa area mo?" after taking our order, i went to the cashier and read out our orders. more than 30 minutes later, the food arrived. in total, we had waited for 70 minutes. it was the length of the catamaran ride from guijalo to bungalo.
for that entire morning until don and liah arrived with lunch, i stayed at the dining area, getting free wi-fi. and i witnessed how the entire dining area fell apart. it was already a chaos of puzzle pieces kicked about and scattered. at 11am, i ordered a plate of leche flan, and i expected it to arrive 30 minutes later. at 11:35, i asked for a follow-up, then again at 11:45. it didn't arrive. so i sought the manager, and asked her where my leche flan was. i wasn't even raising my voice, just inquiring. she asked which waiter i had ordered the flan, and i said i don't remember. i asked 3 different waiters already. she came back and said, there are already 3 leche flans punched for my table. i said even if there are 10 leche flans punched for my table, not one has arrived. i hear complaints in the tables around me. a french guy was shouting: "loco moco! loco moco!" referring to the meal he had ordered, and stormed into the kitchen. i stood up, sought the manager, and asked: does it take you 1 hour to open the refrigerator and give me my leche flan? people at a nearby table seemed to nod in agreement.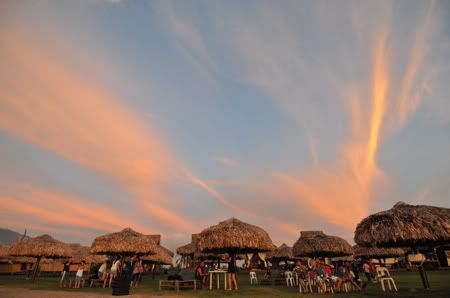 it was a really awful experience at a place filled with tourists from outside of bicol. is this the face of camarines sur, that l-ray has so proudly brandished to the whole world? in CWC we probably have the world's best cable park, but perhaps the worst service in contrast. and i couldn't quite put my finger on the problem. the waiters were always in a hurry, running hither and thither, taking orders, bringing out food, cleaning tables. but they leave customers thirsty, and forget requests for condiments, and delay orders.
somewhere else, the cables were working from 8:30 till we left CWC after sunset. iton, bitoy, and jing all tried the fad, and i decided to sit instead, watching.
it was more exciting the last time i was there
, and i still didn't get what wakeboarding is all about. i walked around the facility, realized that camsur has its own helicopter, took photographs of the skate park, and marveled at the inclinations of l-ray: his vision for camsur as a haven for extreme sports.
that evening, we had dinner at lady crab and capped the night at kopi roti. naga's magsaysay avenue is transforming itself into a short downtown strip of posh, manila-styled restaurants and franchises, with low-rise buildings hosting places for its growing middle class and the gainfully employed. we returned to CWC a little earlier, and i ended up cleaning cameras.
the following day, the coach picked us up early in the morning and dropped us off at the airport. despite the horrible horrible service at the restaurant (and the nearly bungled massage reservations and the matter with the imaginary queue for wakeboarding), the CWC is a nice place to see buttcracks of golden-headed hipsters hurling themselves into the sky, sometimes splashing into the water. it is also a good example how a vision, if pursued with dogged determination, can turn a little-known town, into a nucleus for action, adventure, and the extreme.