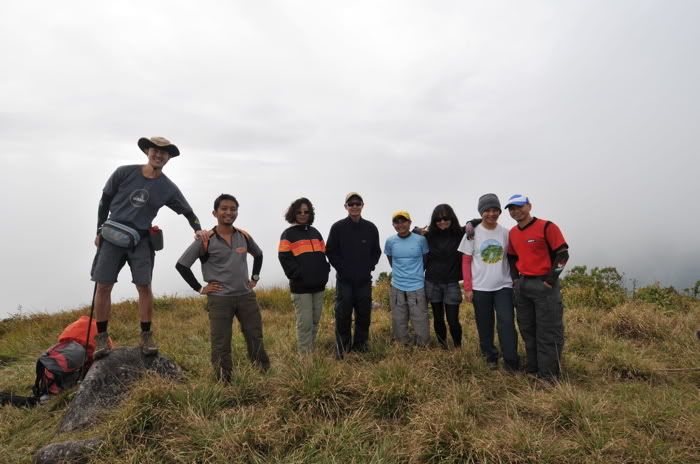 the man thumbed his cellphone and spoke to me without looking. his gaze darted here and there, and repeated what he had just said, at least 3 times, as though i hadn't heard him correctly. "ang bundok ay para sa lahat," he said, " pero meron kaming information na may mga sightings dyan." whether they'd spotted rare and endemic species of birds or unidentified flying objects, i was unsure. i explained, rather calmly, that we had already sought permission since wednesday, which they unreluctantly gave, but he said that the information about the sightings had only arrived the previous night. when the chief arrived, i spoke to him, still calmly, refusing to resort to shock tactics. he repeated the line as though it had been memorized. he talked about operations, and worried that us being civilians, we might get caught in the crossfire. it didn't worry me one bit, and he seemed resolute on preventing us from climbing mount natib. then he asked what we did, and when i said that i work as a lawyer and that leo was studying abroad, he seemed to have softened immediately, and inquired: "nagpa-practice ka ba ngayon, attorney?" i said yes, and that may have been an extension of the truth. but i have cayetano v. monsod to support me on that. then i began explaining what we were: professionals who are lured to mountains and other hardships, and that there was no reason for them to doubt that we might be left-leaning individuals with revolutionary inclinations. he asked my name, and when i said "quiboquibo", he wanted confirmation and i showed my ID. after stating the obvious: that my name is long, and then getting my number, i and 7 others were marching happily into the bataan natural park. charm really can get you places.
leo is here on winter break from his MBA in babson. he asked me about mt. natib, if i knew any updates about it, since he'd heard it was closed. i had heard otherwise, and promptly made preparations. leo invited people, and although we hadn't had a formal pre-climb, we all showed up at the five star bus station in cubao before 5am. our bus left a bit later, and before 8am, we were in orani. we wanted to take a jeep to bgy. tala, but we were informed that a jeep no longer made that journey, and that we had better just take a trike. i told them it would be more than 30 minutes, and it would be in our best interest to get a jeep instead. however, the tricycle operators seem to have a cartel on the transportation into bgy. tala: a mafia-like stranglehold on the business that even though we successfully negotiated a ride with a jeep, their dispatcher managed to threaten him into giving up the agreement. so we were forced to take the 3-wheeled contraptions to the jump-off. i found my contact, francis, already waiting for us, and he dragged another friend along as we started our trek under treacherous clouds.
the last time i was in natib
, there were 2 other groups climbing. that day, there were just 8 of us. leo took along his sister, lara, who was thrust into her first climb. we were also joined by anda (whose real name is andrea del rosario), whose last climb was 3 years ago. also in attendance were JC, gerry, genie, and bossing. so throughout the climb, english was the language of choice (although lara and i did briefly converse in french). during the trek, i noticed that bgy. tala is apparently home to thousands of cocks. fighting cocks, that is. francis explained to me that bong pineda owns a 6-hectare farm. from the edge of the trail, we saw small cages with tin roofs, some miniature huts, little teepees, and multi-colored birds all crowing successively, despite the time nearing noon.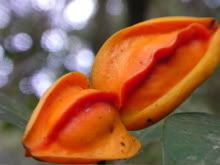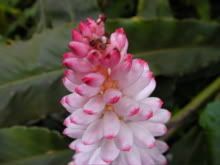 a little later, the trail opened and we were embraced by the strong winds pounding the terrain. the clouds above moved swiftly, and my suunto bawled every thirty minutes, announcing rapid drops in air pressure. we had lunch at pinagbutasan, and pushed on to mang gorio's house, which has been altered by non-use and a not-so-recent landslide. i don't know if i had noticed only then, but natib's trail was adorned by many interesting hints of flora and fauna. twice i spotted a wild rooster, droppings of what we suspect must be a
musang
, a snake, a dead mountain rat, beautiful vines with turquoise-colored flowers hovering above, tufts of buds with pink heads, etc. when we reached the battlefield (or kapatagan), mount natib rose steeply overhead, its summit crowned by swift-moving clouds. i warned about the overgrowth on the trail, and the need for rope at one point. true enough, we had to crawl on all fours in some parts, and use all our limbs to negotiate sheer walls of rock. if you're big, like bossing, you have a longer reach and can get easy footholds. if you're small, like genie and JC, you're less likely to fall. if you're of average size like me, then there's a problem.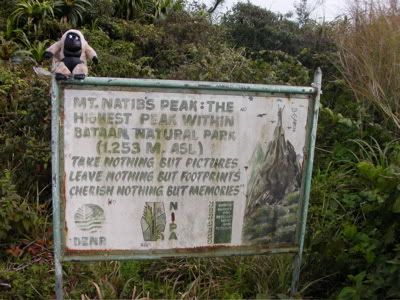 in the time that we estimated we would reach the summit, bossing confronted me with a question: was i sure that this was the summit? he complained that the trail had completely closed, and he mentioned that there seemed to be another way. i immediately tried to see if there was another way, and swooped down the trail till i found the guides, who assured us that we were on the right track. so i spent more than 30 minutes going down and up again on the basis of a small doubt. before sunset though, we were all happily on the summit of mount natib, flattening the grass for our tents, and covered in gloom. the wind blew terribly and there was absolutely no view. night fell quickly, and despite the odds, we managed to put up a kitchen tarp, and we started dinner preparations. lara took care of a wonderful dish of fusilli pasta in red meat sauce while i devised a chunky chicken soup (i threw in the garden, basically) and mao po tofu with ground pork. i can no longer recall a time when we had a less-than-stellar dinner in the mountains. the full moon rose high above us, and according to anda, it was supposed to be about 15% bigger than usual. a rose colored halo surrounded the white disc, and its borrowed light bounced off the moist grass shivering around our campsite.
of course, what's a climb without socials, and with northern winds blowing violently into our campsite, we began to regret that we were unprepared for cold weather. i was wearing shorts and no gloves, and insinuations of siberia were creeping into the seams of my clothes. i tried to trick my body into thinking that it wasn't that cold with shots of gin, andrei's home-made schnapps from slovenia, and JC's engga mixes, whilst snacking on crema de fruta from goldilocks and norwegian salmon, both courtesy of bossing. it worked only for a while, and although i fell quickly asleep at a little past midnight, i was awake by 5am, realizing how terribly uneven the ground was, and how terribly cold it was.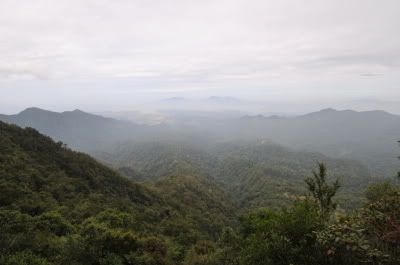 finally, at a little past 6, i stepped out of my marmot bise 2P and acclimatized. everyone else woke up at about 7am, and still it was mighty cold. the sky only started to clear at around 9am, and we saw brief windows of natib's views. we saw as far as manila bay in the south,
zambales
and
subic bay
with its 7 ships in the north, mount samat with its cross and the
mariveles mountains
in the west, and the rest of
bataan
and maybe tarlac or pampanga in the east. and then again we were covered in fog. nevertheless, it never rained throughout the climb, and lara claimed beginner's luck for the blessing. with a prayer at past 10am, we were all packed and returned to bgy. tala.
we descended quietly, and genie and i waited for about 20 minutes at the battlefield, basking in the soft warmth of the sun. by 3pm, we were all at francis's house, eating tinola. the tricycles we took the previous day waited for us since 12nn, having no other passengers to ferry out into the highway. we logged out, waved goodbye to the military checkpoint, and by 5pm, we were at the roman highway, loading our bags onto a bus. although there were only 8 of us, i enjoyed the climb immensely. so early into the year, i managed to pull together a small group to climb with on a mountain that's rarely visited. many folks have been turned back by the military, for reasons that might after all be exaggerated. mountains too have to be given a rest, particularly because i have no assurance that all mountaineers are like me and my friends: folks who pack an entire closet into their bags, turn campsites into little villages, and disassemble everything with little or no trace at all. and most of the time, we even pick up trash not our own. so i look forward to a year of climbing again. there will be many repetitions, for sure, because there are only a few mountains i have not climbed. but i wouldn't mind returning to places where i've been. in the company of great friends, each climb is always a fresh experience.