between 9 and 9:30pm, i paused and sat on a protruding piece of rock just below a row of giant taro plants. i hadn't rested since i began my trek shortly before 8pm, and i began to contemplate whether i needed to go back down to the manggahan and spend the night there. i was certain that i had missed the trail and wasn't sure if i'd find it again. it was absolutely dark, and although my new petzl myo xp illuminated my path like a flashlight on crack, i entertained the idea that i may have been lost, yet again, or was being toyed with by supernatural beings. i had just ascended a succession of rocks, which was not there in the 2 previous night treks i did on mount sembrano. but i did not notice any other way. less than 10 minutes later, i was back on the right trail, pushing myself against the black wind that humbled the ambitious grass on the trail, and i could hear voices passing, as if they were riding pockets of air that tumbled down the mountain slope.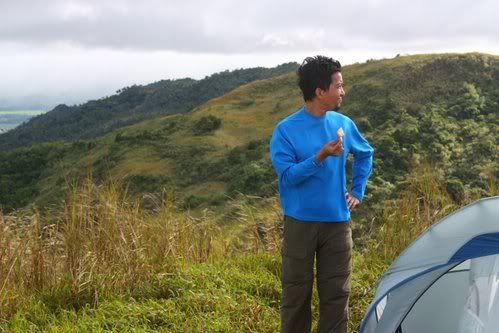 when i finally reached the campsite, i dropped my bag at one of the campsites and proceeded to where the noise was coming from. some of them were seated on a groundsheet pegged to the earth, while others were just about to retreat into their tents. it felt like the day before christmas: not a creature was stirring. i may have been standing there for nearly 10 seconds before i cleared my throat to ask: where can i pitch my tent. it was then that mike looked up to realize that the person standing near him was me, and not a stranger from the other camp. it was chaos after that and i was pulled to the ground when practically everyone embraced me. i was wrong to have thought that they hadn't had a drop to drink, because many of them, peachy foremost, were already very tipsy. they shouted my name, and i don't recall having welcomed anyone to camp with that much excitement. others who were already inside their tents didn't believe i had arrived. it was unannounced, and save for faith, i was unaccompanied throughout the trek. after i finally stood up from the bear hugs of drunk people, the next thing they asked was: did i have alcohol? i said yes, and the party continued.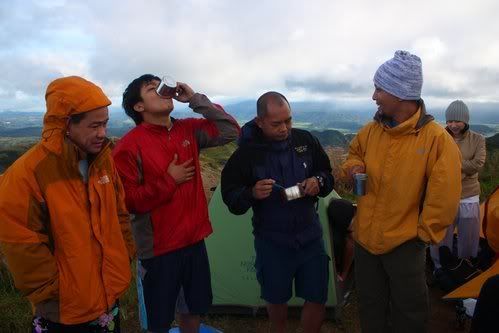 i only had less than a liter of home-made schnapps from slovenia and about half a liter of gin. but it was enough to extend the revelries to past midnight. i managed to pitch my tent despite the howling wind, and i have encountered stronger winds only at gulugod baboy. i took out my altec lansing orbit speakers and my iPod, and we played alternative and ethnic OPM from joey ayala to pinikpikan, and recorded footage of drunk people. in the middle of the session, a bayanihan took place and aaron's new coleman dome tent was transferred. but as the night wore on, the wind became more furious, and it was starting to flatten. i actually told them i still had space in my tent: i was by myself after all.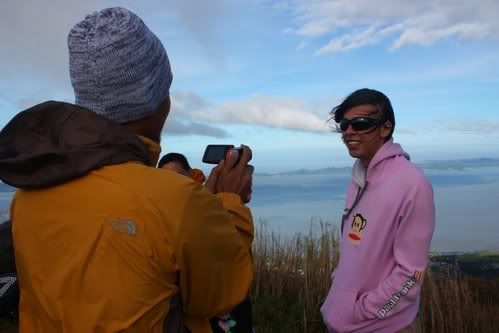 the next morning it was still generally the same, and i noticed they had to dig a hole into the ground just to be able to cook. at breakfast time i interviewed the guests who had all climbed their first mountain. vincent, whose family owns galileo enoteca (italian for wine library), one of manila's best kept restaurant secrets, trekked wearing vans sneakers. crazy, right? and i don't think bea slept at all because their vestibule kept getting unzipped and flapped violently. and they were just beside me so i was also tempted to cut out the vestibule because of the noise it was making.
after a breakfast which consisted of spam and corned beef, we proceeded to trek down the mountain where a pot of steaming native chicken tinola waited for us. we proceeded to the barangay hall to take showers and get changed, and by 5pm, were trekking towards watering hole (we passed through shangri-la mall with our big bags to see alex's baby and were stared at) for a great way to end a fun climb.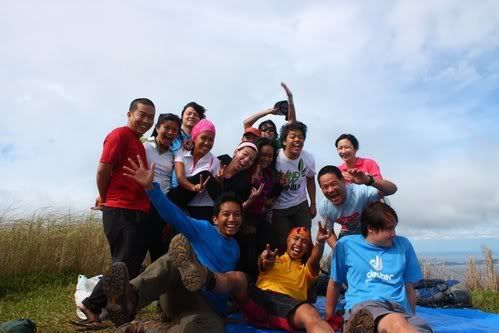 photos courtesy of maxine