i like the boyscout uniform today, than the green ones we used to wear
i am approaching an age where perhaps the feeling of nostalgia should be almost as natural as waking up in the morning and urinating. it makes you feel all giddy inside, and good as well after you're done, but you always have to wash your hands afterwards, because somehow, although urine is completely sterile, you feel a little disgusted. disgusted in the sense that you deny the feeling of nostalgia because it confirms something: you're getting old.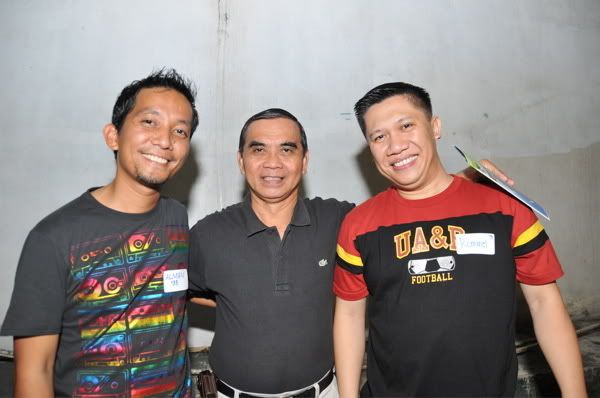 menandro magculang was the principal who made us shake in our boots with fear -- i never realized i was taller than him
but i have always been nostalgic.
i'm a packrat
, as i've previously declared, and i wax sentimental about a lot of things: i keep old letters and postcards, even small notes that have lost their meanings, and people would be surprised at the amount of precious junk i've amassed through the years. so going to a homecoming always makes me kind of excited. since i've left trinity in 1993, i have seen very few of my classmates again, and only keep in touch with a handful. since my graduation, there have been 16 grand high school reunions, always held in the first few days of february, and i've attended more than 5. i would even dare say i've been to half of those homecomings, and that is a feat in itself, i would say, because there were instances when i showed up, and the only people i knew were the teachers. there were also other instances when just myself or alexis would be there, and we'd only be recognized by our teachers.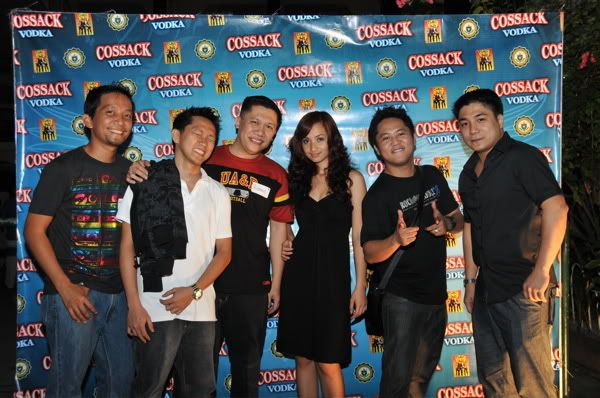 with the boys, and cossack's pretty promo girl
so attending this last homecoming was quite a revelation for me because a total of 13 from my batch showed up. i have to confess i did not know them all, but all of whom looked somewhat familiar. some were classmates at one time, others were just faces i saw in the quadrangle. there were a few i could not recognize at all because the years have piled up pounds and maturity, and we were all far from the kids we once were. and when you see each other after 16 years of virtually no contact, you put the past behind you. never mind that this guy bullied you at one point, or that other guy stole from you, or you had a fight with that person, or this other person didn't give you the time of day. all that has changed now. they all seem to have learned something about me. "balita ko abogado ka na," was the usual greeting, and i would always reply: "san mo narinig ang masamang balitang yan?" whilst i have not heard anything about anyone, and i've only bothered really to try to find out whatever happened to my classmates in pearl, none of whom showed up. many of my batchmates are now living good lives abroad as nurses and IT professionals.
i bought all my batchmates a round of beer to make up for all those years
that evening ended with us proceeding to elgin's house near visayas avenue, where we toasted to the years behind us and ahead of us. elgin, who manages the museum café, even invited me to have lunch or maybe dinner there. he promised to give me a huge discount, so i'm definitely going one of these days. maybe friday. now i need to know if any other batchmate manages another restaurant or hotel, that would be great, especially if it's circles or spiral or heat. haha.