wednesday last week, after their post-badminton session at JT's manukan, kuya mar invited me to join him and angie at platinum for an hour of singing. it was still a bit early so i agreed. when we stepped into platinum, someone from the other room was mangling "skyline pigeon", so i asked the waiter who was getting butchered, and he said, it was romano vasquez and a bunch of matrons. the name romano vasquez sort of rang a bell, and i immediately associated it with a teen-turned-sexy-star-turned-has-been -- a relic of the early 90s when i was transitioning from high school to college. but with me, no celebrity is too small so i jokingly told the waiter that we'd like to have a photo with him.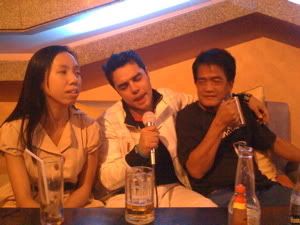 after about 5 songs, our door swung open and in came a man in a white jacket, reaching out his hand to us. it was, of course, romano vasquez, and he said: "balita ko gusto nyo daw akong makilala." i didn't know the waiter would take me seriously. we had photos with him using my iPhone, and after that, kuya mar invited romano vasquez to sing some songs with us, and then he whispered: "baka magpapabayad sya para sumama sa atin." i said probably not. i ordered him a sanmig light and handed him the microphone and he keyed in something from maroon 5, bon jovi and the eagles, and sang. he sang well, i would suppose, although he didn't manage to reach the high notes of "lately", which i effortlessly do. kuya mar, in his inebriated state, kept saying: "romano, ang bait bait mo naman," and he would walk over to him and pat his hand on romano vasquez's head, as he would on his many adopted children and grandchildren.
being the most glib, i decided to talk to romano vasquez, and asked him if he had any projects, and he said yes, an independent film where he stars opposite aiza seguerra. and then i asked why he disappeared from the scene, and from that one, innocent question, our room at platinum became the set of showbiz central, where romano vasquez laid down his cards, proclaiming, admitting, confessing, that yes, he got into drugs, and shamelessly declared that he worked at a gay bar, where, mind you, he sang, but didn't dance, although customers could "table" him, but not take him home, unless he felt like it. have you no shame, he said his friends asked him, but his response was if you're hungry, will shame be able to feed me? he said that his colleagues in show business, including his batchmates in kuya germs's that's entertainment of the early 90s, took pity on him and helped him out. i nodded attentively, but with the animated way he was retelling his reversal of fortunes and slow rise from the ashes, i wasn't sure whether i should break down in tears.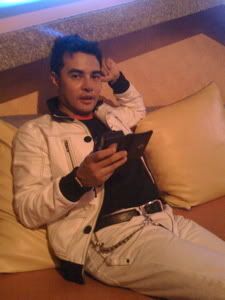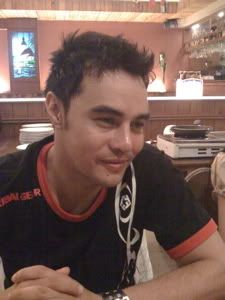 finally, the folks at platinum kicked us out, but eager to impress, kuya mar invited romano vasquez for coffee at the manila peninsula. he suggested swiss inn instead, and it was at this point that he became "tactile", particularly with angie with whom he sang a duet of "way back into love." by this time, kuya mar had concluded that the bedimpled romano vasquez was not as clean cut as he used to be, and we promptly left him in angie's care and kuya mar insisted that angie drive him home to parañaque. and the following day, romano vasquez, who got my number because he was interested in mountaineering, sent me SMS, which, taken in isolation, would yield a shocking interpretation: "Hey Dave," his message reads, "thanks for a wonderful time last night,Romano."