i went to see "zsazsa zaturnnah ze muzikal" with a few AMCI friends last sunday. it was my 3rd time to see the production, after the second run in the PETA theater and the fifth run at the RCBC theater, and i was happy that this time around, i managed to drag a number of friends with me. long have i been wanting to revive my interest in the finer arts, and i have been desperately seeking companions to attend poetry readings, watch theater and dance concerts, view art exhibits, listen to chamber music and opera, and view independent and foreign film festivals, but my current circle of friends have divergent interests from my own. thankfully, zsazsa is a contemporary musical with a light and humorous material which appeals to a broad audience base. this being my third time to watch, i noticed that the script gets updated each time. i've also compared character portrayals of different actors (lauren vs. arnold for dodong, eula vs. k brosas for zsazsa, kalila vs. meliza for queen femina, joey vs. nar for didi). they're all pretty good, in the limited sense that the play requires a less serious approach. i still think that joey and k were better in the singing department (i didn't see ricci's didi but i've heard nothing but praise). eula of course originated the character of zsazsa and her acting range is wider (although k is more babaeng bakla). lauren looks rough on the edges so he essays a provincial macho man better than the polished arnold. surprisingly, i couldn't spot any difference between kalila and meliza, although the latter is really short and lacks the stature of an alien queen, and she kind of reminds me of sheryn regis. haha.
anyway, i finally managed to bring my camera this time around and made sure i'd have photos with members of the cast. it was so funny that after we had photos with tuxqs and eula, both neri and jenny went around the lobby of CCP's tanghalang aurelio tolentino looking for arnold to have another photo with him. he was gone. haha.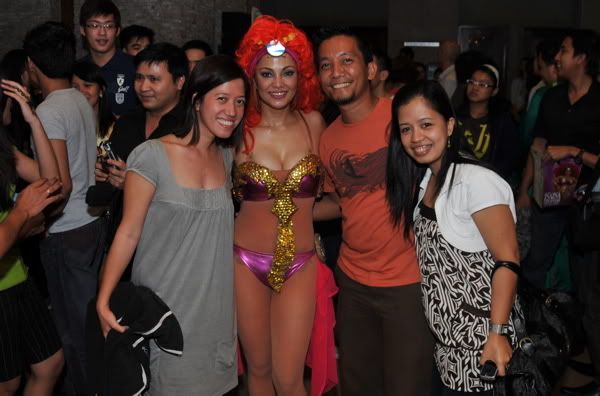 that isn't a birthmark. eula has a tattoo under the body suit. another one at the back as well. isn't she a beauty?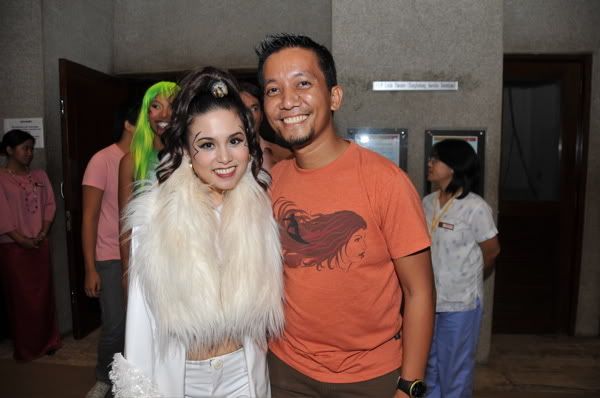 with the pretty and diminutive meliza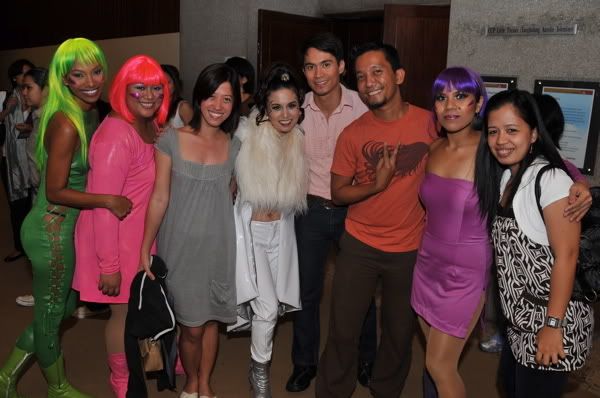 arnold and the amazonistas (yes, counting neri and jenny)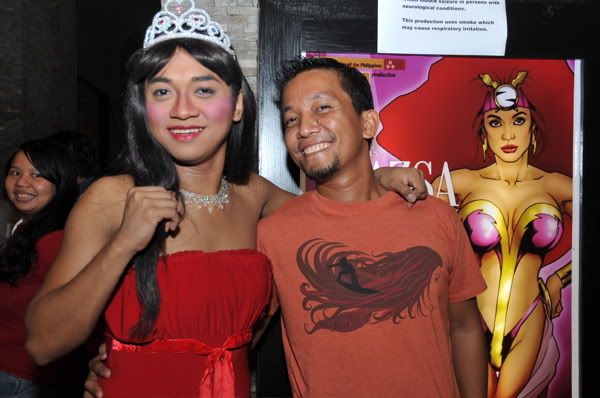 nar's comedic timing is superb
prior to watching zsazsa though, i began my 2009 theater season with a play that brought a lot of nostalgia. nick joaquin's "portrait of an artist as filipino" was the first play i watched as a freshman in UP (so it's nostalgia on two levels, because the play is a period piece set in pre-war intramuros). we were asked to write a reaction paper and i think i only managed to produce a convoluted summary with small comments about the acting. the dulaang UP production at the wilfrido ma. guerrero theater had veteran screen and stage actors whose names now escape me (this was in 1993 so i'm excused). initially, i thought i had very vivid memories of the play, but with the opening scene at onstage, i immediately got confused. it was like they had done something to the script. it was as if they'd changed it on many different levels. the scenes that i so keenly remember weren't in the rep production (such as the piano playing), and bitoy camacho's intros seemed to have been an addition. supposedly, the script was edited by another national artist, but i really don't know. it felt alien to me and i didn't make a connection with the production. i'm not saying that nick joaquin's obra is sanctum sanctorum, but then again, does everything need to be explained? i just felt that bitoy's speeches on the intramuros of old were like short history lessons for the disconnected young people of today. i read the original script for my reaction paper although i really can't remember if the intro spiels were written by joaquin. i could be wrong, somebody please correct me if i'm spewing ignorant nonsense.
anyway, tatin (astarte abraham) was there and she was also another reason i watched. despite my befuddlement, the highly nuanced and subtle acting of both paula and candida was superb. i already have the theater calendars of both repertory philippines and tanghalang pilipino. there's still dulaang UP, PETA, and many others to watch out for. i'm excited for my 2009 as a return to the arts.