those who know me well know that i am against fads. i like to go against the current, ditch the bandwagon, and pursue things which are generally unpopular. so it was rather uncharacteristic of me to be at the hot air balloon festival over the weekend when everyone else had the same idea. but then again, it being a valentine's weekend, i suppose preferring to watch these balloons take flight is already a mark of my refusal to embrace the norm, because i wasn't necessarily hounded by a longing for romance or a desire to either give or receive flowers or chocolates or greeting cards. rather, i was already quite happy to be with friends who were eager to see this rare event.
a week before the fiesta, we were also at clark attending jacob sangil's christening. while there, i asked jacob's father jay if he could do something to somehow get us restricted access passes for the festival. and for some reason, janet's husband has never refused me -- not that i've made so many requests -- but he's nice and is known to indulge little things like that. the request, it turned out, wasn't so small a thing because jay, despite his being a councilor of the city of angeles, and a close friend of folks from the CDC, had to go to great lengths to get us our special access passes. so early saturday morning, while we were caught in slow-moving traffic, i met janet on the island just before the friendship highway and gave her cream puffs and a red ribbon coffee crunch cake in exchange for our tickets and to thank her and jay for their efforts. i called our contact -- the event organizer -- and she said to give my phone to the guard. she said that we were guests of DOT asec lazatin. and in fact, asec lazatin and i are both godparents to jana marie. they were expecting 3 people, so when i towed janice, jenny, and james along, the guard said: akala ko po ba 3 lang? and i very confidently replied: oo nga, 3. ako and 3 of my guests. with that we went inside the fenced area and touched actual balloons, watching them closely as they took shape, inflated by industrial fans and sent aloft by bursts of blue fire.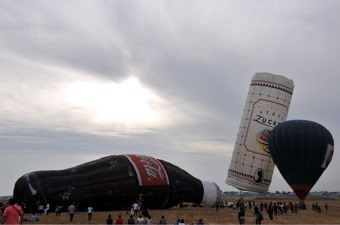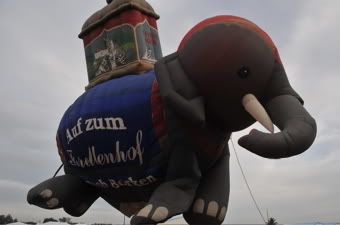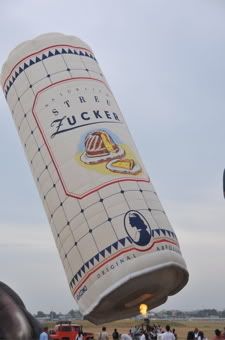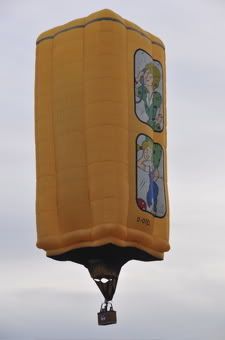 there were thousands of people there, and photographers came in droves, many of them with their big guns: lenses and bodies that cost a small fortune. and my nasty reply was: eh nakapasok ba kayo dun sa restricted area? when marga saw me inside, she had to ask me how i managed to get in. and i just flatly replied: charm. of course, it helps if you have connections in high places.
at the same time, there were these flyers with big wooden propellers on their backs resembling open industrial fans, coasting and floating along the festival grounds. there were balloons of all shapes and sizes. the normal ones took off without difficulty but the elephant-shaped and vertical balloons had many failures. i joked that the erect coke balloon had been sabotaged by pepsi, and i don't think dumbo managed to even go higher than 50 feet. there was also a kite flying demo where this guy had precision control and even landed the kite on my outstretched hand. amazing, right? i don't even remember the last time i flew a kite.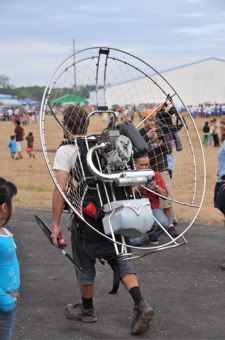 they also had an exhibition from the clark flying club where personal flyers tried to hit a moving range rover (let's pretend it's an iraqi tank the announcer said) with flour bombs. several planes were also on display at the venue. for some reason, i had this weird feeling in my stomach that i'd been there before. long ago, in high school, when we had a field trip to clark while it was still under american control, and i was still very ignorant to believe that the experience must be like stepping on american soil. at around 10am we decided to leave the area and had a very early lunch outside mabalacat. we ordered 2 roasted chickens and a liempo and a lot of rice and the bill was only over P500. sankapa?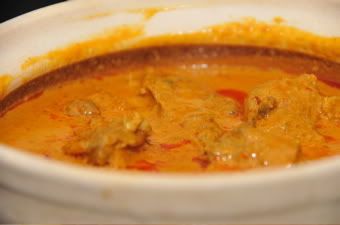 after that, janice dropped me off at quezon avenue and i went home to see my parents. i tried to sleep but ended up watching TV, a luxury i don't normally enjoy these days. then before i left, i very casually asked my mom if she wanted to eat at nasi lemak, the singaporean-malaysian resto in tomas morato. i once took home food from that resto and my mom really liked it. besides, i've always wanted them to have a taste of the kind of food i eat when i travel, so i took her and my dad for a date. we had penang char kway teow, malaysian chicken curry, and salt and garlic squid. i would have wanted to try the famous singapore chili crabs (which i always have at no signboard), but i worry about my mom's blood pressure. they liked it, despite the spice (my family isn't too much into spicy food, although lately, i've taken a liking for it), and i even ordered take out. when i was about to pay the bill, my mom took out her senior citizen's card so we could have a discount, but i said it wasn't necessary. but since the manager knows who i am (i visited nasi lemak when they weren't even a month old, and made small talk with the owner and their consultant), she asked if my parents had their senior citizens cards. the discount was big enough to cover the cost of takeout. haha. i really like the food at nasi lemak, although i only get to visit them whenever i drop by kamuning to have my barongs made.