in anthony bourdain's "no reservations" philippines episode, he officially placed the filipino version of the roasted pig: the lechon, on the world's gastronomic map. in his
blog
, in fact, he says that of all the roasted pigs he's had from all over the world, the one he had in cebu tops the list, better than the ones he had in bali and puerto rico (which in his ranking, placed 2nd and 3rd consecutively). i won't say i am a fan of bourdain's show since i don't have TV (how many times have i said that on this blog?), but whenever i do get to watch television, i mostly tune in to the discovery channel, the national geographic, and AXN. my favorite shows deal with scientific or historical documentaries, amazing videos, travel, and food. and bourdain's show sort of fuses the last two. i was also surprised to find, sometime last year, his book "kitchen confidential" inside the toilet at my parents' home in QC.
so anyway, not having TV and all, i only got to see the philippines episode of "no reservations" via youtube, and i can tell tony was floored by the spectrum of flavors that accosted him when he visited manila, pampanga, and cebu. except for the street-corner pancit palabok he had, he found everything else to be absolutely delicious! and he hasn't even visited the bicol region, the other islands in the visayas, and mindanao. i wonder what he would say if he had more time? he'd want to live here... or maybe just take a lot of recipe books back to new york. haha.
so in the episode, he is smitten by aling lucing's sisig (which he says is the best pork he's had), and then again by lechon cebu which he describes as the best pig
ever
. emphasis on the last word. i haven't had roasted pig anywhere else in the world, but i can see where he's coming from.
personally, i am not such a big fan of the lechon. there have been many parties that i skipped it totally, partly due to my ideas about diet and partly due to my loyalty to a specific memory of the pig which can't be matched. and that's the
roasted native pig we had in glan, saranggani
, way back in 2005, after our
induction climb up mount apo
. bar none, that has got to be the best lechon i have ever had! look at what we did to this glorious beast! and i'm merely holding the bolo for show. we tore it apart using spoons and our hands. it was that tender. and we even wolfed down the malunggay stuffing it had.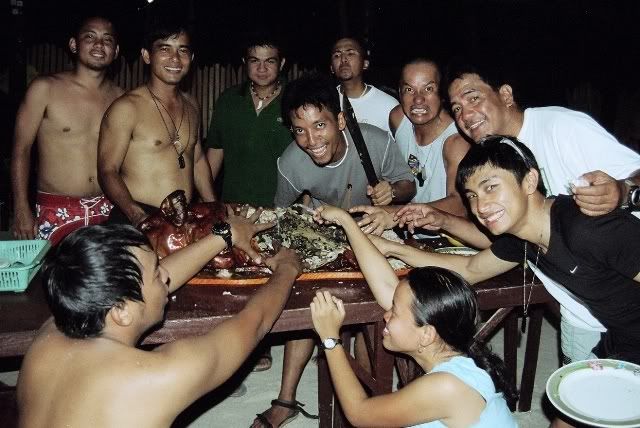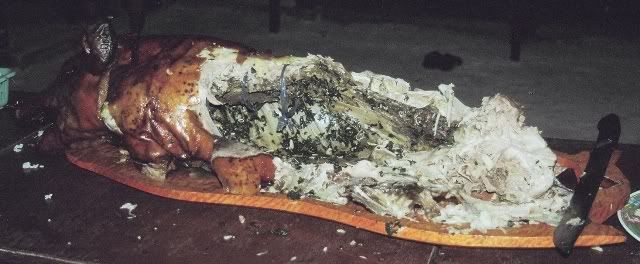 the second best pig i had was also in mindanao. i attended a conference in davao during law school i think and there was this local eccentric millionaire who treated us to dinner at a restaurant and we were served a piglet, crisp fried to perfection. its meat was so soft and tender, and there wasn't much fat to make my spine tingle.
of course third on my list is the cebu lechon at CNT. when i first ate there in the late 90s, i asked for mang tomas, and i could still recall the stare that the server gave me. and when i first chewed the slice of meat i dipped in soy sauce and calamansi, i immediately understood why there was no need for mang tomas: the gravy is reserved for the poor copies that are served by lazy lechon roasters in batangas and la loma.
so anyway, i hope more popular shows from discovery travel and living come and visit the country. tourism is really gaining ground, and i completely understand why. only other filipinos will say that the philippines is the least interesting in this corner of the world. i completely disagree. and tony agrees with my disagreement.
and how about a poll (not that i expect too many to reply, it's not like i get thousands of hits everyday): if tony were to return to the country for another episode of "no reservations", where would you take him and what kind of food would you serve him? your answers in the comments please.