during my visit to south cotabato for work early this week, our partners offered me coffee during our first meeting, and i politely declined. by now everyone who has read this blog should know that i do not drink coffee -- i never have. but they insisted i try the coffee as it might change my view on the brew. after all, the small cup was brewed from the choicest coffee beans, carefully picked and eaten by the civet cat, a nocturnal mammal which is a less cute cousin of timon and the mongoose, and fermented inside the animal's belly and then eliminated from its body already peeled, and still whole. highland tribes then go into the forests in the morning foraging the grounds for the animal's excrement. which explains why it is so damn expensive: a kilo of these raw, unprocessed, fresh bean droppings are bought at around P500 to P800 a kilo, whereas other regular beans picked by humans from coffee plants are priced at about a tenth of that.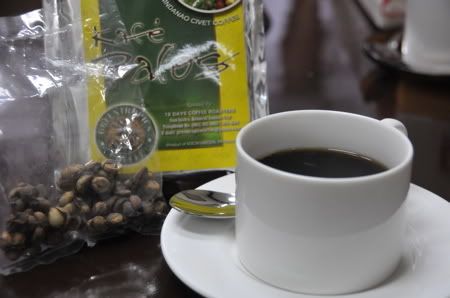 my first cup of coffee


so out of courtesy, and perhaps curiosity, i decided to taste the coffee and see if all the craze over what has been touted as the most exotic, most rare, most expensive, and probably the best coffee would convert me and wean me away from chocolate and milk. it didn't. to be honest, it didn't do anything for me. i drank the small cup and afterwards i was waiting for epiphany to take place. nothing of the sort. for me, it just tasted like coffee, and it may have officially been my first cup of coffee, ever.

and i guess it's just that: since i don't drink coffee, i wasn't able to either taste or smell the subtle differences between coffee alamid, and say, the arabica blend, or whatever.

regardless however of the absence of anything earth-moving in my first encounter with a cup of coffee, i support this "fad" because of its many multiplier effects. civet cats, or the asian palm civet (Paradoxurus hermaphroditus), were initially seen as pests particularly to fruit plantations, because they have a talent for choosing only the ripest fruits, and leaving the rest for later. they used to be hunted for their meat as well. however, ever since the emergence of the hype surrounding the coffee they produce, the musang or the alamid has since been appreciated in an entirely new light: they have been turned into allies, particularly by impoverished upland communities which rely on crops for their livelihood. in mindanao, hill tribes have been empowered by the demand for civet poop coffee, and have consequently improved their livelihood. and although this cat is common in most of asia, the coffee is said to have originated in the country. only in the philippines will people even bother to look into poop for gold. so the cat formerly seen as pest is now responsible for starting a whole new craze, profitable, and environmental.

incidentally, while i may be adventurous in my diet, i wouldn't have touched the cup if they hadn't shown me how the coffee looks like before it's ground: just like normal coffee, dried and roasted. the unprocessed ones look different, depending on how fresh the droppings are. they may be caked in hard, masticated matter, mostly fruits, or sloshing in a multi-colored gravy. how appetizing. mmmm.

so since i was given a sample of the coffee, and i have absolutely no use for it, i'll be giving it to anyone who first leaves a comment here on the blog. come and get it!



* * *


incidentally, while planning where to stay during our visit to south cotabato, our partners suggested we just book a hotel in general santos city, which is still about an hour and 15 minutes to the venue in koronadal city, approximately 70 kilometers away. apparently, our own partners weren't aware of the farm at carpenter hill, a relaxing, charming, quiet piece of real estate along the highway near the border between tupi and koronadal city. it has a less than ubiquitous sign just outside, and none of the paths are surfaced. old trees with beautiful tower high above, and a calm, resort-like feel was carved out of this small forest, with its pockets of gardens inspired by everything from zen and filipino excess.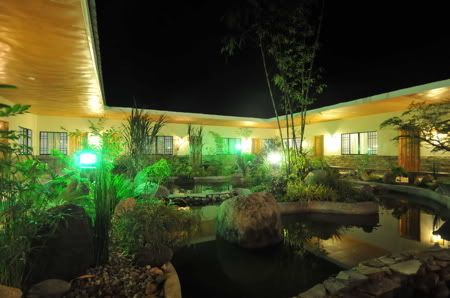 the japanese courtyard of my hotel. it's still under construction though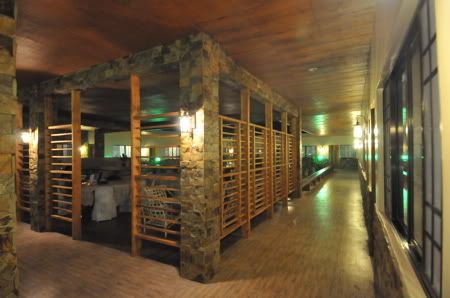 the hallway
my room: clean, basic and for just P1,500, a steal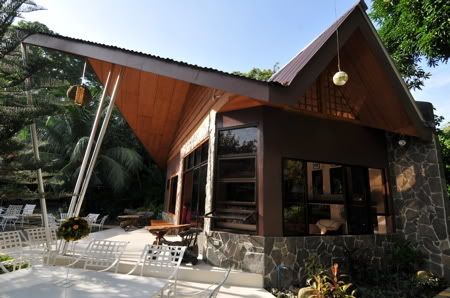 the aviary bar, where wi-fi is pretty fast

the landscaped gardens of the 12ha farm resort


i stayed in a nice little room at its courtyard hotel. US ambassador kristie kenney, who was also in south cotabato visiting partners of USAID, was also booked there in a villa on the same night i was, and there were these SUVs with government plates and military men in camouflage, carrying high-powered guns. i would have wanted to have a picture taken with her but i was informed that snipers were also stationed in the dark corners of the farm. so i scratched that.


the durian is a meaty fruit with a rich, acidic taste, and a strong, pungent scent


anyway, i ate two pods of the durian, probably the most misunderstood fruit of all. people say it smells like shit but tastes like heaven. i don't subscribe to either. i don't think it comes close to ambrosia in any way. the taste isn't bad, but i wouldn't crave for it. and its smell, while really strong, piercing, and pungent, isn't so awful that it would make me puke. it's either just an acquired taste or something that you've just gotten really used to.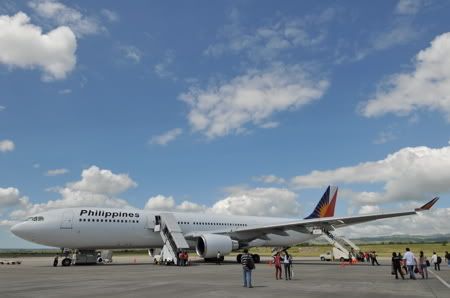 PR's airbus A330-300 on the tarmac of the general santos city airport


by the way, let me just say that the heat in south cotabato is just so terribly unbearable. i crossed the street to buy medicine and our partners offered to bring me back to the hotel to change because i was sweating! like seriously. also, the road between gensan to koronadal, and probably all the way to bukidnon, is in much better shape than the stretch that links davao to gensan. and gensan's airport is badly in need of remodeling. the runway is the most extensive in mindanao, and the vistas there are fantastic, but the terminal should be upgraded, really. there are 4 flights daily (3 from 5J: 2 MNL-GES and 1 CEB-GES), and PAL uses its wide-bodied birds. i only get to ride these when going to cebu, davao, and gensan. although the gensan flights on PAL's airbus A330 series 300 wasn't fully booked, the cargo space was necessary.