so i arrived last wednesday from my south cotabato trip right, and i checked in nearly 30 kilos of baggage which consisted of about 3kg of personal stuff, loads of tuna, a variety of fruit preserves, and whatever i could get my grubby hands on during the little time i had. i didn't really manage to go out since i was there for a short time, and my nice hotel was in the middle of a forest, although it's called the farm. when i got back to manila and the carousel at NAIA 2 rolled out our baggage, it was box after ice box after box of frozen fish, you'd think tuna wasn't available anywhere else. check out this video (for multiply and facebook, just go to my youtube page).




so last night i popped by the house for dinner before watching "the watchmen" and i insisted that my mom prepare some of the tuna, so she began slicing onions, garlic, ginger, radish, green mango, while the tuna soaked in cane vinegar. then she squeezed several pieces of calamansi through a strainer, drained the vinegar from the tuna, chopped one piece of chili, and harvested a branch of dill from her garden, and threw all of them together in a big ceramic plate. seriously, one of the best kinilaw i have ever had! my mom has signature dishes like the pinaupong manok, lechon kawali, fresh lumpia, empanada, and the kinilaw! gosh, no wonder i'm losing weight: i'm far away from home and not eating well, haha. anyway, i might drop by again this week to bring some of this delicious tuna with me. although i had a (less-than-decent) camera with me, it didn't cross my mind to take a photo. i was just so hungry!

and then i went to see "the watchmen" in cubao. i initially wanted to see it at the "new" ali-mall but they didn't have it so i ended up in gateway, one of my favorite malls. i was half-expecting more than 2 hours of action, but i was happy that zack snyder's approach to it was very mature and very adult, and i am not just referring to dr. manhattan's glowing blue birthday suit and the breast exposures. how did those escape the censors? i read somewhere that they have silly rules like the length of exposure (can't be more than x number of seconds), no double breasts, and the "flaccid penis rule", which means a limp male organ exposed for say, 2 seconds isn't going to get an X, but an erect penis isn't allowed at all. the reel though was very distracting it appeared to be badly edited, but i think it may have been the cinema's fault. although i hadn't read the comic book, i've always liked DC's "for mature readers" comic book line. frank miller isn't the only one who deserves a treatment that's dark, brooding, and moody. it lacked something for sure, but i enjoyed it.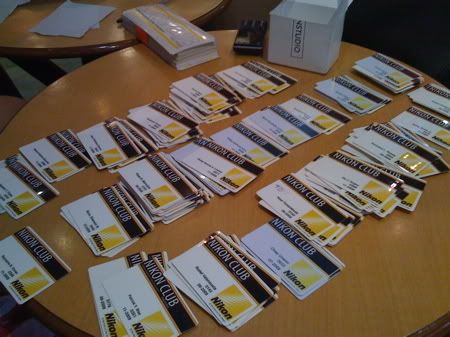 also, the other week, i finally decided to get it over with and sign up with nikon club philippines. might as well right, although i'm not really that active in the forums and i have little time for these EB shoots and have a general disdain for masquerading photographers who only discovered photography in the digital age, i think that i would benefit a lot from other nikonians who use the same gear as i do, and from other really talented enthusiasts who can give me tips and techniques on improving my craft. let's see where this takes me, and whether i would go full frame before the year ends (to D3, or not to D3? the only other option, as of now, is the D700). so for my membership fee i got a shirt, a decal, and soon, an ID. i really should just visit the forums more often.