my legs were made for walking, but every now and then i get to use them to push the pedals of my bicycle, and despite all my stories on bike commuting, i really don't have much practice in cross-country rides, so i don't know what possessed me (again) to agree on joining the AMCI anniversary weekend ride from talipanan to puerto galera. i already planned on being a sloth on the beach, but despite the prospect of biking under intense summer heat for a minimum of 5 hours, i was already loading my bike onto janice's car even before midnight of friday. by 3am, we had sped through SLEX, STAR, and the batangas pier, and were walking into a noisy, slow-moving RORO, which didn't allow me at least to steal a wink of sleep. we left our bikes under the passenger area, under constant threat of being squished by delivery trucks, and just after 6am, we arrived at the port of calapan. the last time i was there was when i was still in the DENR. the first time i was there was when
we climbed mount halcon
. memories. sigh.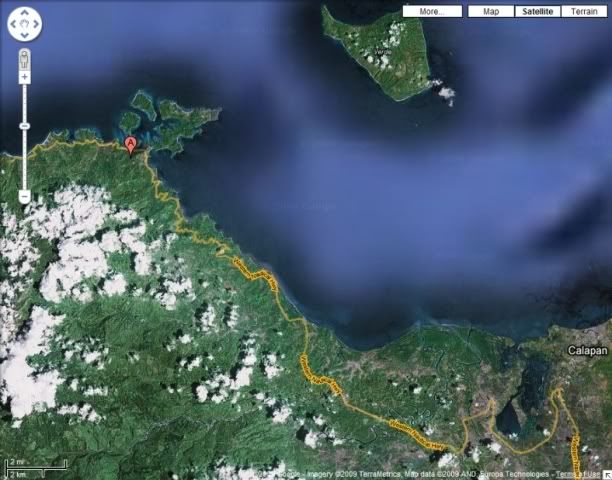 at 7am, we began our ride, all 21 of us. for the first 20 or so kilometers, we were enjoying bucolic scenes in calapan, and were joined by other mindoro-based bikers. when we mentioned our plans, they asked why we didn't just load our rides on a jeep. are we the only crazy people around? there were several stops scattered along the 60+ kilometer route (it must have been more than 70 in total, because from calapan to the poblacion of puerto galera was 65km already, and from there, talipanan beach, which lies at its western end, is about 9km still), and the best one was at the real tamaraw falls where the crew of joey de leon's "wow, mali!" was shooting. they played a trick on mannie which we knew from the start, and we even did a spiel for the show. it should air anytime this summer.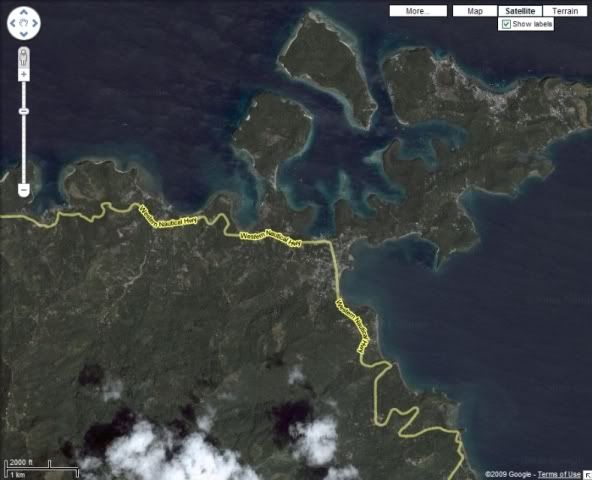 the ride, which took us through the towns of san teodoro and baco, was undulating in parts, and had stretches of uphill rides with an equal number of rewarding downhill drives. the road between calapan and puerto galera is nearly completely surfaced, although only a couple of years ago, it was a mountain bikers dream. by this year's end, roadies would most certainly show up here. also, the natural bay of puerto galera is supposedly one of the most beautiful in the world and we caught glimpses of it as we punished ourselves up from tamaraw falls to muelle.
five hours later, near the turnoff towards sabang, we were looking for the other bikers but they were nowhere to be seen, and the locals, probably blinded by the sun, hadn't noticed a pack on two wheels. some of us had a cut-off at noon, whence we should just swallow our individual prides and load ourselves onto a tricycle (in my case, i had no such pride and would have opted for an earlier cut-off). which we promptly did (although we got a little delayed when we left ai's wheels on the sidewalk curb). this gave us enough time to gorge on good and affordable italian food at luca's (they told me when i arrived that they'd seen my post about their resto on my blog) and rest before organizing our version of the elite multi-sport event: ironmanny 2009, which featured a fourth "discipline": beer drinking. the race eventually became a drink-swim-drink-throw up-bike-drink-puke-run-regurgitate event for many of the solo racers.
the party continued till the following morning. i was among the last to decide to sleep around 5am, and i woke up at around 9 to eat more italian food and idle around till it was time to leave at 2pm. i kept telling people that i still had energy and all that jazz, and didn't get to sleep until midnight on sunday. i put off packing for my flight to general santos at 7am the following day and just set my clock to alarm to 4:30am. and then it all fell into place: i had a really nice dream about green, open fields, until i woke up with a start: you know, the kind of rude awakening you must get when you're defibrillated from unconsciousness? it was already 6:30am, and my alarm has been honking since 2 hours earlier at intervals of 10 minutes and i just slept soundly through it. haha. so i missed my morning flight, the third so far, although this time my reaction wasn't biological (the first time, i thought i was going to faint), and i just knocked myself on the head, gingerly packed my bag, and decided to just take the next flight to davao (at great personal cost) and take a bus to gensan. and i was starting to get sick: my voice was spent, i had a sore and itchy throat, i had a bad headache and an awful cough and i was feverish. but i did get to my destination in one piece, and with time to spare. it pays to be a cool, calm, frequent traveler.