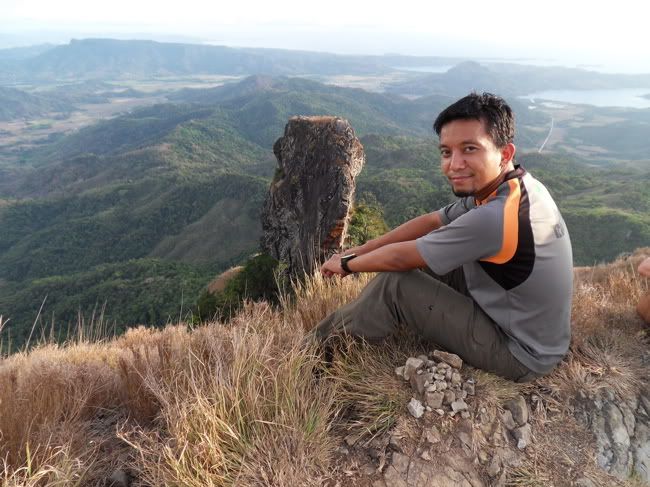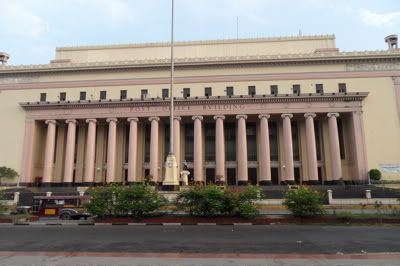 the grains of my vacation have not even settled when i decided to stuff a backpack with a tent, a thermarest, and clothes for my third climb of the year, which is actually alarmingly low, but comparatively decent, if we were to survey other members of my club, whose predilections and inclinations have slanted them to pursuits other than climbing mountains. so although there was laundry and souvenir t-shirts the size of haystacks to sort through, i was happily leaving for the central post office in lawton, for a climb to parrot's beak in cavite.
i last climbed pico de loro in june of 2003. it was officially my second climb since i picked up the sport in february of that same year, and i basically hooked up with complete strangers whose club i became a part of much later on. i had no idea about the mountain at the time. i only knew that i wanted to climb mountains. i have both vague and vivid recollections about that trip, and although i hadn't started to blog at the time, i can retell my experience with great detail, and i wonder now why it had taken me this long to return.
this climb was organized by 2k7, and since i had been to the mountain, i was asked to be the trail master. i made a caveat that it was 6 years since i was last there, and made no assurance that i would remember the way. as it turns out, every fork on the mountain has a sign pointing towards the summit of this mountain. so after a slow ride on a rickety bus, we were deposited somewhere in maragondon for a tricycle ride to the jump off. along the way, our driver complained about the magnetic hill, and he mentioned that there was a giant magnet somewhere making the ride up to the jump off a bit of a struggle. although the climb was plagued by last-minute back-outs from flakers with fabricated excuses and others who felt sorry they couldn't come despite having genuine reasons, we still had enormous fun.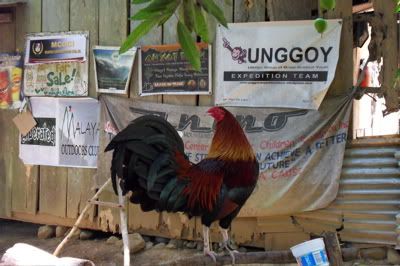 we began the hike at half past 11, and it was overbearingly hot. we reached basecamp 1 for a brief rest and to pay the second registration fee "for better coordination" so claimed the sign, although they didn't bother to ask for our numbers. we had already paid P20 each at the DENR's PAMB office 200 meters from the jump-off (it was declared a protected area in 2007). no receipts are issued so it is a wonder where the money goes, and whether they're put to any good other than providing a brief rest stop for easily dehydrated climbers.
we pushed on, and the trek was slow and easy, although the sun scorched high above us. a bit after noon, we proceeded to the waterfall, but the pool that poured down had dried up, and we had lunch under the spotty shade of wispy trees. we continued the climb, aware that 3 other groups had already gone on ahead of us. initially, we wanted to camp at the foot of the mountain, and decided to just assault the summit at some other time, whether that afternoon or the following morning. karlo, who had been to pico more recently than i have, assured us that we were going to the campsite we had in our minds, but i doubted it as we gained more elevation. the ascent and the heavy pack conspired, and i chugged more water than i normally would and should have. along the trail, we encountered hikers on a day hike descending. i asked one of them how the view was, and one replied that it was good, although near the summit, it was a bit "steef".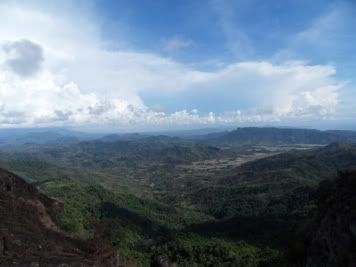 the more helpful reminder was just to follow the trail signs: plastic bags tied around trees and stacks of 3 rocks placed along the trail. a sudden descent near the campsite nearly cost us a lot of time, but we managed to find a cool clearing under the shade of leaning clumps of bamboo. but karlo pointed out that the better campsite was just 15 meters away, with a view of the summit and the south where the provinces of cavite and batangas collide, all the way to the sea between luzon and mindoro island. under the haze of clouds must be halcon. we staked out areas for our tents, and we were considerably far apart, thinking other than the "christians" from UST, no other groups would arrive. we referred to the other group as christians because they introduced themselves as members of singles for christ, but this is not to suggest that we were either heathen, pagan, or atheists. the campsite of pico de loro is a scoop of land between two peaks. the saddle spreads out horizontally, and faces a sheer wall whose steep (or "steef") drop i didn't bother to explore. it was burned black at the edges, and was annoyingly littered with every imaginable piece of trash: from empty bottles of water and alcohol, to plastic bags, to discarded underwear, to opened and empty tin cans, to burn rice. it was in an extremely sorry state and i don't recall it being this dirty 6 years ago, although admittedly, we didn't even stay long at the campsite the last time.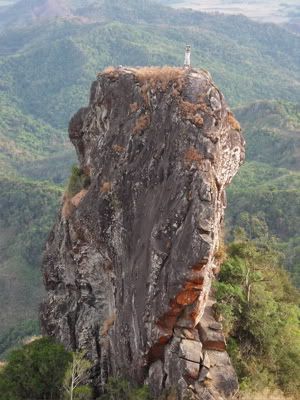 at 5pm, with the possibility of rain, we assaulted the summit. the observation that it was "steef" was accurate enough, although the other approach would have been less dirty. one of mike's guests ended up soiling everything from her knees, to her butt, to her arms, and she discovered that dust and sweat may combine for mud. nonetheless, the view from the top was priceless, it almost made me forget about the trash that had collected a little below us. the summit is completely bald, and there was a view of everything, from sea to valley, to hills. wayward pillars of smoke joined heavenly clouds, and you get this feeling that you're above everything: nothing is higher, not even the column of rock which earned for itself the name: parrot's beak. it is officially listed to be 664masl, and my suunto core's reading was only 6 meters higher.
pops decided to climb the rock, but i preferred to just sit there and watch for him suddenly appearing on top of the rock. when he got back, he was panting like he had just dashed the last 200 meters of a race. his heart was racing, he said, partly for the fear of falling, and partly for the "steef" return to the summit. after lingering on the summit, we descended and presided over the matter of dinner. at about this time, more groups had arrived, and pico de loro began to look like another maculot, another manabo: rising to fame, but plunging into filth and neglect.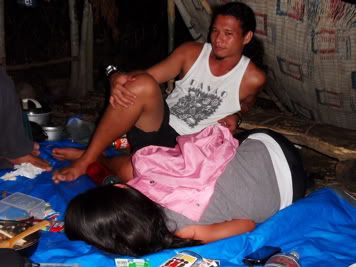 i had no participation in the meal plan, but the result was not something i would so much as complain about. karlo's beef steak was pretty good, and we also had soup which i prepared. i am very proud of my soup-preparing skills. we also had pesto pasta which i didn't even get to taste, and when we finished with dinner, we indulged in some socials. we only had a liter of tanduay rhum and another liter of gin, and with only 9 of us sharing, it was enough to draw us into honesty and happiness: peachy prattled about her dislikes, while mike's guests exclaimed their joy. we didn't manage to tease genie and karlo, because karlo is a man of very few words, and genie crashed even before we finished the rhum. when we finished the gin, jewel insisted that we go around to beg for alcohol, or steal it, if necessary. we found a group in the bamboo forest and they shared some shots of GSM. it felt like sipping turpentine. although, honestly, i don't even know what turpentine is.
jewel retreated into my tent, and i accepted an invitation from the group that carried a one-year old baby to the campsite for a few more shots of turpentine. when i felt i could no longer stay awake, i went to my tent and found jewel sleeping on my thermarest. i could not remember the last time i slept on nothing but the tent's floor and the groundsheet underneath it.
i woke up the following morning to find pops contemplating the view. we decided to start breakfast. we had fried bangus, spam, genie's pancakes, and my perfectly-cooked rice. by the time we had finished, all the other groups on the campsite had already descended. nevertheless, we overtook many of them along the way, including the young people whom i helped to pitch their tent which was the size of a cathedral. it was possible to stand inside without hitting your head on the ceiling.
the heat was terrible, and since i had offered all my water for the campsite, i was courting with dehydration. but i reached basecamp 1 and immediately bought 2 cans of coke. 15 minutes later, we reached the road, dropped by the DENR where very rude people already agitated from a bad experience on the mountain complained that we were capable of speech, decided to go instead to maragondon for a bath, lunch, and our ride back to manila. before sunset, i was already in makati, collecting my dirty laundry. it felt really good to climb. i look forward to the next one, even if it's someplace i have been to. as genie said: it's the same mountain, but it's always a different experience -- it's time to make new memories.