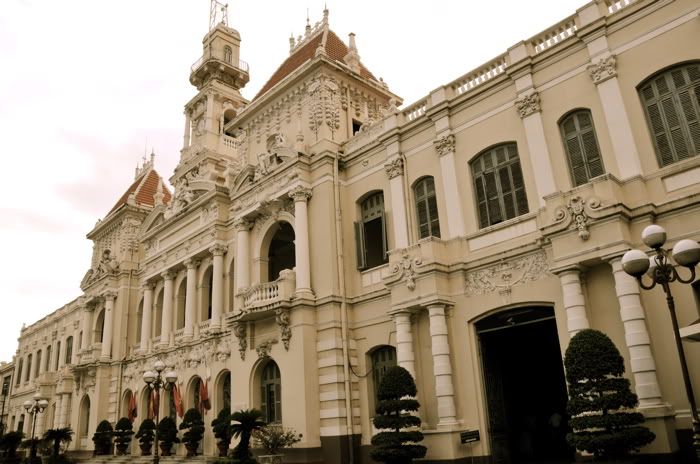 as early as thursday evening, i had already picked out the number of shirts and shorts i would pack for my 12-day journey across a number of cities in indochina, beginning with a 2-day stop at saigon in the socialist republic of vietnam. i had decided on bringing my osprey atmos over my sturdier deuter aircontact –pro because it's lighter by upwards of a kilo. even before my departure, i knew somehow that i would collect excess baggage.
by 3pm of friday, i was already under huge amounts of stress thinking that my flight would depart at 9:30pm, which was the time i indicated on my calendar. i still had a few bills to pay and a few things to get before i could leave, but it turns out, it was only the time that i needed to be at the airport, since my scheduled departure was shortly before midnight.
at the sombre NAIA T3, i quietly checked in my backpack and my tripod. i had 2 handcarries: my lowepro S&F rover light backpack which contained books and cords and wires of all my gadgets and my new lowepro nova AW, which cradled my nikon D300 and nikon F80. somehow, i had this desire to shoot in film. while i was patiently waiting to board my plane, cebupac announced an hour's delay: the joys of flying budget airlines.
the flight was uneventful and i woke up briefly to win one of the prizes in cebupac's silly games. i think they should rethink their policy on having these games during graveyard hours. i answered the survey, slept, and woke up again when we began our descent. below me were glowing geometric shapes floating in the dark void. a bit later, specks of light appeared in the black canvas, and i was assured, at least, that below us was a vibrant, throbbing city, alive even in the wee hours.
at saigon's international airport, a clean, modern, and generic structure, i claimed my baggage and proceeded to find a way to get to the city. an enterprising driver offered to take me to pham ngu lao for USD30, and although he spat no more than 5 syllables in english at any given time, it was clear that he was pulling a fast one on me. i said no, and took my baggage out of his car. he tried to do the same thing on 2 other filipinos, and i managed to warn them that his limited english was an excuse for highway robbery.
we ended up taking the airport service, dividing the USD10 among us 3. inside the cab, we made formal introductions. one of them is patrick, the other ryan. when i said my name, ryan's face lit up and he said: what's your surname? when i gave it, he exclaimed: ikaw yun. they had intended to send me an email when a common friend informed them that i would be doing a trip similar to what they had planned. ryan, who also contributes photos for the bulletin, is familiar with the work i've done there as well. ah, fame can be a bitch. but it can also help find new friends.
they also had vague ideas about where to stay, only that they should go to pham ngu lao, the backpacker district. when we got there, i found an HSBC ATM machine and withdrew 2 million vietnamese dong. in less than a day, i would spend more than half of my first withdrawal. we walked around pham ngu lao looking for a decent guesthouse, until we decided on the orient hotel. it seemed good enough, though slightly more expensive. but at 3am, with a grumbling stomach and lack of sleep, it seemed to be the perfect place to spend 2 nights in this bustling city with its roaring scooters.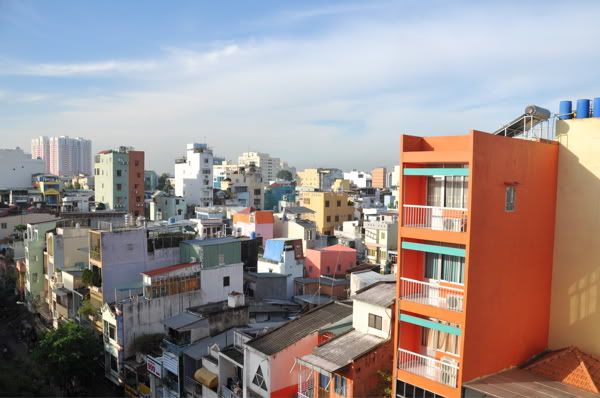 after checking in, we had noodles at a corner restaurant, pointing to items on a menu that had no english explanations. immediately after this early breakfast, we went to our hotel and found it much to our liking: it was on the 6th floor, overlooking the park, had a hot shower, and an LCD TV, although watching shows where all the characters are dubbed by just one person who has no feelings and emotions wasn't exactly our idea of a grand vacation. from my view, it was clear that nearly all the buildings in pham ngu lao had vertical orientations, occupying a portion of the street no longer than 20 meters across, and rising, at least 5 stories high. from afar, with their varied colors, they looked like books arranged on a shelf.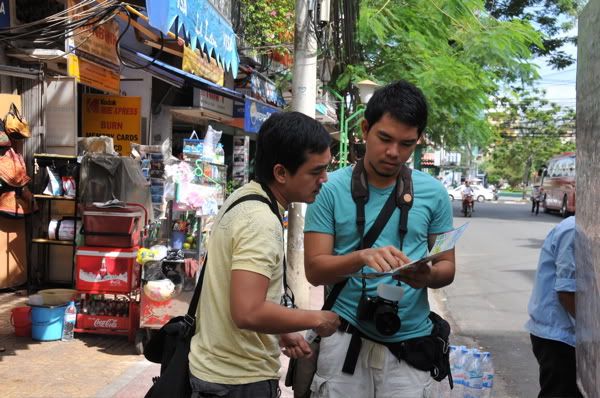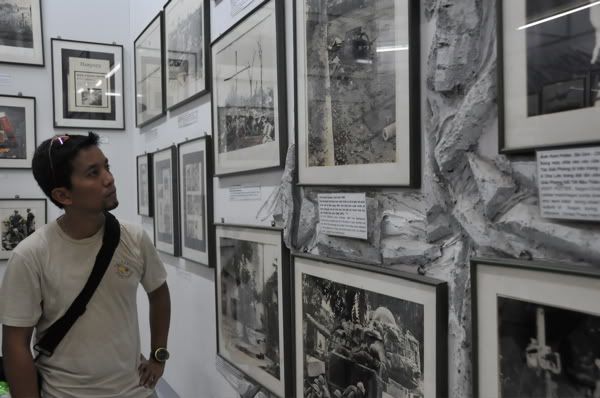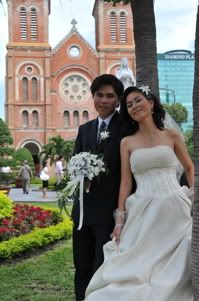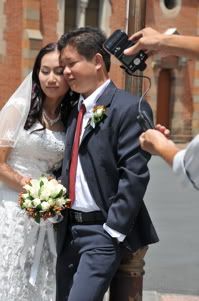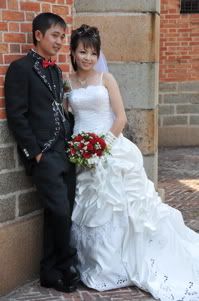 later that day, i left the itinerary to patrick. he picked out a map from the hotel, and although we had absolutely no idea whether our orientation was correct, we set out for a walking tour of saigon, passing through ben thanh market, the reunification palace, the saigon central post office where i sent a postcard to myself, the notre dame cathedral around which were at least 4 couples having pre-nup photo ops, the war museum where american atrocities during the vietnam war were displayed, the opera house, saigon's posh district, the city hall, etc. all this time, we all realized that the street-crossing skills we had developed in manila were not sophisticated enough to deal with swarms of scooters and motorcycles that weave through saigon's thoroughfares sometimes with no regard for traffic lights and pedestrians. it almost felt as if i had never crossed a street before, alternately praying and cursing as i looked left and right. initially, folks at the hotel suggested we just take the city tour, claiming it would not be possible to walk to all these places. but our legs must have been made of stronger stuff.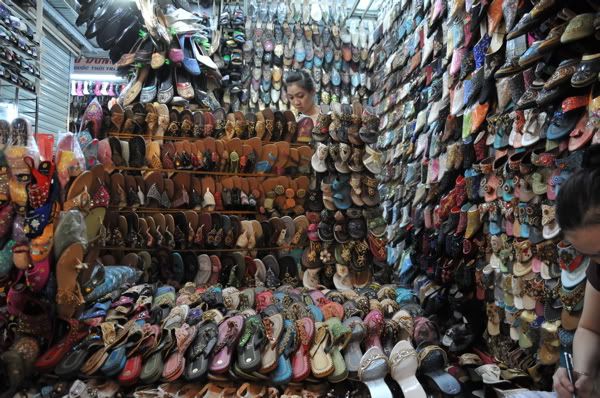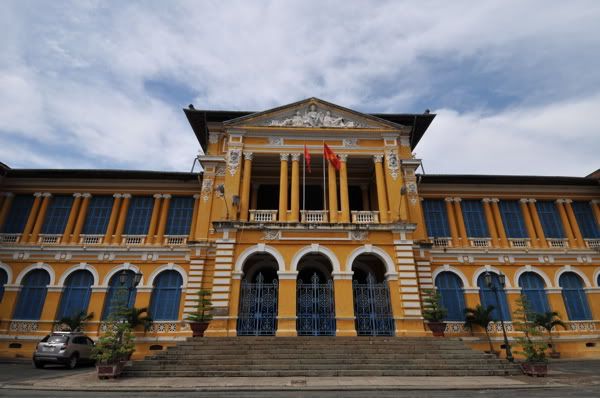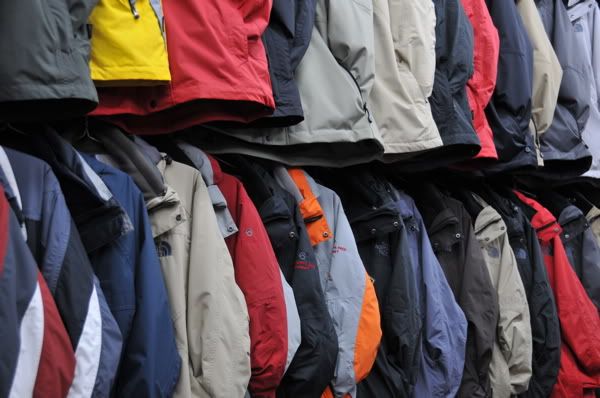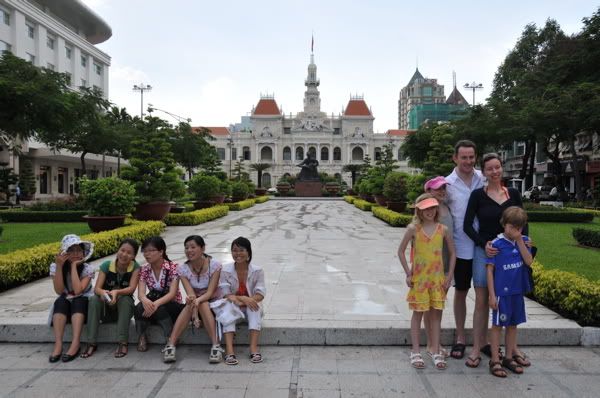 before returning to the hotel, we returned to benh thanh where i wasted away with my lack of bargaining and negotiating skills, wilting at the first offers, purchasing bric-a-brac, knick-knacks, and generic souvenir shirts. i had initially planned on buying lots of TNF overruns, but i found nothing but fakes: the copies were sometimes so poor i could tell they weren't original from a kilometer away. that night we just staked out pham ngu lao. pitsanu's friend william (or hung) took us to what he described as one of the best noodles in saigon, although the broth was far from attractive, and ryan had to struggle to explain he can't have soup that's tainted with crabs. early that following morning, ai and jojo would arrive, but i was so tired from lack of sleep and after a liter of vietnamese beer that i crashed and woke up only the following morning in time for our mekong delta tour.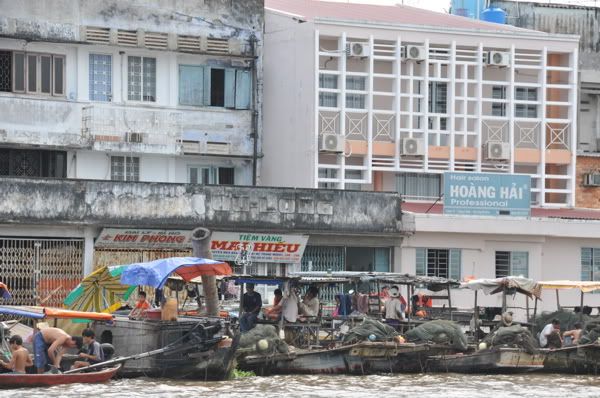 for USD12, we were scooped from our hotel and taken to the mekong river, about 60kms or 2 hours from saigon. the highway outside saigon is still being developed, one might think that NLEx or even the SLEx are more than two decades ahead. oddly enough, there are few vehicles on the highway save for two-wheeled motorized carriages. along the way we passed rest areas for drivers which had hammocks instead of chairs. shortly, we were boarding our longboat at the mekong which was murky and so wide, at times i could not see the other end. there were many houses along its banks, topped by antennas all pointing north, to hanoi, so it seemed.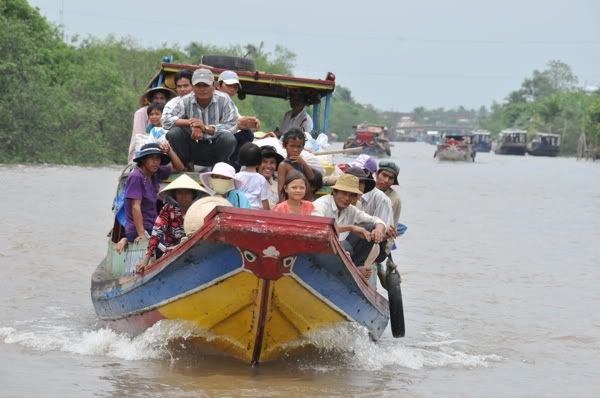 the mekong delta day tour is what many tourists in saigon do, and the trail is routine. the guides have virtually memorized their speeches to the visitors about the length of the mekong and how an island of coconuts had collected from silt and erosion. nevertheless, i appreciated the experience because it was a peek into the life on this river, which begins at the foothills of the himalayas, separates myanmar from thailand, crosses laos and cambodia, and flushes into the south china sea. the scenes on the river looked nearly cinematic, you'd think the vietnamese were still fleeing some kind of unapparent terror.
somewhere on the coconut island we rode a bike, had lunch, witnessed how local produce was made, and interacted with fellow tourists. we met a russian couple whose names were olga and sergei. if they had given me 5 guesses, i would have gotten both their names correctly. i also took the chance to speak to french tourists, since my vacation resulted in my missing 3 sessions of my french classes, and they were kind enough to compliment me on my grasp of their language.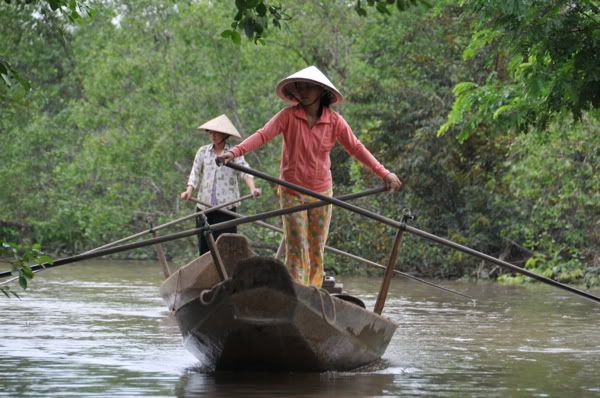 the tour ended with a peaceful ride along a narrow canal where our boatman steered us using criss-crossing paddles. his movement resembled that of a dragonfly, but with the grace of a butterfly. we fluttered along the canal, transferred to our boat, and were deposited back at the pier for our ride back to saigon. traffic was terrible at this point. it was already sunday, after all, and many motorbikes jammed the two-lane highway for a few minutes. we had dinner outside the ben thanh market, which transforms into a night market even before dusk, with hawkers rushing to their spaces, pushing their folded tents and mobile kitchens, blocking traffic.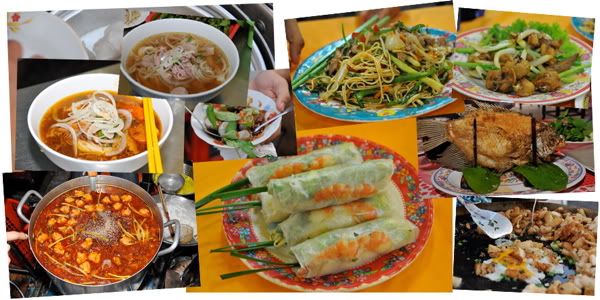 this would be our last evening in saigon, so i stalked a grocery and purchased rice paper and rice noodles and sauce for vietnamese spring rolls. there must be something about their diets, because many vietnamese are lean, and the only overweight people i saw on the street were caucasians. after the visit to the grocery, we went to meet up with ai and jojo and hanz at le pub. another thing i love about vietnam is that it was colonized by france, and it has all these french-themed establishments. as it turns out, it really is a small world, because hanz knows patrick's older brother, who is now top brass at an ad agency in cambodia.
we all had a few beers at le pub, and drowned the evening with stories, laughter, and new-found connections. who would have thought that circumstances both sour and sweet would help me find two previously complete strangers to share a hotel room with, and even see a foreign country? i had planned this trip from the very beginning to be a lonely traveller's journeys through indochina; but when serendipity interferes, you surrender to the many unexpected, but always surprisingly pleasant twists and turns of fate.