the best-laid plans can still go awry, and no amount of careful coordination can prevent nature from getting in the way of great fun. it was providential that i had made many contacts in daet even prior to brewing this little trip to calaguas island off the town of vinzons in the province of camarines norte, and as early as wednesday, they had warned me that weather in that part of luzon has been souring, and all indications seemed to point at it getting worse. so i made a brief survey among my fellow islanders, although i had already made a decision: to call it off. it would be folly to leave and just get into everyone's nerves should we find ourselves stuck in a hotel or a black beach muddied by persistent rain. i had to consult various online weather forecasters just to persuade myself that i had made the right decision -- one which turned out solomonic because the rain precipitated into a storm signal, and i managed to find other ways to spend the long weekend.
so instead of island life and surfing, i dragged nette and ai to binondo for my 4th walking food tour. we did it differently this time: we began at guadalupe, took the pasig river ferry service and walked into binondo with grumbling stomachs. we stopped at all the usual suspects: dong bei for dumplings, sincerity for oyster cake and fried chicken, mezzanine café for milkshakes, lan zhou la mien for hand-pulled noodles, and finally cukeng café for brewed coffee and hot chocolate. afterwards, we took the LRT-2 to betty go-belmonte to catch a peek of jason's warehouse sale in taumbayan in kamuning. it was both nette's and ai's first time to ride the pasig river ferry, and they were both surprised to find that it was smooth, convenient, and relaxing; also that the pasig river doesn't stink as hell, as many would think. there's also life on the river, which is populated by a lot of floating water lilies, and less and less trash. it was also nette's first time to ride the LRT-2, which is a big leap forward from LRT-1 and the cramped MRT-3. i'm glad to have opened their eyes to the fact that manila isn't in such a sorry state, if you think about it, and if you look hard enough.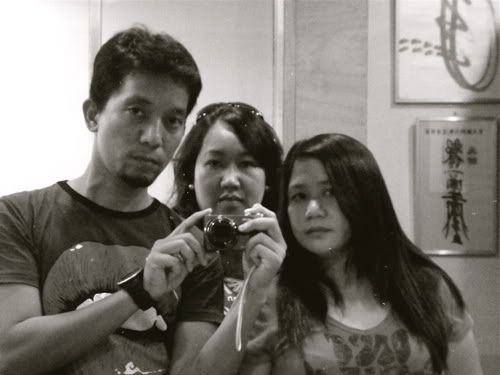 here are some photos taken with my new samsung WB500. its food setting is just too cool!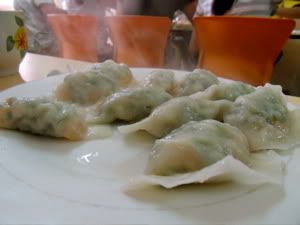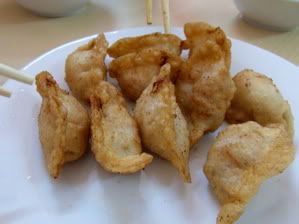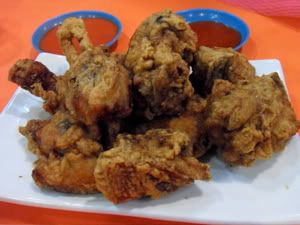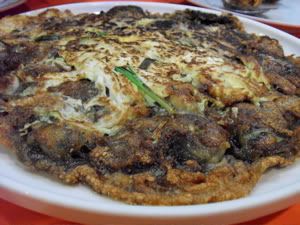 * * *
my blog enjoyed a lot of internet traffic lately, for reasons which may be self-evident, 3 entries down. so i'm nearing my 20,000th unique visitor in about 12 days (based on the average number of hits i get in a day), and as promised, i will give out a prize to anyone who can send me a screengrab of the counter on this blog to prove he or she is number 20,000. the prize would be same as before: dinner at heat or spiral. and maybe i could look around for another prize. perhaps a guided tour of a place i might be familiar with, or photos. i don't know. i find it just amazing that i would have this many unique visits when i have done virtually nothing to promote my blog or to earn from it. it's sweet and even humbling, that people bother to check on me, or are somehow led to my website where all my ramblings are found. sigh. anyway, more details some other time on the contest.
* * *
earlier, i was lining up for merienda at goldilocks, where they've coined a new irritating greeting: magolding hapon, or something to that general effect. anyway, the person in front of me was taking a long time because she changed her mind at least 4 times, and when it was time to pay, she presented her mom's senior citizen card, and insisted the discount be applied to all their orders (there were 5 of them in her party), but there was a sign which was clearly posted beside the cashier which declared: the discount applies only to the senior citizen's exclusive consumption. which makes sense, i think. when my parents presented their cards one time, i said it wasn't necessary. but this girl, she even hinted that the policy was crap. but i tried not to mind her and be bothered by her stupidity, but she turned to get a tray and said to me: "excuse moi", the first word in english, the second in french. what was more appropriate or what she really should have said was: "excusez-moi", so i turned to her and said: "parlez-vous français?" then she said: "ha? kunin ko lang yung tray." it's not like i'm saying i'm so damn good in french, because to be honest, i've lately been the butt of jokes from mon professeur because i've been performing really bad, having missed at least 4 sessions already due to my extended vacation. but then again, i've been told also that i speak good french, so at least i had the right to put the girl in her place: don't be pretentious when someone else is more rightfully pretentious than you. hahahahaha.
* * *
ever since i moved to makati, i have not been to many places that i used to frequent in the past. one of these places is SM city north. since trinoma is more accessible, and its cinemas are more current, i haven't really had any reason to walk a few more meters just to see SM. but they have a new annex, which was built when i was in high school, and was leveled to the ground, and rebuilt only recently. i walked into the new wing and i felt like entering foreign territory. i had to ask myself: was i in SM? i had to take back all the bad things i've said about the sy family's approach to design and architecture, because the annex is pretty, has sexy curves, and appealing colors. then i walked into the main mall and i was zapped to about two years ago -- nothing much has changed in the way of SM north, whose entire floorspace now makes it one of the 5 biggest malls in the world. maybe, just maybe, they'll also renovate it. adding those undulating perforated aluminum panels was a nice touch. but the inside is still quite dated and square: straight lines all around.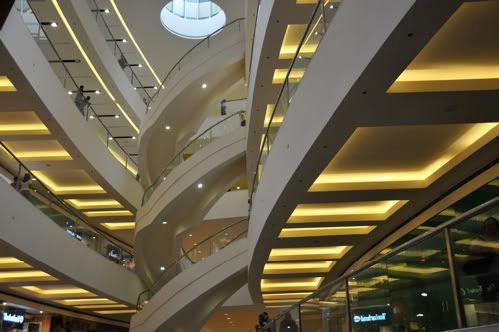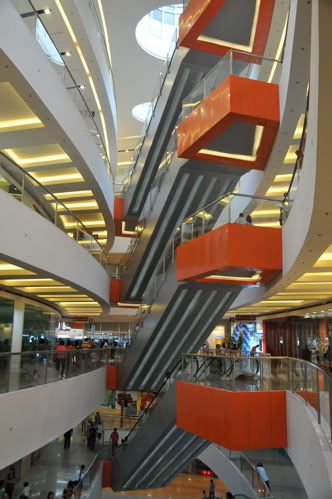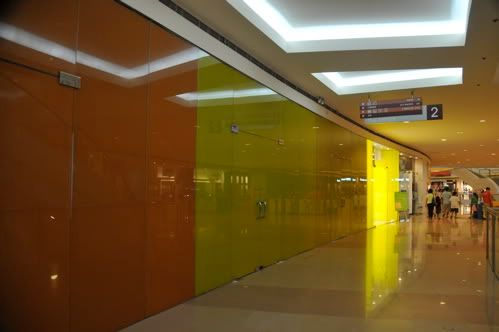 the courtyard is also taking shape, and i'm loving the vinyl roof on the walkway.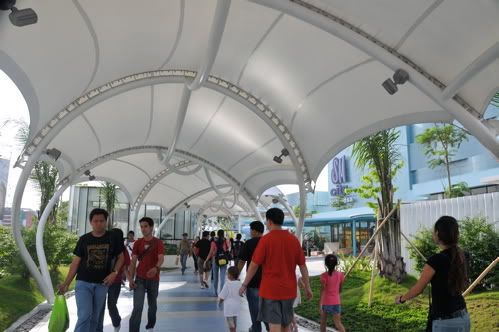 * * *
so i finally took the plunge. well, at least, half a plunge. i'm currently surfing on smart bro at home. i was hoping skybroadband would already be available (12mbps would be a dream), but it still isn't, and since i've been spending on taxi fare and a cup of hot chocolate for an hour or so of wi-fi at a café, i figured it would make sense to invest on a USB dongle and P10 for every 30 minutes. so far, it's been good, and i'm now wondering why i didn't get this earlier. but, once skybroadband is available, i'm definitely getting it. then that would be the real plunge.
* * *
so for tomorrow i'm contemplating an itinerary. i'm thinking of going to corregidor island on a day trip. i have not been there, to be honest. i might also drop by some cemeteries, like the chinese cemetery or the one just along metropolitan avenue (i could do both). i might also go around other parts of manila, and discover what i've always known was there: charm under the chaos, and beauty beneath the filth. everyone is welcome to join me.