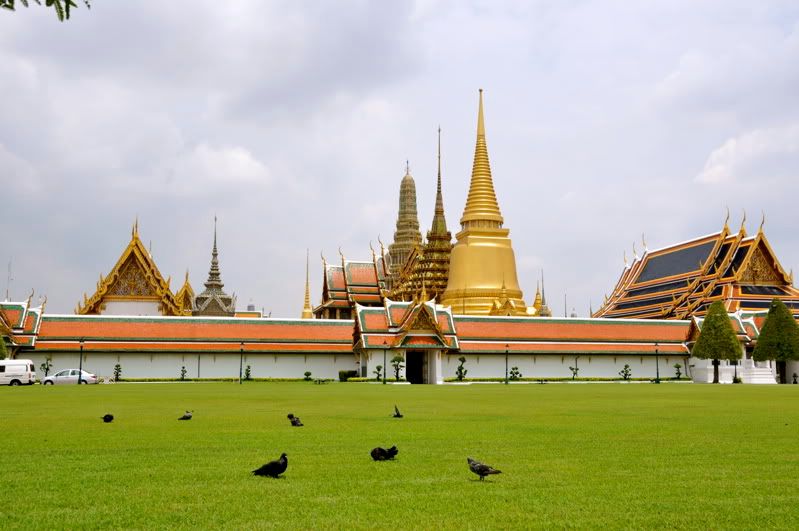 i woke suddenly when the rickety aircraft of airasia entered a dark plume of a thunderstorm and shook with so much violence it felt that the wings would snap off. nevertheless, and despite the brewing storm, we landed at suvarnabhumi airport with no incident. a bus fetched us from the far-away parking lot of the budget carriers, and deposited us at the glorious terminal which drew me in like an awestruck visitor. not long after, ai, jojo and myself were driving through kilometers of elevated highway as the sky let lose buckets of rain. traffic was extremely bad in parts, and the nighttime lights of bangkok's skyscrapers lit our views. thanks to very specific instructions from my friend pitsa, we were deposited to our guesthouse near the national stadium of bangkok, and less than 150 meters from MBK and the nearest BTS station. it would have been easy to be seduced by the idea of staying at khao san road, bangkok's backpacker district, but pitsanu had decided our guesthouse for us, taking into consideration things like accessibility and cost. after we had checked in, pitsanu appeared and before we even had time to shake off the dust of phnom penh and siem reap, he had already given ai a complete itinerary for chiang mai. we took him to a late dinner at MBK, and we prepared for culture shock with iton, who also timed his visit to the city of angels with our trip.
ai and jojo dressed casually and i put on a shirt and we took the BTS to sala daeng where iton had already been waiting. these all sound helplessly greek to many, but that station is near what many visitors to thailand associate bangkok with: pat pong, its red light district. this was already my 3rd visit to bangkok, but for some reason, i have never completely explored pat pong, nor have i willingly jumped into its enticing pools of muck. it may largely be because my local friends themselves regret the suggestion that much of bangkok's charm has to do with sex tourism. no one ought to be proud about the fact about abuse and prostitution being part of the attraction. but it may have been the curious horns growing on our hard heads that convinced us we had to see what many have been talking about, no matter that the stories bordered on disgust and shock -- we secretly desired the same: to have our libidos siphoned off by the sheer spectacle of naked bodies performing otherwordly circus acts. we wanted the sensory overload that would blow our minds, in ways too different from the way angkor wat took our breaths away.
so we descended on pat pong, and within 2 minutes, commissioners flocked to us, offering all sorts of sex shows, some of them already bringing a folded price list for drinks in their pockets, and the more eager ones encouraging with words and a slight tug at the elbow. we walked and walked through makeshift stalls of clothes and curios, past doors with slightly open red curtains, under bright neon lights proclaiming kingdoms and queendoms of pussy and cunt. it doesn't get more graphic than this, and we are offered a peep into a stage with faint lights, where whispers of cloth cover only the smallest of areas: the vagina, the nipples. suddenly, you ask yourself whether by partaking in this exhibition of skin and sin, you are directly abetting a trade that neither makes you happy nor thrilled. would it have been better to say that prostitution had been around before all other professions, and that pat pong had already been there before i even knew of bangkok? i repeated that mantra even as i checked on one second floor bar with dim lights and smoke swirling just underneath its low ceiling, mixing with the pungent air produced by fake leather. the seats surrounded a bar which also doubled as the stage. the ugliest things on earth were standing there, shuffling their feet lazily from side to side. i decided to stay there: since we wanted a shot of shock and desired to be desensitized, it seemed like a good place.
after ordering our beers, the show started. a young woman came up and inserted a straw into her vagina, while a transvestite threw inflated condoms into the air, which burst with a pop as needles flew out of the armed and aimed straw. when she missed, the needles flew to the ceiling and stayed there. our jaws were perpetually open as a middle-aged woman was disturbed from mending her bra to open bottles with the same orifice she uses to urinate and give birth. and the bottles popped and fizz flowed out when she had opened them. a third show took place when another woman came to blow out candles on a cardboard cake. all along, ai and jojo would ask: oh my god how do they do that? and does it hurt? i responded: i wouldn't know, i don't have one.
but when you willingly submit yourself to the tentacles of the devil, be prepared for more temptation. suddenly, one of the floor managers insisted that we should order more drinks, but i said we haven't finished our beers yet. so she flips out a price list where the beers were listed at THB300 each. i said: but no, i asked earlier, and you said one bottle is 100 baht each. she insisted on her price tag and said: man no work here, 300 one beer. while this went on, the performers and other people at the bar crowded our table in a bid to intimidate, but instead, despite my racing heart, i firmly said: no, i asked one of your managers how much a beer costs and she said 100 baht! so how much you pay? the stern woman asked me. we will pay 400 baht for our 4 beers, i replied. okay you pay and go. and we did. i was about to warn a couple about their scam, but the woman stood in the way. when we had returned to the streets of pat pong, we laughed about that experience, and although we were nearly scammed, it provided what we initially sought, and perhaps even more: the feeling of walking out of something unbelievable. i make no apologies about having done so, because i risk sounding self-righteous. i would prefer to see in its literal sense, and will not romanticize it by saying we wanted to get a dose of culture, even the underground kind. but we were not about to allow bad hospitality to get in our way. so we explored more of pat pong and discovered its other secrets. i would go on giving details about our forays and foraging through markets of sweat and skin, but iton would not approve. suffice it to say that ai and jojo had exceeded their lifetime quotas, and that i became unwittingly tactile in the avenues of the imagination. when ai and jojo left for our guesthouse, iton and i stayed behind and found ourselves dancing in a crowded bar where t-shirts seemed to have gone out of style. we spent an hour at bug and bee for porridge, where our conversations focused on a common desire to return to bangkok. after we finished only half of our early morning meals, we left separately to prepare for a whole day of thai tourism.
the following day was spent for culture and history. we met at MBK and after breakfast, walked to the jim thompson house in bangkok. jim was instrumental in bringing thai silk to the world's attention. he's an american architect, and he built this house on the banks of the saen saeb, integrating various thai architectural styles. he went missing in malaysia many years ago. for THB100 each, we had a guided tour inside the house along with several other tourists. our guide, who was still on training, liked to repeat certain key words in her sentences, such as: this is the garden. the garden. or this room used to be the storage for the rice. the rice. we walked barefoot inside the house where little details were explained. inside one of the guest rooms, the guide said: do you know where the bedpan is stored? everyone made guesses, such as under the bed or inside the closet. then she pointed to a porcelain figurine shaped like a cat, and she said: that is the bedpan for a little boy. a little boy. how about a big boy? i asked. everyone laughed. i'm filipino. comedy runs in my blood.
after the guided tour, i took my companions to ride the river taxi along the saen saeb canal towards wat saket. from there, we took a taxi to the royal palace. it was a scorching afternoon, and we had put on shorts and t-shirts. but apparently, the complex had rules for what is appropriate clothing inside the palace: pants for boys and skirts for girls. so we were leased these odd-colored pants and sarongs, which really made for bad photos. frequently, we had to instruct each other to just take a photo of the upper half of our bodies, because what we wore from the waist down looked like an ill-advised afterthought: it clashed with everything else. because we had willingly shed our backpacking ideas, we decided to get the free walking tour of the complex. we had an english-speaking guide who made many jokes about everything. the guided tour would last just over an hour, and jojo, having been to the palace grounds before, just decided to sit under the shade of an artful shed. i gave her my lonely planet book to amuse her. we began our tour with explanations on the various thai styles and craftsmanship. there were hints of khmer architecture here as well, and i know pitsanu had once told me that when the siamese attacked angkor, they also captured a number of khmer artisans who introduced many things, from art, architecture, to even dance, into thai culture. of course this is largely denied these days, and i don't know why a replica of the angkor wat is on display on the palace grounds, but the similarities are stark.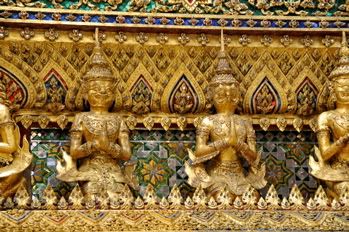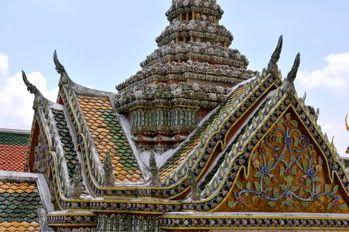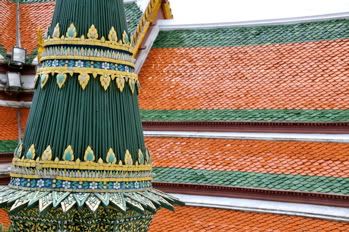 i was last at the royal palace in 1998, and nothing seems to have changed, including my memory of it. i suddenly recalled all the small details i had seen over 10 years ago, and the rush of curves and gold leaf filled my mind. i was overwhelmed. once again. the guide pointed out to us the various divisions in buddhism which influenced the artwork and the definitive styles of the temples. there were at least 20 people in our group, and there may have been more than 1,000 tourists at the complex at the time. various tour groups crossed paths, and our penchant for taking photos frequently lost us in our own petty concerns. we took off our shoes at the wat phra kaew and then tried to locate the image of the emerald buddha in the sensory overload that is held sacred by many thais. the green image of the buddha, which we are not allowed to photograph, is actually not made of emerald, but of jade. depending on the season, the image changes its golden garb, and only the king is allowed to disrobe the small statue.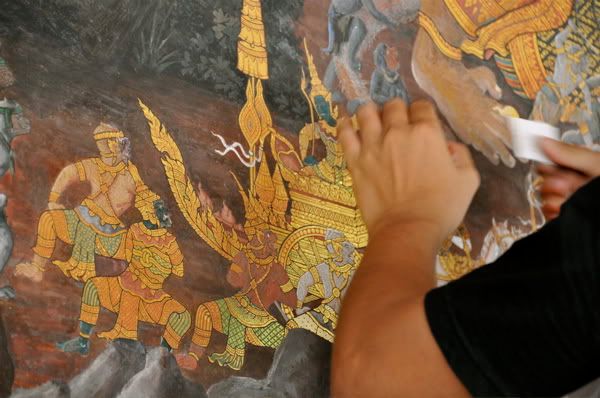 we roamed around the complex even more and looked at the murals which are perpetually being retouched. the guide said that the work of applying gold leaf onto the walls is a year-long activity, that by the time they're done with the entire stretch of wall murals, the other paintings telling stories of ancient thai life and history need to be repainted again. we still had a lot of other things to see. places held sacred by buddhists had been seen, and the palace and other buildings owned by the royal family were next in line. but the heat had become unbearable that if we had spent another 10 minutes walking, we would either have spontaneously combusted or fainted. i was certain that my nose was about to bleed. so we fetched jojo, returned our sarongs and pants, and had lunch. afterwards we went to chatuchak. i took them there chiefly to shop, and the taxi dropped us off at platinum, one of the newer malls in the area, where we bumped into the pinoys we saw in siem reap. but i was more interested in panthip plaza, where i spent over an hour just looking, not buying anything. i had decided on getting myself a digital P&S, and had narrowed down my choices on a few things. afterwards, we decided to walk to the nearest BTS station, and along the way, got lost in another mall where i ended up buying a pair of oakley radar sunglasses, which is vented and hydrophobic.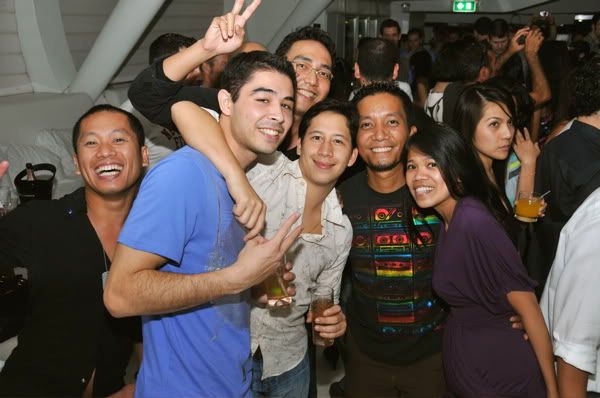 afterwards, we had dinner at the italian restaurant beside our guesthouse and prepared for a night out with my friend jay. we met up with him outside of bed supper club, where he flashed his VIP card and we all got in for free. both ai and jojo were dressed and made up. i even saw french-thai david (who gave me a hug) and vietnamese-spanish (but french-bred) vincent again. what a coincidence. iton followed a little while later, and they had a lot of fun, dancing and breaking free of the rough roads we'd been treading since the start of our vacation. this time around, we had a taste of the thai-styled glitz and glamor. at 2am, the music was turned down and it was finally time to go home. in my case, i had to rush to the airport for a 6am flight to chiang mai. jojo kept asking why we had to go home. for the first time since we'd started, she was the one insisting on extending the gimik. we dropped by our guesthouse where i had already packed, then jay drove me to suvarnabhumi. i got there even before 4am, so i found the back of a sign, took out my hat, lay down on the cold, tiled floor, covered my face and stole an hour's worth of sleep before the check-in counters opened. i must have slept soundly despite the noise in the terminal because if i didn't wake earlier, my flight would have left without me. which would have been sad because chiang mai and northern thailand beckoned.