finally, the link between my
multiply
and my livejournal has been restored, and hopefully, those who do not have the energy to check my LJ can continue to read my entries there. i am already cross posted in facebook, so my other friends who often appear to be logged on to FB forever can monitor my ruminations by clicking on my profile.
it really is her multiply
now speaking of multiply, i just received a friend invite from ms. teresa herrera, and i was absolutely floored by it.
i met tessa at warehouse 135
and she was gracious enough to have
several photos taken with me
. i told her i was a fan and that she seemed like the perfect chic woman to host project runway philippines. she asked me if i was on multiply and i said yes, and i gave my name. but knowing she was probably busy, i didn't give it any further thought: i thought she couldn't be bothered to look me up and add me. but here she is! i don't care that it took her many months to add me. i still love her! haha.
now that i'm on the subject of celebrities, i was in bangkok recently, and my friend jay took me to bed supper club, which i've blogged about at least twice already. anyway, we were outside at the entrance and jay was having a cigarette, both of us looking at the people coming in when i saw someone familiar. my eyes brightened, and i whispered, oh my god. i came up to the familiar person, and said, with a big smile on my face, my eyes round as a disco ball, and my palms facing the heavens, like feeling the air for rain, and said again: oh my god. and then he looks at me and says: hey man! how are you doing! i was actually a bit surprised by his familiar tone, but didn't have time to digest it, until he turned to his friends, who seemed to be local, and he said: this is the DJ... i had to cut him right there and rescue him from a possible embarrassment by saying: no, no, no! you're will devaughn. you're famous in my country. i'm filipino. can we have a picture together? haha. i tuck in my jologs self even when i travel abroad.
and another jologs moment took place in a most unexpected place just this weekend while i was at the powerplant in rockwell. i was waiting to see x-men origins when i saw dingdong dantes and marian rivera sitting outside coffee bean and tea leaf. i felt a shot of starstruck in my veins, and i was rendered weak for a very brief moment. both stars in one place: i just could not handle it. i had my camera with me, and i had to look around for anyone who might want to have my picture taken with them. i once had a pic with
dingdong and karylle
, but they're history, and this was the present. i could hear marian's voice from far away, drilling my ears. i love her! i really wanted to have a photo with them but i worried they might not appreciate it: they've come to rockwell where the rich feign indifference so that they may be left in peace, and i would completely shatter those ideas. i regretted being alone when finally, ding-dong stood up, marian in her glowing white dress followed and slid her arm into his elbow. ah! opportunity missed! but i live for these moments.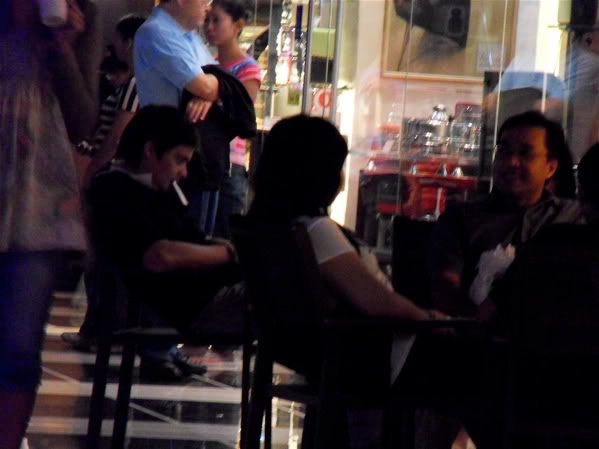 here's a paparazzi pic of dingdong