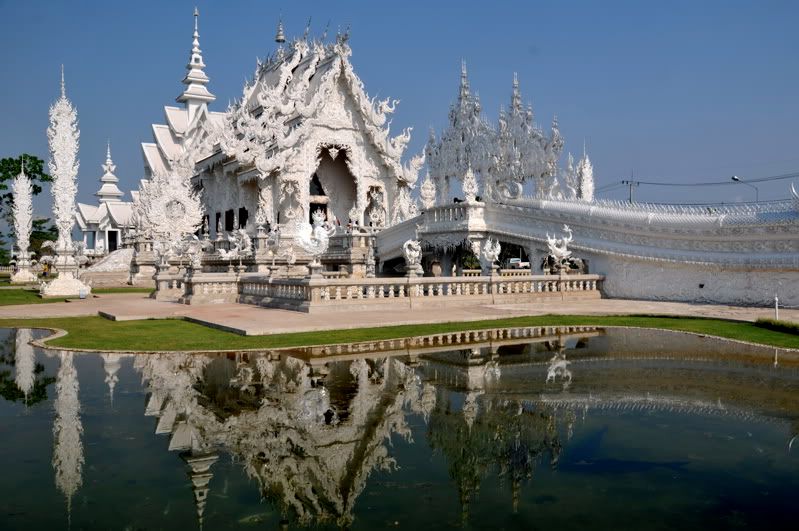 i was still groggy when i stepped into chiang mai's international airport after a flight which i slept through and nearly missed (having slept on a bench outside of the boarding area). pitsa was already there with family and friends, having taken the night bus the previous day. he had arranged a van as well as an itinerary to make most of my 3 full days in thailand's second most important city after bangkok. when he saw me, he immediately suggested that i just catch some zzz's in the van, but this was futile, of course, since after 15 minutes, we had breakfast at a popular congee restaurant behind pitsa's alma mater: chiang mai university. plus, pitsa's friends, chu and ruby (a filipina teaching at an international school in bangkok), are extraordinarily glib. as i have said before, pitsa is an accredited guide, and his interest in promoting thai tourism has allowed him to amass ideas and contacts about how best to explore his country. i surrendered my 3 days to him without question.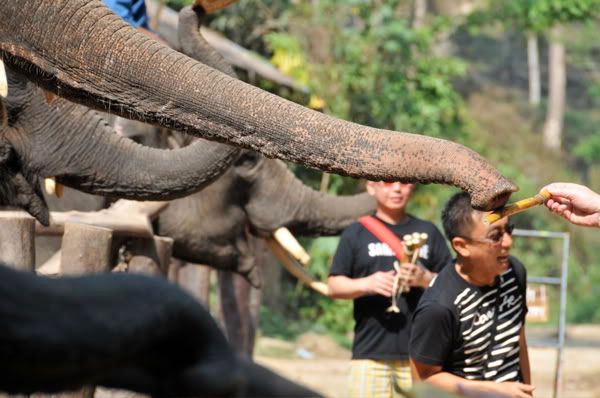 after a very short while, we arrived at our first stop: the mae sa elephant camp, and although i hadn't managed to catch up on sleep and hadn't even changed from what i had worn to bed supper club the night previous, i was jolted by the sight of these playful behemoths: i remember my first visit to thailand in 1999 when i suddenly screamed upon seeing an elephant in khao san road. but there i was, in the company of more than 10 of them, grabbing bananas and sugar cane from visitors with their trunks. and although one of their hind legs had chain on them, they weren't behind bars, or separated by a dike, unlike in a zoo, for example.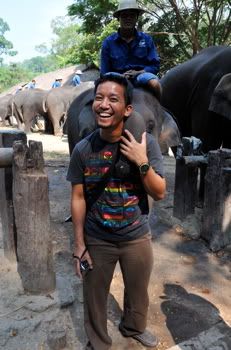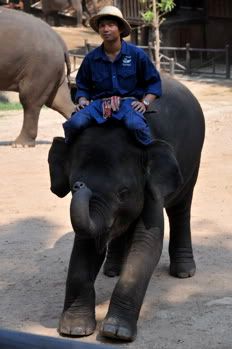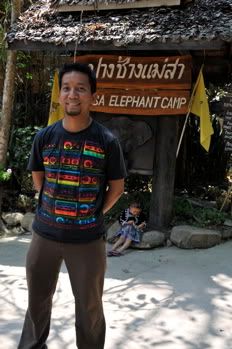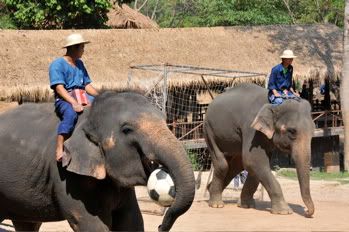 i hadn't managed to play with the elephants when they suddenly stampeded to the canal where their handlers gave them baths. pitsa told me that asian elephants are much smaller compared to african elephants, although they are smarter. the elephants frolicked in the water as men washed their thick hides with brushes. the giants dropped their heavy bodies into the stream and blew water onto the curious and happy onlookers. it was a lot of fun just watching them enjoying their baths.
then they marched onto the arena for the show. i really didn't know what to expect, but i was excited. what followed was an amazing hour where elephants played soccer, held tails with their trunks for a merry go around, demonstrated their contribution to the now defunct logging industry, challenged a human to a contest of darts, and painted! of course i'd seen this on television before, but to see it live, unfolding in front of you is something else. yes, elephants probably cannot perceive color, and their handlers have to hand them brushes which have already been dipped into paint, and they send subtle signals by holding on to their ears, but the effect was completely awesome.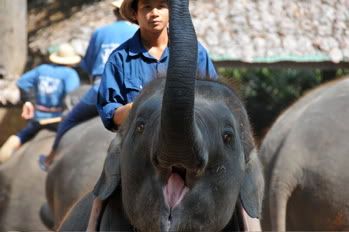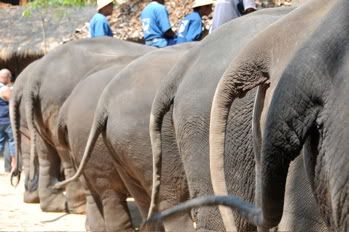 i know that there is an ongoing debate about elephants being in camps such as mae sa, which is ISO-certified. but when pitsa told me that they had been rescued from the logging industry which was banned in the late 80s, the elephants, and their handlers from one of the northern tribes, lost a form of livelihood. so rather than pursue illegal activities, the camp was created to provide jobs: both for the tribespeople, and the elephants: yes, the giants eat hundreds of kilograms of fruits and grass and drink gallons of water everyday that each one has to literally work for food.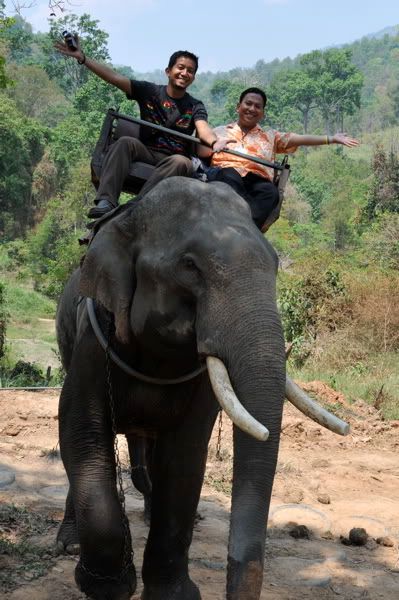 now i don't know if elephants left in the wild would willingly engage in games such as kickball or log-pushing, but i am amazed at how human beings discovered that they could be trained, taught, and domesticated: weren't they even daunted by the size of the elephants? the commands are strange to the ears: single-syllable yelps and half-growls that have no meaning, even to native thai-speakers. but the elephants understand them. and they respond with screams, or raise their trunks to the air and show off their tusks.
after the show was the mandatory elephant ride: we just had to do it. i had doubts about the carriage built over the giant animal, because it wasn't bolted in place, and the fall would have been at least 12 feet, but this is one chance in a thousand. we walked through an excavated mountainside, parts of which were steep. at one point, the elephant rubbed its body against a wall of earth, and proceeded to a stream where i feared getting sprayed with water and snot.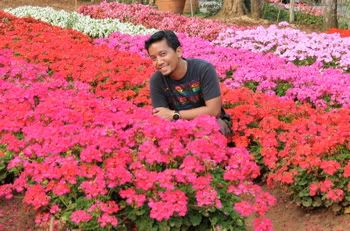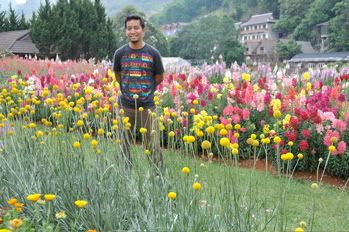 after the ride, we rode to our next destination: the doi angkhang royal agriculture station: hectares of garden sculpted from a mountain valley which used to be an opium plantation. this is one of the royal family's projects, and i was just amazed at how beautifully manicured the whole place is, which had colors and flowers beyond what i thought possible. now i've heard of opium before, but i've always thought it was some kind of powder, like flour or cornstarch, i would suppose, much like other dangerous drugs, and never did i imagine it had been derived from a plant with a very beautiful bloom. it made me wonder how humans of old discovered it had hallucinogenic qualities. did they routinely boil all the flowers to find out if they would have a kind of effect? was it discovered as an addictive drug just by the way it looked, or the way it smelled? it boggled me without end.
afterwards, we moved further north to look at myanmar. thailand of course shares many kilometers of border with the union of myanmar, and ban nor lae is just one of them. on the hilltop was a military base with a helipad. it must be the islander in me to very naively assume that a concrete wall must stand between these two countries, but much of what separates thailand from its neighbors are natural boundaries: rivers, mountains, forests, cliffs... in this particular case, the delineation is marked by a bamboo fence on either side. in between is at least 30 meters of no-man's land: borders are imprecise. on the thailand side are places dug into the earth for machine guns: a vestige of a troubled past, perhaps, and in preparation for a future where you never know.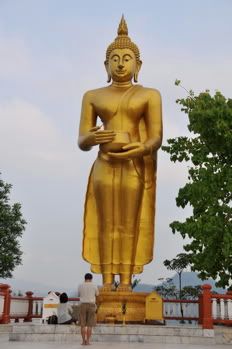 that night, we slept at wat thaton, which had a guesthouse that didn't charge: visitors were asked merely to give a donation. it also had a temple/museum which contained various depictions of the buddha in different cultures. it was at this time that pitsa informed me that the first buddha image was actually built by the greeks, neither by the indians nor the chinese. trivia can sometimes shatter perceptions.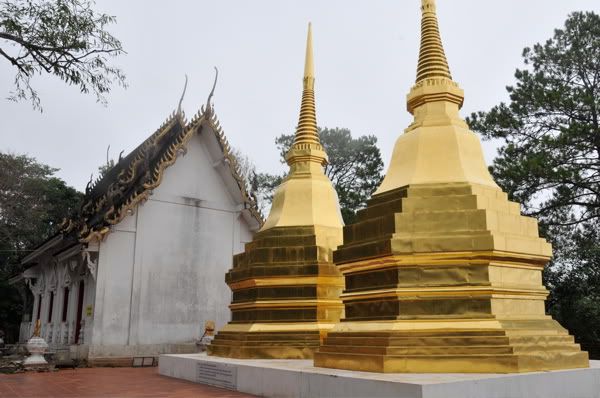 the following day we went to wat phra that doi tung, one of the oldest stupas in northern thailand, in mae sai, already in chaing rai province. fashioned from real gold, the original twin stupas were built in the 10th century, and it may have undergone a few facelifts since then. bells are attached to a walkway towards the stupas, and there is some buddhist ritual involved in banging them, which i had forgotten. mostly, it had to do with blessings and good luck.
wat phra doi tung is also an important place for buddhists because it has one of the buddha relics, and a place visited for religious reasons. clearly, i was the only tourist there, and i felt privileged to be witness to everyday life in northern thailand. the best way to travel is to avoid the tired roads treaded by all visitors, but to walk on the same paths of the locals.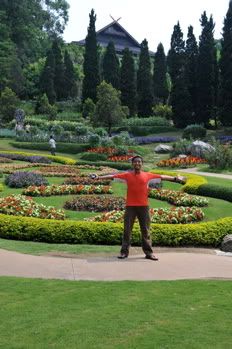 but then again, it wouldn't hurt to see what other tourists want to see, so we moved to the doi tung royal villa, the residence of the princess mother, her royal highness princess srinagarindra in the mae fah luang district. now don't be impressed with my grasp of places and their latinate names: pitsa wrote these down for me. doi tung is in mae fah luang: the name given by the northern tribespeople to the princess mother, because she often came to this place via a helicopter. it means something like mother from the sky. once again, the area used to be an opium plantation, and it was turned into the princess mother's summer villa, with acres of landscaped garden, and the house itself melds european and thai styles: it's like an ornate log cabin. we had a brief tour inside, but could only see a few rooms, because much of it was cordoned off.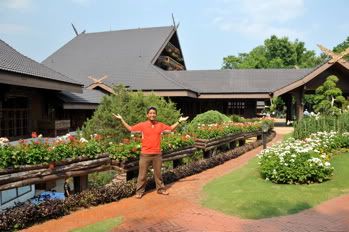 after doi tung, we sped off north for mae sai, the border town with myanmar, and the northernmost point of thailand. having a van to deliver us to all these places is just cool, and the daily fee isn't even unreasonable. it was a cheap and efficient way to travel and see as much of thailand as we could.
this area is already part of the golden triangle: so called because it was close to the borders of the 3 countries (including laos) where opium was cultivated in large numbers. there was a time that opium was valued in gold, hence the name. although pitsa admits that opium is still possibly grown illegally in parts of thailand, and maybe even in the 2 other countries, great strides have been made in converting the plantations, and in diverting the sources of income of the northern tribes.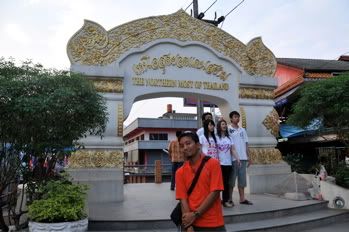 it is possible to cross-over to myanmar from mae sai, to tachileik. thais can step onto burmese soil for free, but other nationals have to pay THB500 for a day pass. i could see tachileik from mae sai, which are separated by the mae sai river, and although there were flags of myanmar there, i really felt that i would just be paying for the stamp on my visa: there was nothing so uniquely burmese about tachileik; even the transactions are in baht. so i just went around mae sai, watching the beginnings of song khran, and tried vainly to find a fedora hat that would fit my head. before we left for chiang rai city, we had fried milk. it was weird, but i liked it.
in chiang rai, we stayed at a hotel where one of pitsa's friends (who works for the city's tax department) managed to get us a discount. below the hotel was a disco where young people went to, and outside was a pro-thaksin rally. it was peaceful: people were seated watching video feeds from bangkok. i dropped in to see what was happening, and i happened to be also wearing red. they thought i was part of the group. later, pitsa told me not to wear this color again for the remaining days as violence escalated. earlier that day, the protesters blocked the highway, and prevented land traffic to chiang mai. thank goodness i flew!
we had steamed chicken at a sidewalk joint, and then we parted ways at the chiang rai night bazaar, where i could not resist temptation. i bought 6 t-shirts there. i worried about the weight of my luggage, but convinced myself they were very good buys because i wouldn't find them in manila. i spent a full hour just weaving through the narrow paths of the nightmarket, pausing to watch a transvestite show, and smiling at vendors who always mistake me as local. i just smile at them and don't tell them i'm foreign, unless i need to ask a question. sometimes i wonder whether they find me stupid because of that. haha.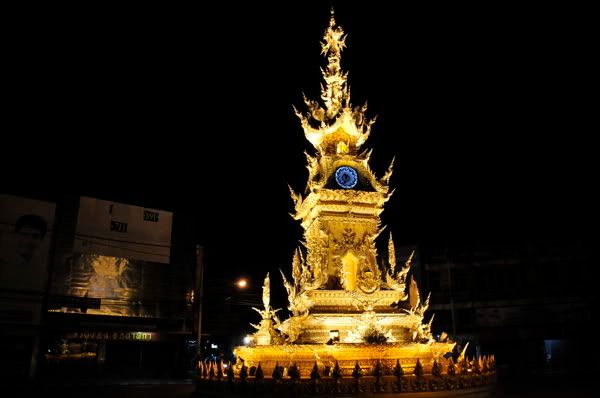 the hotel is about half a kilometer from the night bazaar, but i walked that distance so i could see the famous clock tower in the rotunda: an elaborate structure built by one of thailand's national artists, chalermchai kositpipat. it was a gloriously lit piece of artwork which served more like a landmark than a place which people consulted for the time. apparently, it would not be the last of my encounters with kositpipat's work because the following day, our first stop was the famous white temple he built in muang chiang: wat rong khun. pitsa said that it probably was the most beautiful temple in all of thailand, and i clearly saw why.
as if thai craftsmanship isn't stylized enough, kositpipat drew deep into the imagination to fuse ornate asian sensibilities with rich byzantine pageantry. the wat is modern, and therefore has no historical importance, but it is a testament to how an ancient religion copes with modernity. there is a depiction of hell at the entrance, and demons hold their palms out at the causeway. not to confuse this place as evil, but in hinduism, there are actually good demons. the white structure is studded with tiles of glass, reflecting the sun, and makes it shine ever more brightly. inside the wat is a still unfinished mural of buddha with hints of pop: superman, star trek, transformers. pity i was not allowed to photograph the wall.
kositpipat's hand is truly blessed because inside his gallery are some of his religious illustrations. i don't know jack about buddhism nor hinduism but i was drawn to his drawing of ganesh, an elephant-headed deity, and the son of shiva and parvati. the details are mind-blowing, and i bought a print. normally, new structures, unless they be mega-structures, do not interest me, but this fusion of art, faith, cultures, and devotion was spectacular. on my way out, i saw a sign which proclaimed that foreigners weren't allowed entry unless accompanied by a local guide. thank goodness i look every inch a local.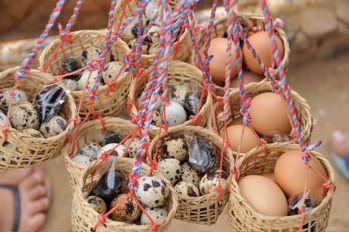 finally, it was time to head back to chiang mai for song khran. but it seemed that pitsa still had many tricks up his sleeve, and we passed by suan charin, perhaps the most famous pie restaurant in all of northern thailand. it served fresh pies with fruits harvested from its own garden. we also dropped by mae khacharn hot spring in wiang pa pao where vendors shoved eggs in baskets to me. nearby, a steaming well was surrounded by people dipping the eggs into the hot spring. of course, the sulfur in the hot spring tends to smell like a rotten egg at times so boiling eggs in it felt kind of odd. it also actually made me wonder if thailand had volcanoes, or any active fault lines underneath it, when it sits far away from the pacific ring of fire.
of course, i had questions, as most travelers do: the ones that remain unanswered drive us out of the zones of our comfort and find meaning where we aren't understood, and where we often get confused. i travel for these simple pleasures: to be humbled by ignorance, and to be mesmerized by the infinite possibilities perceived by the human mind.