it was inevitable.

there was no use avoiding it, and neither all the world's umbrellas nor all the universe's jackets would have kept me dry if i deigned to walk the streets of chiang mai during the seven days of songkran festival, which squeezes the new year based on the calendar of theravada buddhism, and also the founding anniversary of chiang mai, which means new city. the festival is rooted deep in religion: when elders blessed the younger people by splashing wet bulbs of lilies on their heads. and the practice has over the centuries evolved into what it is now: a wild, raucous, and utterly fun festival where the tools are water guns, pails, and hoses.

when i stepped out of pagoda inn where we were checked in, 2 belgians asked me where they could possibly find a taxi that wouldn't get them wet. i suggested, based on the literature i had read in the van before coming to chiang mai, that the only way to keep dry is to stay indoors. but since they had to catch a train, i said they would have no option other than to wrap their bags in garbage bags. the festival is viral, and all over chiang mai, people in flowery t-shirts are routinely spreading blessings and good cheer, without regard for prayers and pleadings to be left alone. although songkran is celebrated all over thailand, it is biggest in this northern city, and its focal point is on the streets along the square moat that surrounds the old, walled capital.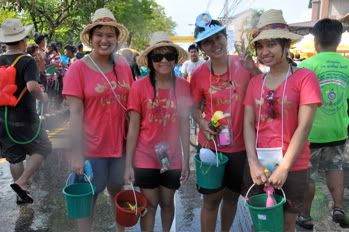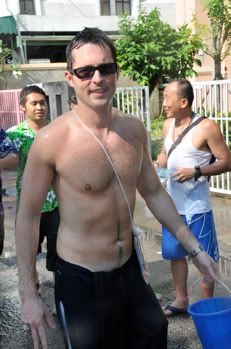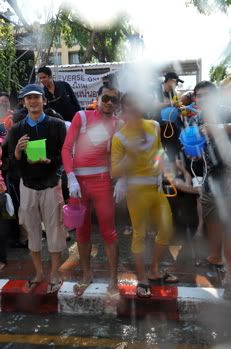 i went towards ta phae gate where the festival was already in full swing, and a parade was taking place. when i walked into the frenzy that possessed chiang mai, i received all sorts of responses, some of them approving, many disbelieving. no, it certainly was not their first time to see anyone with an expensive DSLR, but in an event where water is flying from all corners, it is stupid to expose this piece of equipment to the elements. 30 minutes earlier, i harassed our landlord as well as my friends about clean plastic bags to cover my camera with. i had fashioned a jacket which exposed only the UV filter as well as the eyepiece, so i looked through glass, not plastic. people said either genius! smart! brave! stupid! or crazy! i am all of the above, i would suppose, and the result is fantastic. no one else with a comparable camera managed to get as close as i did to the merrymakers: young and old, local and foreign, armed or otherwise.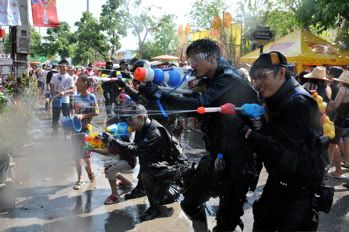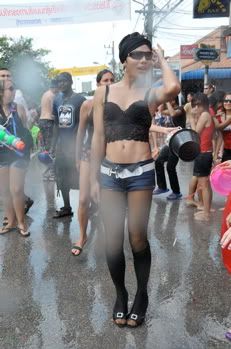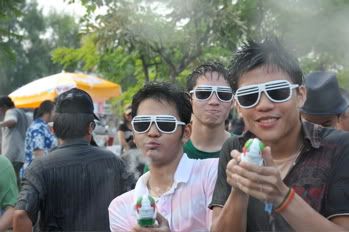 the moat around the old city is a stagnant pool which did not appear to be dirty. much of the ammunition was derived from this place, although there were places along the street where faucets were turned full blast, non-stop. beside starbucks, a block of ice had been placed inside a ceramic bathtub, and passers-by were doused happily. it matters little who you are, or where you're from. the festival does not choose, the victims are often routine, and the perpetrators, anonymous. water may very well have poured from the heavens, because although shooting at someone or pouring at some other person is one way to get that person's attention, everyone is concerned with getting as many people wet, as is possible.

in line with tradition, some of the revelers have white stuff on their faces, which i was told was water mixed with talcum powder. one should feel very honored when your cheek is wiped with this white stuff.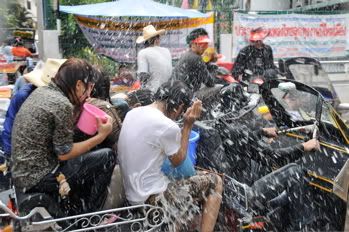 somewhere near the gate was a stage sponsored by coca-cola where promo girls are dancing. they're shot at indiscriminately. and they retaliate with their little pales. everyone seems to be cheerful and in high spirits, even when they're often caught off guard. from a nearby bar, music is playing full blast, and the revelers are dancing on the streets while getting wet. there is a stretch where beautiful girls have gathered, and it seems like an impromptu wet t-shirt contest is under way. after the religious parade, all of the city's pick-up trucks emerged, stocked with buckets of water, and staffed by mobile shooters and throwers. in one corner beside a place that offered foot massages, a vendor is hawking water dippers (tabo, in vernacular), and small pails, similar to the buckets where we sipped red bull vodka in siem reap. alongside is an armament which would put most gun stores to shame: bright colored water squirters with bulbous caches.

this is how all festivals ought to be like: loud music, fun-loving people, and water. it's the perfect mix. then at 6pm, after the sun has set, the water on the sidewalk begins to recede, and the guns and pails are kept for the following day. finally, it is possible to walk the streets of chiang mai without fear of getting wet. and what a good day to walk along chiang mai, as one important avenue inside the walled city turns into a walking street at night, filled with stalls that sell anything and everything, and oddball performances from locals and foreigners. a boy who is not-sighted is subtly playing his violin while a british man dazzles kids with his magic tricks. another caucasian is starting to set up his juggling act in the middle of the cobbled street.

the evening refuses to retire early, and i spend most of it just walking around chiang mai and its confusing sois. many bars are open till very late at night, but none of them attract me, until i find myself back in pagoda inn, having walked in excess of 5 kilometers. the following morning, pitsa offers to take me to the zoo to see the panda. but i declined politely to see the old city before the guns and the pails come out.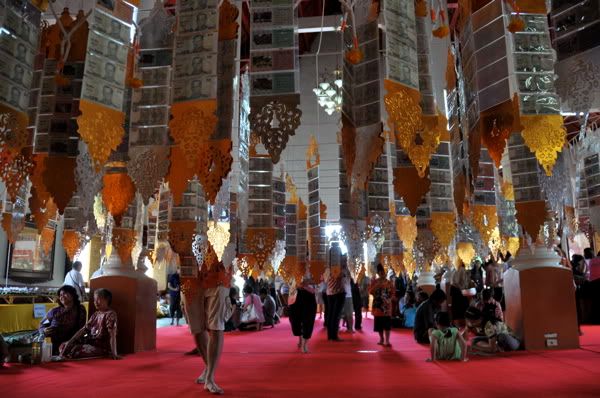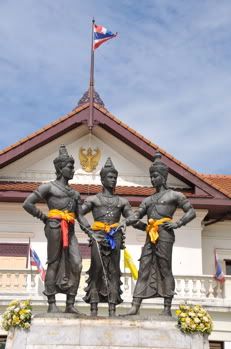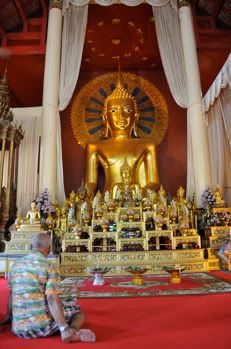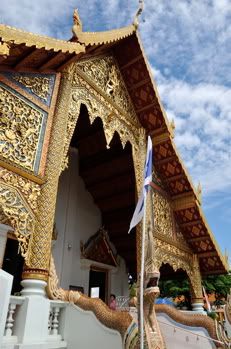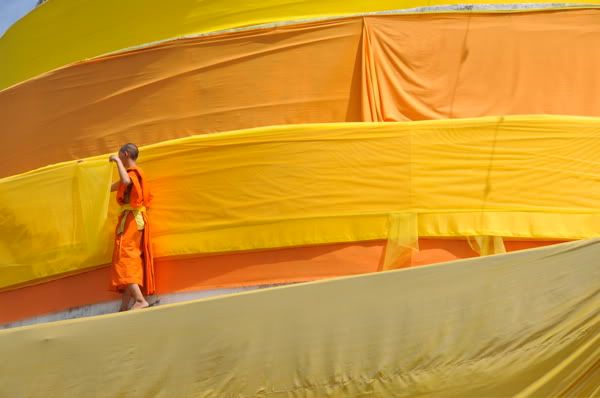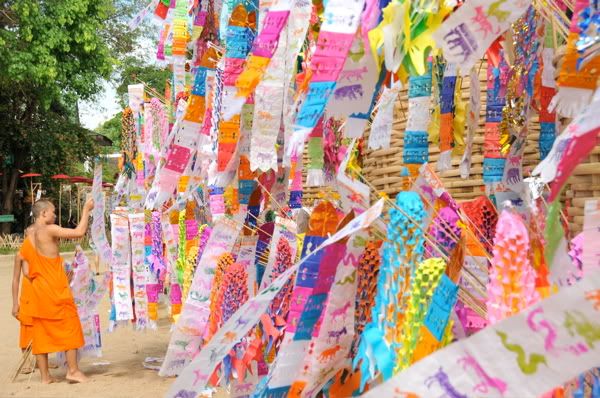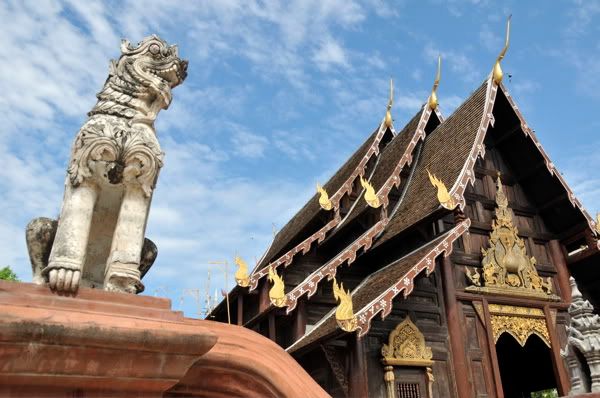 i apparently made a very good decision because i found the old temples to be charming and endearing, that it would have been a huge loss if i had omitted to see them, notwithstanding the fact that i had already seen many in the last 3 days. i saw wat phan tao and wat chedi luang. there was a cinematic scene in which monks fixed colored paper lanterns to bamboo strucures, which waved and flapped in the wind. admittedly, i would have appreciated if i had a guide to explain many of the things that intrigued me, but pitsa had to accompany his parents, who also visited chiang mai for the first time. nevertheless, i enjoyed walking around the old square of this ancient town. but before i could find more places to see on my map, i noticed that water had started to fly. at first, i escaped to the mall, and after lunch, i walked bravely into the streets and began shooting myself: not with a gun, but again, with my camera.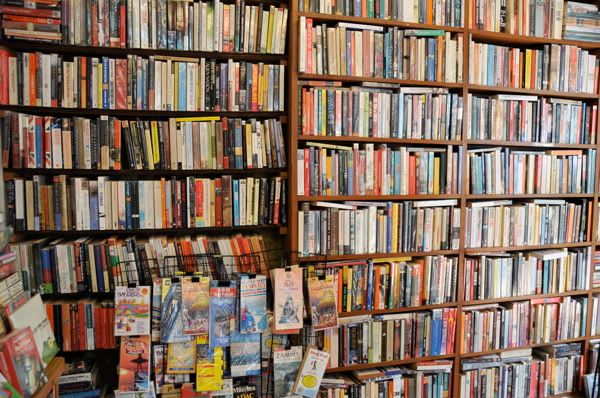 israelis in nothing but shorts are running along the streets and hiding behind electric poles, as though in some covert operation which turned them into likely targets. when someone douses you with water, it is highly unlikely that it is done as an act of hate, or of anger, or of random violence. quite the contrary, the only plausible reason you're made a direct target is because you happened to be there, and that you're actually asking for it. i watched the rest of songkran unravel from a safe distance, until i decided to walk to a nearby store of previously owned books, appropriately called: backstreet books. outside his shop is a sign declaring: please leave your guns outside. i spent about half an hour inside, just looking at all the books, which have been smartly arranged according to genre and author. the irish owner told me: you have used books stores in manila, right? i said yes, but to find a good book in booksale, one must have patience and the skill of indiana jones.

before i finally returned to pagoda inn to pack my bags, i surfed the internet where an american collector of coins struck up conversation with me, and he was amused to discover that i was familiar with the word numismatic. he kept repeating that i spoke excellent english that it almost lost currency, particularly because i had been hearing it on a regular basis since i left manila 11 days earlier.

at pagoda inn, i had a cab called, and in 30 minutes, i was preparing to leave for the airport. i thanked pitsa profusely for his time and efforts, and before long, i was waiting to board my plane back to bangkok. earlier that day, i received an early morning text message from cebu pacific saying that my flight back to manila had been cancelled. i read the message and went back to sleep, and muttered to myself: at least i have an excuse to stay behind. but the very same day, the violence that erupted in bangkok had been squelched, and when i called cebu pacific to rebook, they informed me that my flight was confirmed. drat.

i was supposed to sleep through my evening airasia flight, but i ended up spending over an hour talking to my seatmate who said he would have guessed i was from california if he didn't see my passport.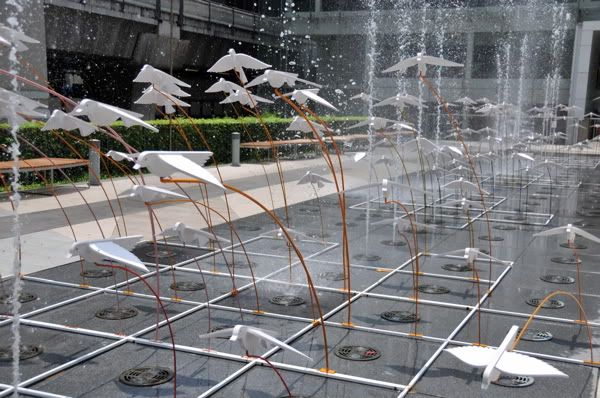 at bangkok, jay picked me up, and we went straight to bed supper club. the following day, we left very early with his mom for work (they're both with the UN), and i just spent the rest of my time to ride the subway (which made me feel a little envious, actually), ride the BTS, and have lunch with my LJ friend jeremy, who happened to be in bangkok as well. at siam paragon, i purchased a samsung WB500, the digital P&S i had been planning to get, and a year's supply of biotherm homme moisturizers. haha. then jay picked me up in his director's BMW, and we were back at his house. he fretted that i couldn't join him at bed supper club that evening. instead, he just dropped me off at the airport on the way to his party.

finally, my 13-day journey through indochina had come to an end. i was back at suvarnabhumi, chasing my 11pm flight at the end of the kilometer-long terminal. i checked in my bag and it was already 3kilos above the maximum. i planned to carry 3 bags as my carry-on, but the man at the counter said i was only allowed one. but i have cameras and gadgets in 2 of these bags, i protested, with a beaming smile. can you check that bag, he asked, referring to the one with the souvenir shirts. i reluctantly gave it to him, and prepared to pay the excess baggage fee, while whispering, oh damn, i'm going to have excess baggage. he didn't say anything, returned my big smile, and with a nod, i was off to find my flight. i love thailand, i said, and although he was no longer within earshot, promised to be back.

this is the reason why i travel: to keep a lingering memory of genuine people and interesting places that leave a flavor in my mouth, enticing me to return. and even though the taste of thailand and all the other places are still fresh, i wouldn't mind stealing more slices, and perhaps, even bigger servings, of all the places that i've visited, and maybe, others that wander in the imagination.