it is an unmistakable sign of my approaching an ancient age that i begin to wax sentimental over the past, so i am happy to have touched base again with old classmates, who show absolutely no traces of the years gone by. over the past week, i had a lunch with a number of girls from my UP law block, and just last night, i had dinner with them again to catch up with my friend lowell, who is in the country for a brief while, taking a much deserved breather from his PhD studies in australia. he came with his girlfriend lyra. hehe. don't we look fabulous?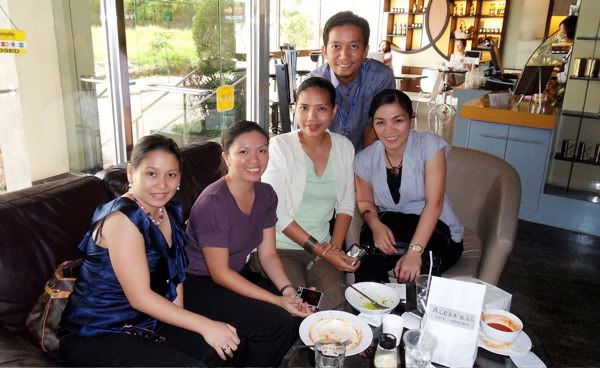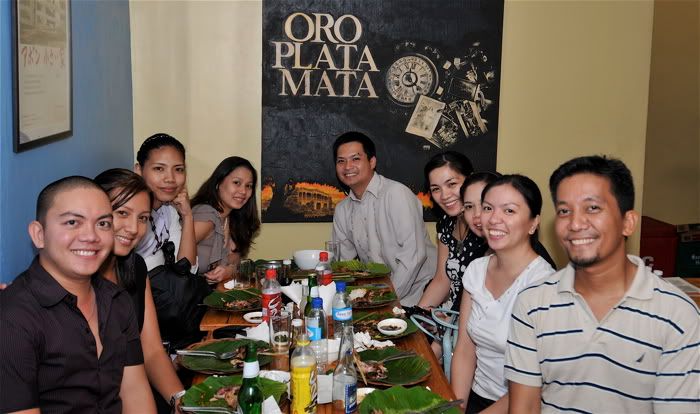 * * *
last week we had the europe day celebration again at the mandarin oriental hotel. at first i didn't want to get any pictures taken because i was wearing the same barong that i wore to the same event last year, but apparently, i was the only one who noticed because everyone i knew made nice comments about the itchy piña cloth that wrapped me. there weren't that many high-caliber visitors compared to last year, but i enjoyed the evening. i even invited 2 of my friends to join me socializing with diplomats. at one point, a foreigner came to sit with us, and ai asked him: and where are you from? i'm the austrian ambassador, he replied. do you know any famous austrians? the family from "the sound of music", ai quickly replied, and he had this sleepy look in his eyes, just as i butt in: she's referring to the family von trapp. ah, the mild-mannered diplomat said, and i added: of course we also know wolfgang amadeus mozart. and then, just as the ambassador got mighty impressed that we were familiar with one of the most important names in classical music history, i then tell him jim carrey's line in "dumb in dumber".
anyway, when the ambassador sat with us, we managed to convince the waiter to leave behind the whole bottle of champagne on our table, and it turns out that i really can't handle alcohol of the expensive kind, and ai and i somehow ended up in trinoma for howard's birthday, and i have a spotty recollection of what i did: i think i sang a song and crossed the line somewhere. haha. it was one of those moments when you wake up and say: what the fudge happened last night? and then days later, i looked at the photos on my camera, and i was like: isodidnotdothesethings. it's a good thing the camera is mine, so i won't end up with some scandalous photo on the internet should i attain some level of celebrity. haha.
speaking of work, one of our perks is that we get many visitors from belgium, the chocolate capital of the world. so we become recipients of some of the best-tasting chocolates known to the sweet tooth. look at all these delectable pieces!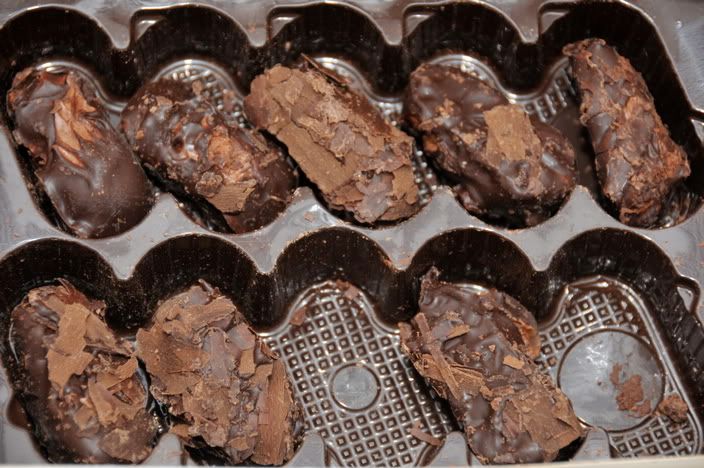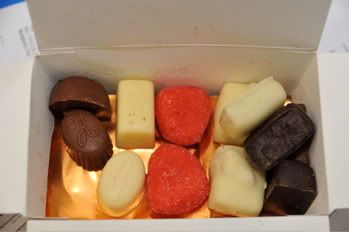 * * *
so anyway, i've been craving for vietnamese and cambodian food so the other week i went to pho 24 at rockwell. it was pretty good, actually, although i asked the supervisor: isn't your name kindo of redundant because pho already means noodles? she didn't quite understand what i was trying to say. so anyway, i was trying to find a cambodian restaurant here in manila where i could score amok and apparently there is none, but once i passed by banana leaf and curry and looked at their menu. a waitress asked what i was looking for so i said: do you have any cambodian dishes? no sir, she replied. we only serve asian food. but cambodia is in asia, i said. ah, sir, specifically southeast asian food. cambodia is in southeast asia. so i guess, tough luck looking for anything loatian and burmese as well.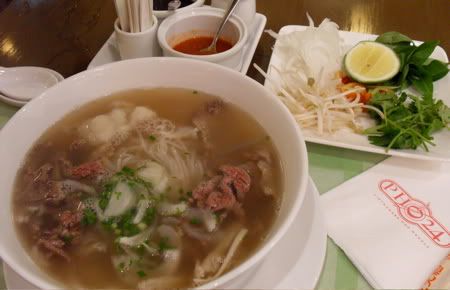 oh, incidentally, i hoarded rice paper and rice noodles when i was in vietnam, remembering that i absolutely hated world topps' version of the fresh spring rolls (they used uncooked lumpia wrapper and bihon -- disgusting!), but to my surprise, i discovered lately that metro market! market! has a deep selection of asian food: and not just chinese or korean, but fantastic choices of ingredients and condiments from thailand, vietnam, singapore, malaysia, and indonesia. how i only wish they also had instant mee goreng. i can't wait to meet up with glenn and collect the pack he bought for me. hehe.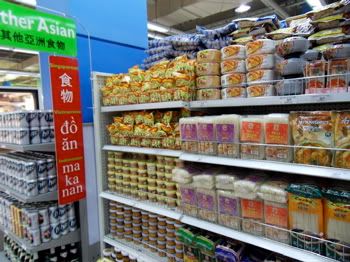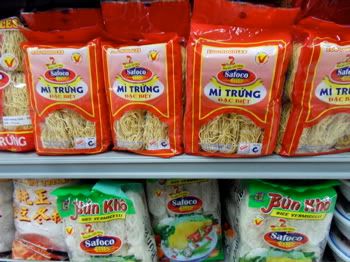 * * *
i have a winner for my 20,000th visitor. one of my newest readers, CJ, who found my blog while surfing for the condura run for the whalesharks, clicked on my blog at a most opportune time, and gets a free dinner with me at the shangri-la makati. here's the screenshot: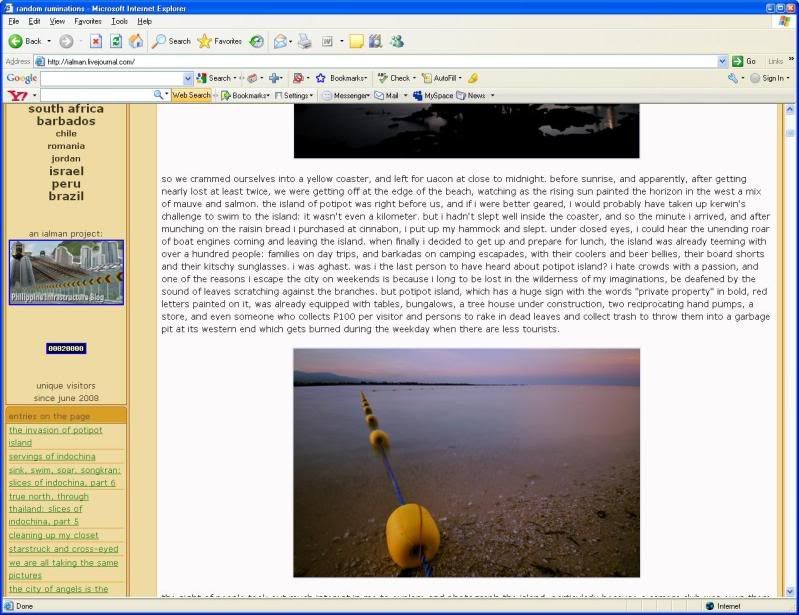 to everyone else who tried to get the prize, thanks for trying. it's not like the surge of hits on my blog is going to get me rich, but well, at least it generates some interest in whatever i do.