one of my geeky interests is following the progress of certain infrastructure projects. so the other week when i had nothing to do, i went to monumento with my camera to see how much of the LRT extension has been built, and i have to say that i am mighty surprised at the speed of the construction. only last january, they were digging several holes into the highway, and now, a huge part of the beams have been put in place.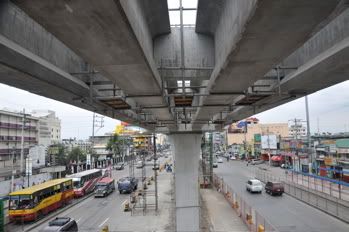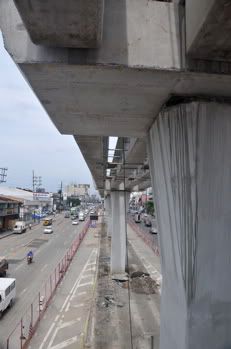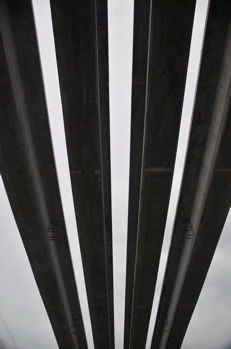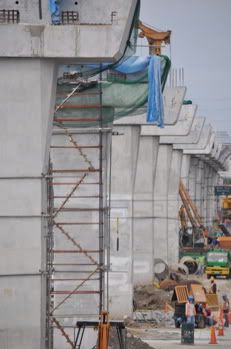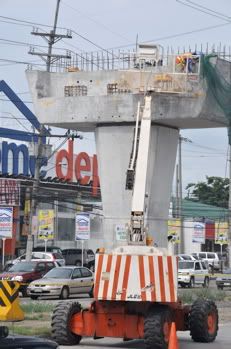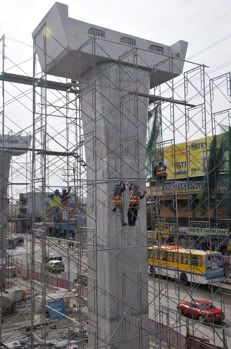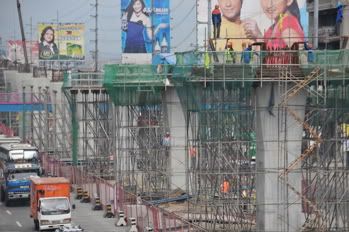 another thing that excites me is the financial closing of the MRT-7
, which will traverse commonwealth ave. and have a common terminal with LRT-1 and MRT-3 in front of SM north. that would be so cool! i can't wait for 2013. MRT-7 will begin construction in april 2010, and i hope it doesn't go the way of MRT-1, which had to cut back on costs due to the financial crisis of 1997, and looks sorry and outdated. i hope it looks a lot like the LRT-2 along aurora blvd., or would at least rival bangkok's BTS in terms of aesthetic appeal. plus it wouldn't hurt if it had wider coaches so that there wouldn't be any mini-stampedes every morning (such as what takes place in the MRT-3).
this really should appear on the infrastructure blog that i've created but haven't updated since december. oh: where to find the time?
* * *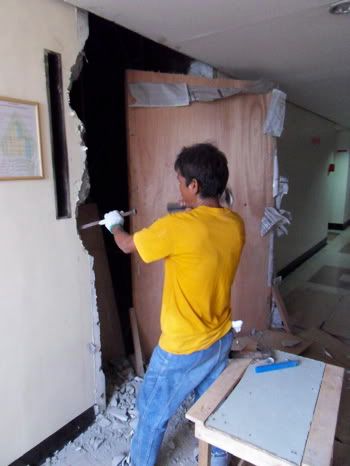 two weeks ago, the elevator here at my building was dismantled to make way for a new one. of course, i could only wish work was done speedily, but i'd have to keep using the stairs for the next 4 weeks. it has also discouraged me from taking my bike out, but i'm used to carrying heavy loads through steep terrain and i carried my bike down and up the other day and it wasn't so hard. other people seemed to be very impressed. haha. i'm actually kind of lucky that i live on the 3rd floor. others have to go up and down 12 flights!