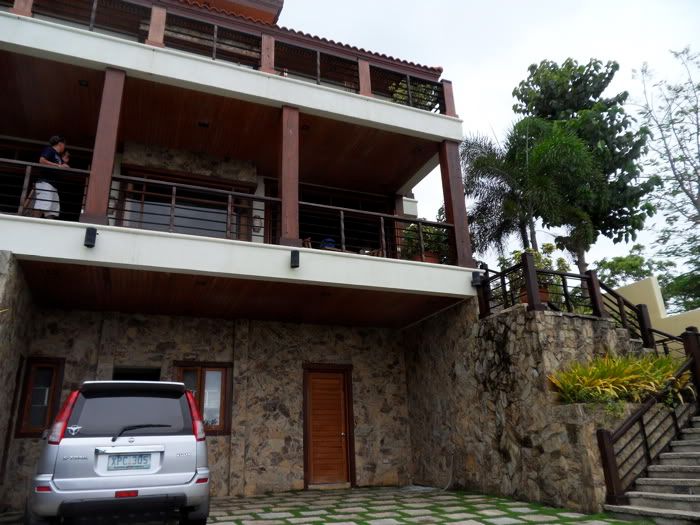 the façade of balay celestina


i spent the weekend at the balay celestina in terrazas de punta fuego: a polished and palatial three-story home with an open bathroom, panels of old hardwood, and cross ventilation provided by accordion windows that opened to terraces with a view of the sea. i wasn't there for vacation, actually, although it would have made for a great getaway, but for what was my first photography workshop. i was present for the 4th chasing light landscape photography workshop, being conducted by my friend and once consistent trek buddy jay jallorina (read about my misadventures with jay in tirad pass and batad as well as our photography trips to capones and aurora) and his fellow photographer, edwin martinez.



the venue and the participants; because of jeff, it was a nose bleed moment for most of us


a lot of people have asked me whether i got in for free. after all, and as acknowledged by jay himself, he had the unfortunate fate to have met me when we trained for the pilipinas sierra in 2004, and were pretty "close" during that period, and the year after, until i decided to join AMCI, and he abandoned his GPS unit and his fantasies of exploration in exchange for rocky coastlines, dangerous highways and golf courses. also, and jay himself admitted during the workshop, i was one of the first to plant in his mind the possibility that he could attract many interested individuals to attend a workshop he would conduct. and not just any photography workshop (just as everyone is a photographer these days, everyone else is teaching photography), but one with a particular focus: landscapes. jay has gained acclaim in the field, and with good reason. despite his confessed color blindness, his ability to capture vivid colors coupled with his eye for composition is worthy of praise, landing his images on the cover and the pages of DPP and other magazines as well. but no, despite my contributions, i still paid the full fee, which seemed all worth it since our venue was fantastic, the individual mentorship was much appreciated, and the actual hours spent in teaching and sharing techniques and tips were long: we started at 10am in the morning and ended at 9pm on the first day.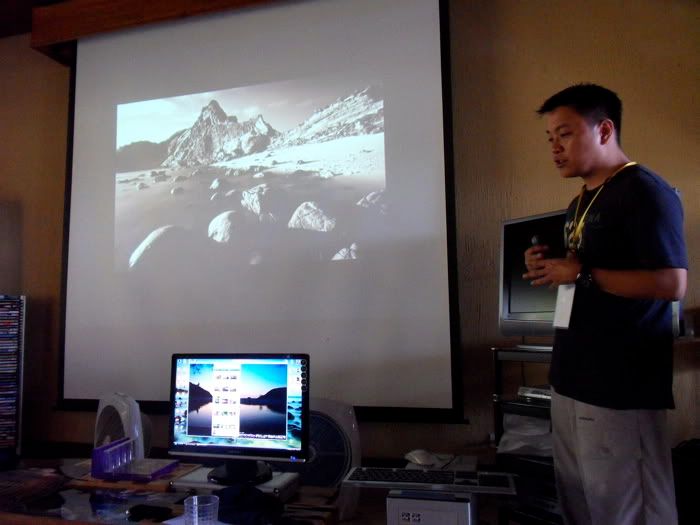 jay illustrates a point by showing one of his shots


anyway, we did try to shoot, but we hadn't even been on the coast for 20 minutes and i hadn't even taken one decent shot when rain forced us to retreat. nevertheless, i did pick up a lot of things: the workshop focused on the individual styles of the two instructors, which though different in many different levels, presented contrasting approaches to landscape photography, but both with no less impressive results. both jay and edwin showed their showcase photos from their collections to illustrate their ideas on photography, and it could have very well been episode after episode of appreciating both their work. but then again, they managed to show us the infinite number of possibilities, given the right tools, the right attitude, and of course, given the talent: alas, there is something that no workshop can teach, and it is the ability to see something worthy of a shot. jay would draw the line between a shot that is artistically done, and a mere snapshot. although this smacks of outright elitism, we all want to come away from a trip with a photo which represents for us all the varied emotions imbued upon us by a scene or a view. and so that is why i say that jay and edwin both shared their own techniques and tips on taking better landscape photos, for whether the participants would leave the workshop with either jay's patience in waiting for the right light and adventurous nature in heading out to places few people would consider habitable, or with edwin's persistence and attention to the littlest detail, is something else. a workshop can only do so much: talent, or at least the potential to see something others don't, may not necessarily be inborn, but is a result of many years of trying and failing. for sure, one ought to have some innate artistic inclination to be good at something that presents images. that is why the college of fine arts in UP has a talent test: they only admit students who already show a reasonable degree of agreement with the expression of the form.



edwin explains the importance of a tripod and a remote


and since i am sailing farther afield, let me just say that although i do not have any previous experience with photography workshops, i have had art classes (including writing classes), and before you proceed with creating art, first you deal with the artform's theory and history. i guess what i should have done was to look at great photographs and pay attention to the philosophies of great photographers. you can attend an X number of photography workshops and still not come up with a decent photograph because you lack an approach. jay is not shy about mentioning his personal favorites: ansel adams, galen rowell, who else? i suppose, if i want my photography to be at the level of my writing, i ought to look at good pictures more often and try to achieve what many great photographers have done.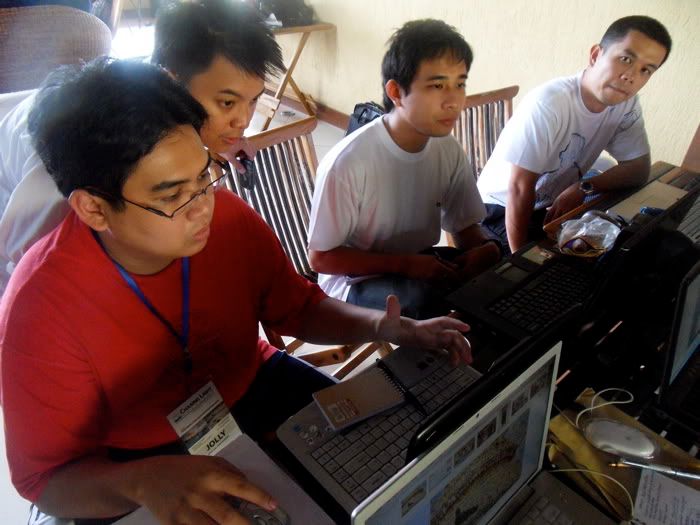 jay mentors participants on the finer points of PP


so i did pick up some skills which i know will come in handy some day soon. jay and edwin also managed to change some of my views on post processing: something i previously did not do at all. but if you think of PP as enhancement rather than alteration, then certainly that's different. i am a purist, whatever that means, and when it comes to photography, i am opposed to cheating. the way PP was presented during the workshop was that it didn't change anything in the picture: it was similar to polishing the floor, or dusting the vase. it can't even be compared to applying make up: maybe it's just putting on some moisturizer. so in a way, i found it acceptable when i tried it on my own photo. but how do you know that you've gone beyond the limits you've made for yourself? since i have one foot in the door of PP, how soon before i have both feet in, and i actually walk around the room of possibilities? i am comforted by the knowledge that the door is open, and that i am known to step back. photoshop is just a normal tool, like a scrub, after all, and not a magic wand.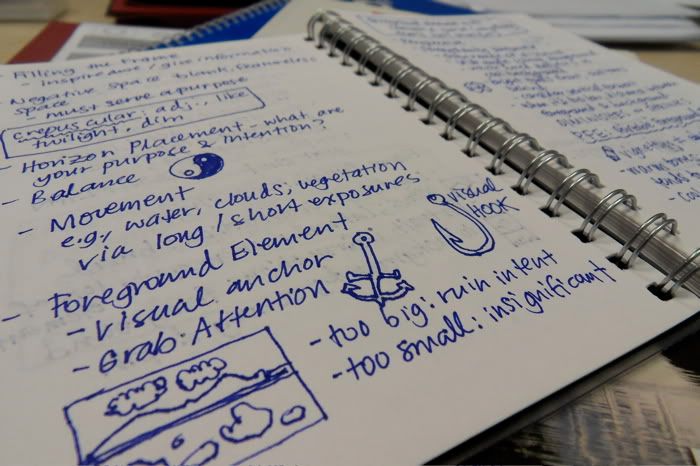 my beautiful notes: would anyone want a copy?


there will be more editions of the chasing light workshop. although neither jay nor edwin has experience teaching photography in a more or less structured manner (there was a lot of friendly banter, which many times involved me), and the atmosphere is friendly, akin to an alternative classroom experience, i would recommend it to everyone who would like to specialize in (or explore) landscape photography. just a note of caution though: landscape photography is in a league different from general outdoor photography, which is like travel photography on hiking boots: in order to get those beautiful landscape shots, one must abandon any desire to experience culture, the locale, or even nature itself, for one must be rooted to a given place where one (to borrow jay's phrase) would be chasing the light.