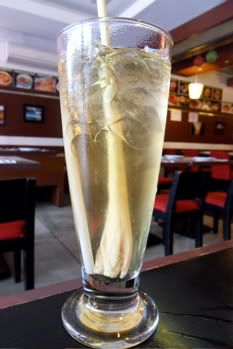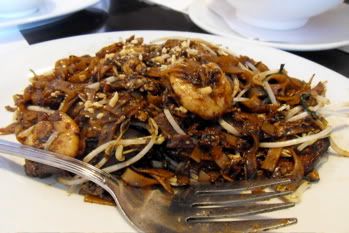 over the weekend, i took my parents again to nasi lemak in tomas morato after my mom gushed about the yummy noodles she had a few months back. and since i was in the area, i dropped by kamuning market for new threads. my barongs have a fixed lifespan, and since they get used as much as 3 times in a month, the cloth, particularly around the collar, thins very easily. it is possible to just have the collar replaced, but i decided to choose new designs and break out from the usual scattered embroideries which is as ubiquitous among makati folk as havaianas in boracay. i also picked out the buttons. haha. i know nothing about fashion to be honest: i just decide based on what i imagine would look good on me, what wouldn't attract unnecessary attention, and what makes me feel comfortable. i'm pretty safe when it comes to clothing.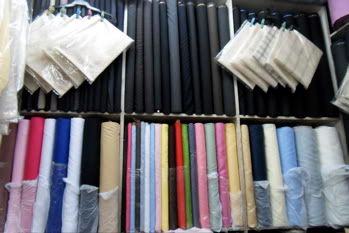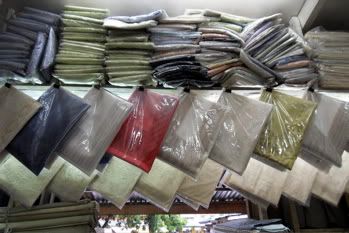 anyway, since i was already in quezon city for the AMCI exhibit, i went home to rummage through my stock of old photos, since lately, my friends have been uploading all these old photos of ourselves when we we were still in our early 20s (which now feels like a billion years ago), and since i've already been taking pictures with an SLR as early as 1997, i imagined i would have a lot of incriminating shots to post. i found a few of my albums, but i did find something else on my shelf: a single track of earth along the spine of a book. my heart skipped a beat and i feared for the worst. termites have been an off-and-on problem, but i've mostly had them under control when i still slept in my room. but since i've been away for such a long time, i've never had the time to check on the condition of my collection of books and all the other stuff piled on my ramshackle shelf. i had to take out all the books. i basically tore down my library and made a mess of my room. i found that there were already arteries of roads on the shelf, leaving dirt on several pages of even some of my prized books. preliminary tunnels had also been bored through many pages of a few. the severely damaged ones were about 5 books which i quickly threw out of the house and set on fire. die termites die! a bibliophile such as myself will probably not find anything more distressful than books being ignored or worse, fed to equally book-loving termites. and what could be worse than communist termites? the subject of two of the books that the little critters gnawed on was marxist thought. the title of one book, in fact, was "how to be a communist". so i basically killed poets who espoused communism, because my doveglion collection of philippine poetry was also eaten.

of course i was really upset when i found this but what is the use of tearing my hair out and screaming expletives? nothing. i just allowed my pyromania to cool me down by watching the termites roast in the open fire of my dearly departed books. right now, 5 days after i discovered the infestation, my room is in shambles -- much like it used to be when i still used it. unless there are any guests coming, maybe the books can sit on the floor for the meantime while i wait for my mom to have someone apply solignum to the cracks on the floor from whence the termites came.

* * *

a lot of people ask me why i spend so much on gadgets (the other things i spend a lot on are books and travel). i think i've mentioned before that i really am a kid who has not outgrown his love for toys. i like shiny new things and i do not apologize for it. i think i'm entitled to my little indulgences because i starve myself on other things. for example, i do not spend a lot on clothes. i have only 2 pairs of leather shoes, only 1 leather belt, and only 4 pairs of denim jeans. i don't have anything appropriate for a gimik: and that's another thing: i don't go out and gimik at all, unless i'm abroad. that isn't an exaggeration. i suppose i just find it tiring to be standing inside a crowded bar where people are just shouting to each other over loud music. i also don't have a café culture in me, and although i love good food, i have not been to a fourth of the restaurants in greenbelt 3! i don't spend a lot on food because my standards aren't pretty strict, and i would rather just cook myself (and sometimes poison myself in the process) than check all the new places everyone's talking about. i just find it absolutely unpardonable for anyone to be spending a minimum of P200 on one meal every single day. i have that only on occasion.

here at the office, i eat at our office pantry 98% of the time. i bring food i myself prepared, or food that i've purchased at the carinderia below my building. so my average lunch meal is only about P55 (with rice). my breakfast is even cheaper: taho is only P10, a banana is P8, a sandwich i make myself won't be more than P15. all these numbers are frying cells in my brain, but i guess you see the point: these sacrifices allow me to splurge on other things.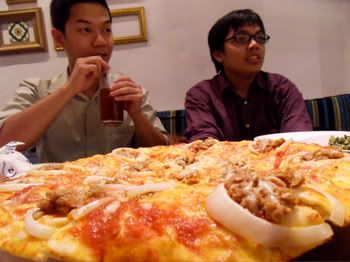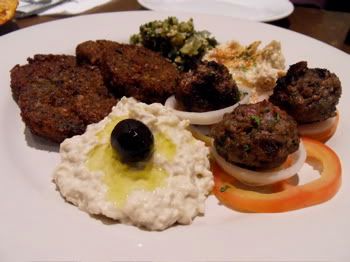 now that we are on the subject of food, recently, aaron treated karl and myself to lunch at café mediterranean. now i have to blog about it because it's so rare and i don't think it'll happen ever again. i haven't even previously eaten at café med before, seriously. after the meal, aaron asked for a receipt and charged it against his representation allowance. haha. and i thought i had just been given a treat.

* * *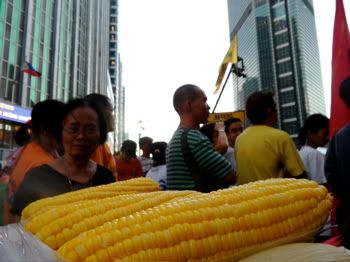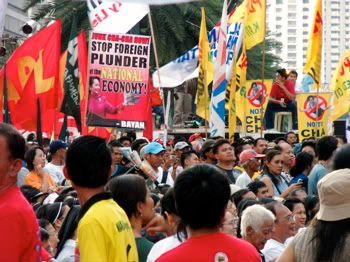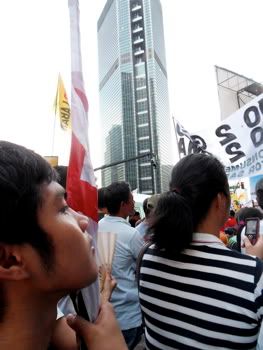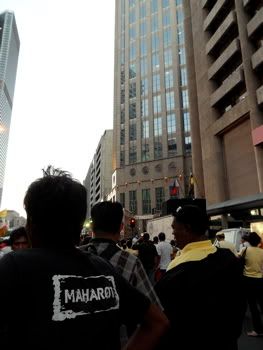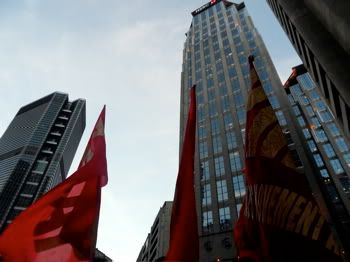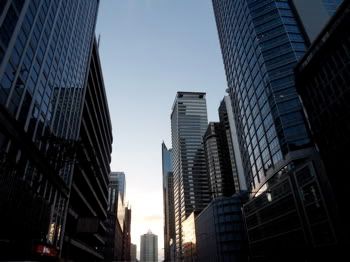 i passed by the rally at the intersection of ayala and paseo de roxas yesterday and i think the preparations for it were a little exaggerated. anyway, i only stayed very briefly to snap photos. i just couldn't stand the redundant rhetoric of dissent. i mean i have very low opinions of all the lawmakers who voted for con-ass as well, but i just cannot resort to a kind of language that's as old as me! i happened to be there not by choice: i had to walk from RCBC all the way to glorietta. i just wonder whether part of the rally was to protest the use of sidewalks or to refuse the good sense that urbanity suggests. that's just me.