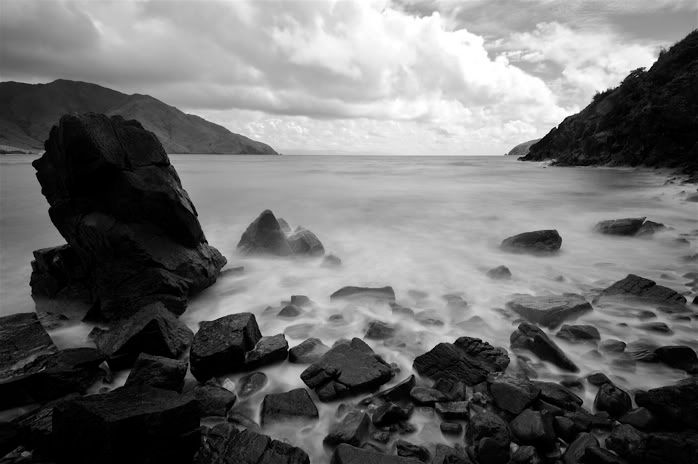 sometime between preparing breakfast and leaving for the falls, i had decided that i was not a landscape photographer. very early in the morning i was awakened by jay's shrieking iPhone but there was no use rising at 4am because the slight rain had robbed us of any light to shoot. but at just a little after 6, when the sky cleared and the sun broke over the mountain tops, all 5 photographers leapt out of their tents, grabbed their tripods and cameras, and left for places far and wide, having neither brushed their teeth nor taken breakfast. of course, i was not about to pass up on the chance to shoot alongside these young senseis, and i called out: wait for me, masters!
i walked around the length of beach along nagsasa cove, which is cut right in the middle where the tempestuous sea meets the peaceful freshwater draining from the mountains of zambales. i tried to capture reflections on the water, the leaning pine trees, the geometric rocks on the shore, the shallow riverbed, and it resulted in nothing but a bad burn: i had forgotten to apply sunblock and didn't have a hat to boot. i observed how jay and randall (THE randall cipriano, who until the morning of saturday was just a byline i saw on the pages of digital photographer philippines) were pictures of patience and dedication. they could focus on a scene for long minutes, working hard to get the right exposure for a shot that they'd thought about perspicaciously. but that morning's shoot convinced me of something very important about my own photography: that i do not yet have the pin-sharp focus of landscape photographers for a given scene, chasing after the right light. i am, proudly, a snapshooter.
in the
chasing light workshop
, jay and edwin distinguished between people who took "snapshots" and those who took "enduring landscapes". at the time, they made it sound like the snapshot was crap and unmemorable and trash. and i believed in them. who would want to walk away from the most beautiful sunset and bring home nothing but blown out skies or a poorly designed frame? certainly not i. but is it possible to produce photos that endure each, and every, single time? for sure, if i wanted to see great pictures of say, angkor wat, i would just look at the work of thousands of other photographers who have gone there before me, rather than the result of my rushed visit to the place. i would just have preferred to devote my time in the streets of chiang mai soaking on the local culture rather than bothering with composition and angles and textures and colors, which robbed me of a complete experience. because here lies the ideological differences between my own view of photography, and those of jay and other landscape photographers. for them, photography is the ultimate intention. and the results are pretty obvious in the excellent work that they produce. for me, it is totally different: photography is secondary to an experience. it should never get in the way of your encounter with a beautiful place. its purpose is merely to record scenes, and to provide pegs for our ultimately failing memory.
and so that same beautiful morning while pine needles fell on the beach, i coined the term "reference shots". i realize now that it is all that i have been taking since i took up SLR photography in 1997. after 12 years of taking pictures, i have not produced any evoking landscapes that have reaped either awards or praises. but i have built up a bank of images that for me provide rewards that are more personal than they are general. i have reasons for taking a photo. it is a record of my experience, and it is an extension of my vision. it is a tool for sharing and a method of reporting. it is an image which informs. it is not pretentious; does not have lofty ideas about art or beauty. when a shot is appreciated, i take no credit for it. i say: it's the place; i just stood there and took a shot.
all these ideas were further strengthened when we left to shoot the falls. there were mighty beautiful things to take photos of there. but there was also the pool, the cascades, the spotty shade under the trees: they deserved also to be touched and to be felt. if i had just decided to shoot these places, i would not have discovered how gratifying it is to soak in a freshwater pool away from the scorching sun. i have done it many times before, but yes, one deserves to be reminded. i'm also glad that jay swam in the pool. he needs to steal time away from just taking pictures. the falls are tucked way at the back of the cove, maybe 15 minutes from the shore, and somewhat disperses into little tributaries here and there. if i were not so burdened with a camera and a tripod, i would have gone further up the slope, if only to get a view of the sea, the sand, and the land. towering mountains hedge the cove of nagsasa, and from the air, it must probably look like a very deep 'U'.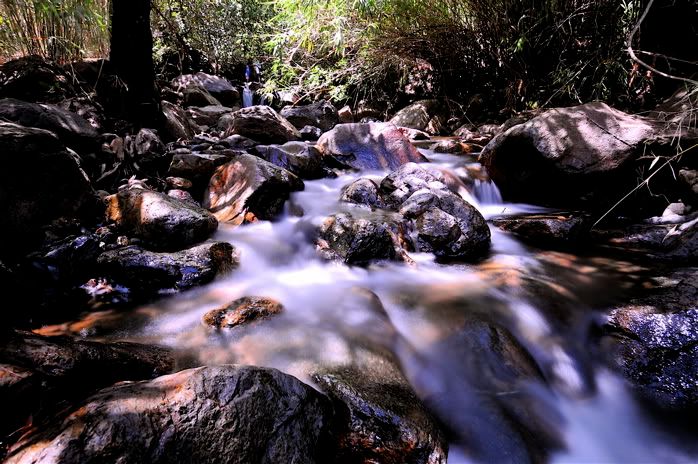 there is a thriving community here. more than 15 families live on the cove, whose sandy embankments were generously expanded by the explosion of mount pinatubo in the early 1990s. nagsasa is either 2 or 4 hours on foot from cawag near subic, depending on whose account you hear, and is about an hour from pundakit by boat, a good 40 minutes further from anawangin (a place once beautiful but which has gone to the dogs after repeated attacks of urban dwellers with unsavory ideas about camping at the beach). i was in nagsasa cove on the strength of jay's invitation. we have both heard about it from others. i had gone with jay on a few landscape shoots: to
baler
and to
capones island
. this would be the third in the series. jay's invitation was suspicious enough. i knew that he had a reason beyond just mentoring my photography. of course, he wanted me to bring my outdoor stuff and outdoor cooking to the table. and i am not complaining. not at all. i am happy to serve a purpose. it assures me, at least, that i will be constantly invited to these shoots, despite my realization that i am not a landscape photographer. there is always something to be learned, in between the banter and the hunt for shoots.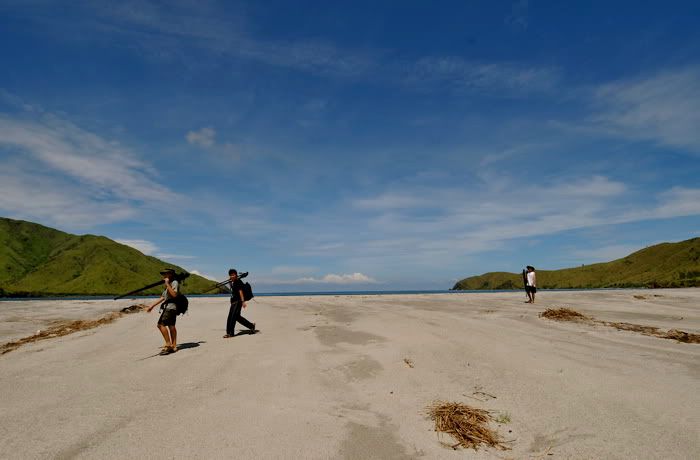 hi-ho, hi-ho, it's off to work we go
and to carry out my purpose, i whipped up an exciting menu for my masters: charlie chan pasta for lunch on saturday, red chicken curry and roti pratha for dinner, pork adobo and pita pockets for breakfast, and tuna longganisa for lunch on sunday. i wasn't exactly humble when despite the praises for my cooking (alvin, my chasing light 2.0 batchmate, couldn't stop exclaiming: how'd you do this), i had the temerity to say: i apologize for the uninspired meal plan. apart from the cooking, which also robbed me of time for photography and for seeing nagsasa completely, i also lugged most of the outdoor gear. thanks to my marmot bise 2P and the north face talus 23 (still trusty after 4 years of service), we slept soundly despite the pitter-patter of the rain drumming on our rainflies. despite it all, i was happy to have brought along my stuff and my humor. jay and randall brought experience and knowledge, although admittedly, both were sparse on sharing the knowledge, but not out of selfishness really. they were just too busy and involved with their own shooting.
at 3pm on sunday our boatman finally picked us up and we were taken back to pundaquit. i wouldn't say we coursed through still waters. the sea off zambales was choppy at best; it felt as if ten giants were churning the sea, and we were tossed to different directions. nevertheless, nagsasa cove is a gem in the wilderness, one of the "rough corners" of zambales, as jay rightly put it. it isn't so undiscovered, really. we were not the first to get there. but at least, it is an improvement from anawangin.
i dare say that i was the first to blog about anawangin in 2005
. it took close to two years before it would eventually be overrun and overcome by irresponsible visitors. but in as much as nagsasa presents a great alternative to those who want to avoid the crowds at anawangin, i fear it might just go that way in less than a year. as our archipelago shrinks ever smaller, people are finding places not wanting to be found, and abusing it for their own selfish reasons. during our stay there, another group had left their garbage to be scavenged by dogs. when i asked the local caretaker what they would be doing with the trash that had been left behind: they said they would either burn it or bury it under the ground. i gave an impromptu lecture on the environment, and promised to return with a fishing rod and reminders for visitors to respect nagsasa cove. and return i shall, before buses of urban folk and their urban habits descend upon the cove with unrelenting disregard for all things beautiful.